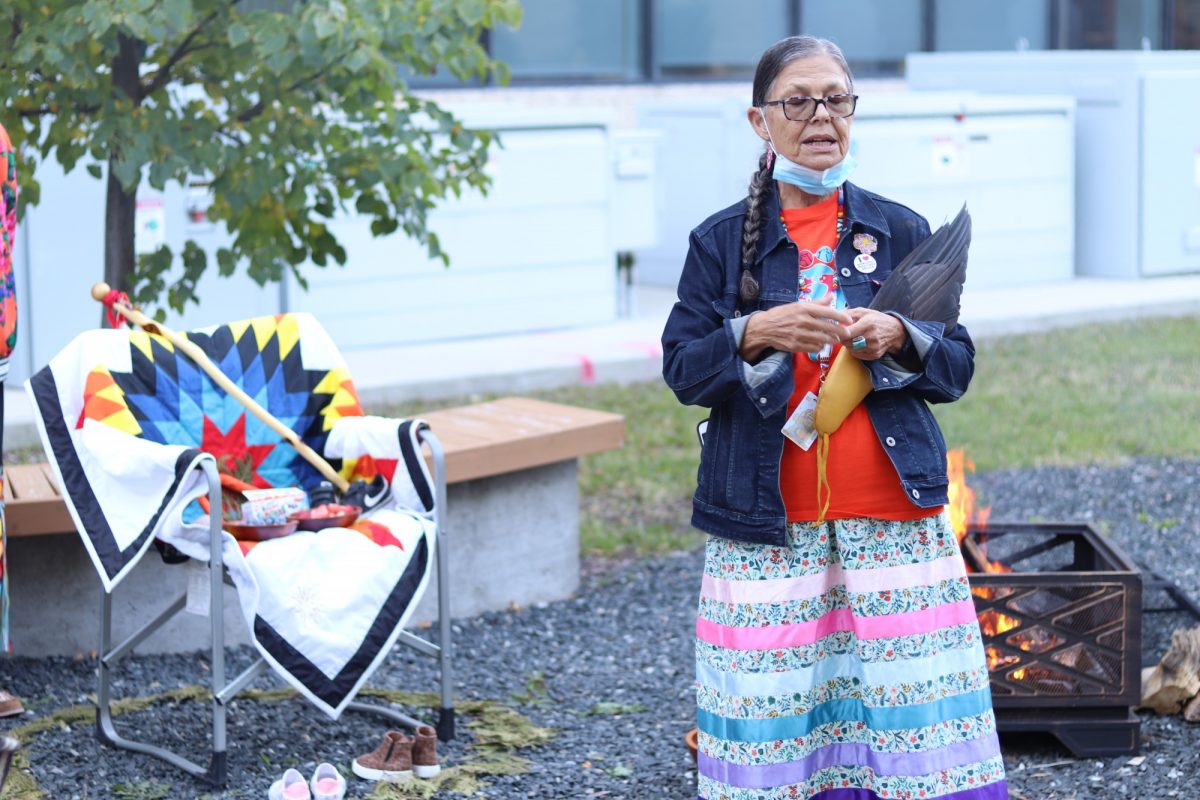 Sacred fire, tobacco offerings honour residential school victims
Second Bannatyne campus ceremony to be held Wednesday morning
September 28, 2021 —
Two tiny pairs of shoes served as a poignant symbol of children's lives lost to the residential school system at a ceremony on Tuesday, Sept. 28 on the Bannatyne campus.
"They were so little when they became ancestors," said Leslie Spillett, a Knowledge Keeper in the Rady Faculty of Health Sciences, about the thousands of Indigenous children who were stolen from their families and did not survive at Canada's residential schools.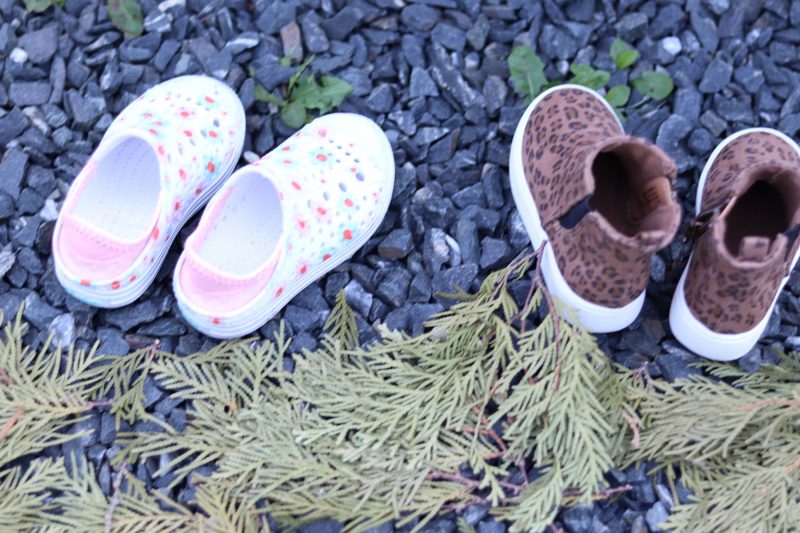 The empty shoes were displayed inside a ring of protective cedar sprigs that encircled a spirit chair. Objects arranged on the chair included a star blanket, bowls of berries to feast the spirits of children, a chocolate treat to symbolically feed today's children, a crown of sage wrapped in orange cloth, and a willow branch with an attached eagle feather.
"These little people had communities that loved them," said Spillett. "When I think about how best to honour our little relatives, it's by making the world better for the ones today."
Those at the ceremony who wanted to offer a prayer each took a small bundle of tobacco wrapped in orange cloth, smudged it and cast it into the sacred fire that burned throughout the gathering.
The event was the first of two Honouring Our Children ceremonies organized by Ongomiizwin, the Indigenous Institute of Health and Healing, in the circular Medicine Garden next to the Basic Medical Sciences Building.
The second ceremony, open to all, will be held in the Medicine Garden on Wednesday, Sept. 29 at 9:30 a.m.
The gatherings are among many commemorative events connected to the National Day for Truth and Reconciliation (also known as Orange Shirt Day – Every Child Matters), a federal statutory holiday to be observed on Thursday, Sept. 30. The day honours the lost children and Survivors of residential schools, their families and communities.
Referring to the devastating recent discovery of unmarked children's graves at the former sites of residential schools, Melanie MacKinnon, head of Ongomiizwin and executive director of its health services branch, described the ceremony as "one way to collectively ensure that this never happens again."
Dr. Lisa Monkman and Dr. Mandy Buss, both Indigenous physicians, offered an Honour Song "for all the children, and all of us who carry this trauma deep within us," Monkman said.
Joby Kakegumick, assistant to Elder in Residence Margaret Lavallee, said the ceremony was about "taking the time to remember and reflect on the Survivors, and the ones that couldn't be here today. I think it's very important to honour them in a good way."
Dr. Marcia Anderson, executive director, Indigenous academic affairs of Ongomiizwin and vice-dean, Indigenous health of the Rady Faculty, was unable to attend in person. In written remarks, she called on faculty, staff and learners to build a future in which the health and health-care rights of Indigenous Peoples are fully realized; to address systemic racism and provide culturally safe care; and to stand in solidarity with Indigenous Peoples.
"Reconciliation is a journey that we must walk together," Anderson said. "As you stand here and feel the collective energy and the safety of this place, I encourage you to take courageous action to make every space of this campus feel like this.
"This is our responsibility to honour the Survivors, as well as the children who never made it home."