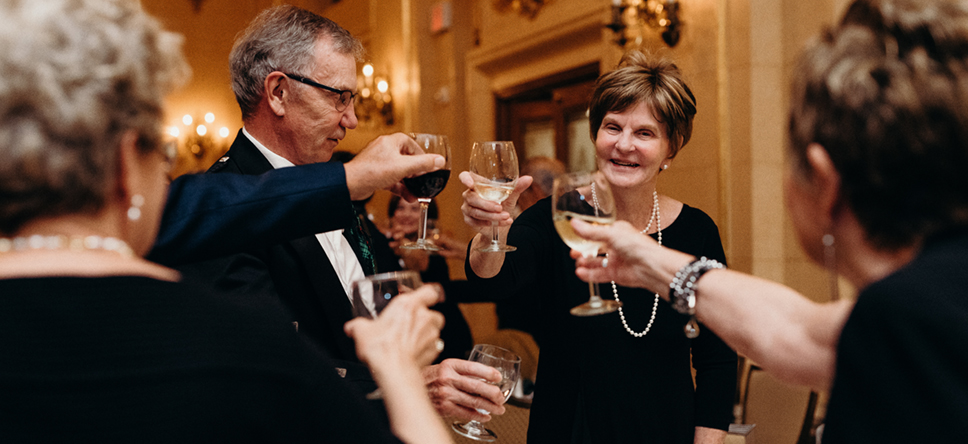 Rady Faculty alumni celebrate Homecoming by "coming home"
September 27, 2019 —
Rady Faculty of Health Sciences alumni celebrated Homecoming 2019 with a lecture, receptions, tours, 11 reunions, a gala and the Dean's Homecoming Breakfast.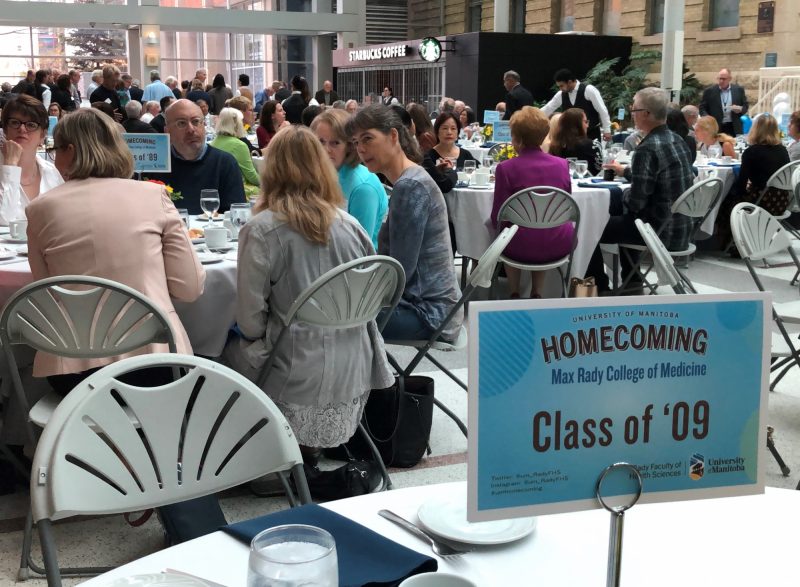 Seven classes from the Max Rady College of Medicine (1959, 1964, 1979, 1984, 1989, 1999 and 2009) and three classes from the College of Nursing (1974, 1994 and 2009) celebrating milestone reunions came out to the Dean's Homecoming Breakfast Sept. 21 in Brodie atrium–including members of the MD Class of 1959 celebrating its 60th reunion as well as some dentistry, pharmacy and rehabilitation sciences alumni.
David Barnard, president and vice-chancellor, University of Manitoba, told the nearly 120 gathered alumni that their work inspires the next generation of students.
"As alumni of the Rady Faculty of Health Sciences, your leadership has a direct impact on the health and well-being of our communities across Manitoba, Canada, and in many other parts of the world," said Barnard, "Your impact is far reaching. We're very proud of your accomplishments and we'll continue to celebrate your successes to come."
Amy Sahai, third-year medical student and president of the Max Rady College of Medicine Class of 2021, highlighted some of the efforts by medical students to challenge existing structures and push boundaries in the spirit of accountability to their patients.
"Many of us may be millennials, but we are motivated to harness our power as future physicians and transform it into social responsibility," said Sahai, "Honestly, this has only been made possible by years of foundation laid by our alumni, you, by our mentors and our leaders."
Allan Becker [MD/69], a professor of allergy and clinical immunology, pediatrics and child health in the college, detailed the Class of 1969's commitment to support future medical students. Becker spoke about their successful class campaign, one component of which was a bursary which has to date provided financial assistance to 39 medical students. The class has also made major contributions to the Joe Doupe Endowment Fund for the B.Sc. (Med.) program which gives medical students an opportunity to engage in original research, either in basic medical sciences or clinical or community health.
"The B.Sc. (Med.) program is really a gem at the University of Manitoba. The medical students who participate in this program are more likely to continue in an academic career," said Becker.
Becker emphasized the importance of trying to build on the development of clinician scientists and urged other classes to think about establishing their own endowments.
"The academic aspects of developing new approaches of knowledge translation and mobilization is so important to the evolution of health care," he said.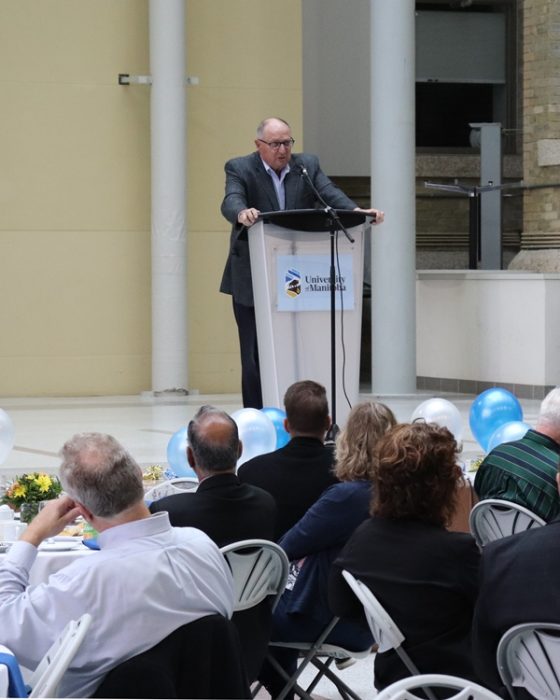 Dr. Brian Postl, dean, Rady Faculty of Health Sciences and Vice-Provost (Health Sciences), highlighted the contributions made by Rady Faculty alumni over the years.
"There is a strong tradition across the Rady Faculty at establishing class gifts," he said.
In 2018/19, alone, 31 awards totaling $102,000 were awarded to students in the Rady Faculty through these class gifts.
As part of the university-wide Front and Centre campaign, over 200 Rady Faculty alumni donated more than $930,000 toward class gifts.
Total overall giving over time from Rady Faculty class gifts is $1.37 million from 351 donors – of which 323 are alumni.
"Thanks to all of our Rady alumni for your commitment to supporting the next generation of health-care professionals," Dean Postl said.
College of Rehabilitation Sciences
Emerging technology and dealing with aging family members were among the top themes at the CoRS Homecoming dinner and reception on Sept. 20 at Canad Inns Health Sciences Centre. The evening brought together alumni from the past six decades and featured presentations of current research projects by four of the college's newest faculty members.
Dr. Amine Choukou, assistant professor in occupational therapy (OT), discussed the body-mapping technology he is currently developing at Riverview Health Centre. The program aims to help patients with dementia by detecting hazardous behaviours and immediately alerting caregivers.
"With this prototype, we can extract information from the human body and translate it into new information, and if it's relevant we can send it to the staff by text," he said.
Alumni took interest in the presentation, as many had family members dealing with dementia and other chronic conditions. They also appreciated OT assistant professor Dr. Lisa Engel's presentation, which dealt with the "taboo" subject of financial management and the financial well-being of adults living with cognitive impairment.
Dr. Louise Chartrand, assistant professor in respiratory therapy, presented on her research related to the withdrawal of life-support and Dr. Cara Brown, OT assistant professor, discussed her research into improving the quality of care for older adults using integrated care models.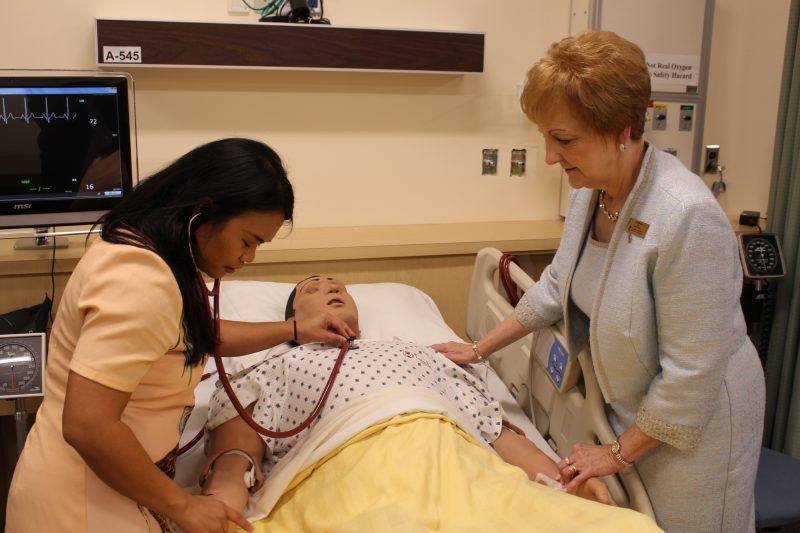 College of Nursing
College of Nursing alumni from the Classes of 1994 had a chance to see how technology has changed nursing education over the last 25 years at the college's Homecoming tour and reception on Sept. 22.
Ten members of the class were among the alumni who toured the state-of-the-art Simulation Lab and Skills Lab at the Helen Glass Centre for Nursing, which features lifelike computer-controlled manikins that breath, cough and talk to students in a hospital-like setting.
"We had manikins, but they weren't as realistic as this," said Marifel Lazro, who now works as a home care coordinator in Winnipeg. "The computerized system wasn't available to us. Now you can hear chest sounds, you can hear a pulse – we never had that. It was really remarkable to see."
Maria Lai travelled over 11,000 kilometers to celebrate Homecoming with her classmates from the Class of 1994. Currently she is the nursing officer/executive officer at the Chinese University of Hong Kong, where she graduated with her master's degree in public health in 2004. She was impressed with how realistic the labs were.
"I wish we had something like this back then. Just the number of beds that they can practice on – we didn't have as much practice space as they do here. We had to share the 'Jake,'" she said, referring to the manikin.
The tour also included a visit to the Manitoba Centre for Nursing Health Research, which currently boasts 29 faculty actively engaged in research.
College dean Dr. Netha Dyck told those in attendance that over the last 76 years the college has grown from 18 nurses in certificate courses in 1943 to 1,000 students in bachelor's, master's and PhD programs today.
She noted that next year the college will celebrate the 40th anniversary of its graduate programs which have graduated more than 500 in the master of nursing, nurse practitioner and PhD programs.
"We have an amazing legacy and one that we truly cherish," she said.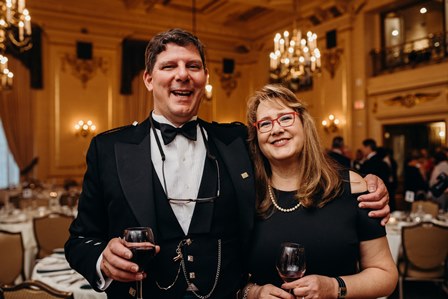 Dr. Gerald Niznick College of Dentistry
On Sept. 20, about 135 alumni and friends of the Dr. Gerald Niznick College of Dentistry and the School of Dental Hygiene gathered for the annual Alumni of Distinction Awards Evening at the Fort Garry Hotel.
Dr. Ken Stones, a 1969 dentistry alumnus who lives in White Rock, B.C., was honoured by the U of M Dental Alumni Association for his extraordinary commitment to humanitarian dentistry. Winnipegger Sheryl Sloshower, who earned her diploma in dental hygiene in 1974 and her bachelor's degree in 2012, was recognized by the U of M School of Dental Hygiene Alumni Association for her outstanding contributions to the profession through teaching, scholarship and professional regulation.
Thirteen members of the close-knit Dentistry Class of 1969 were also saluted at the gala as they celebrated the 50th anniversary of their graduation.