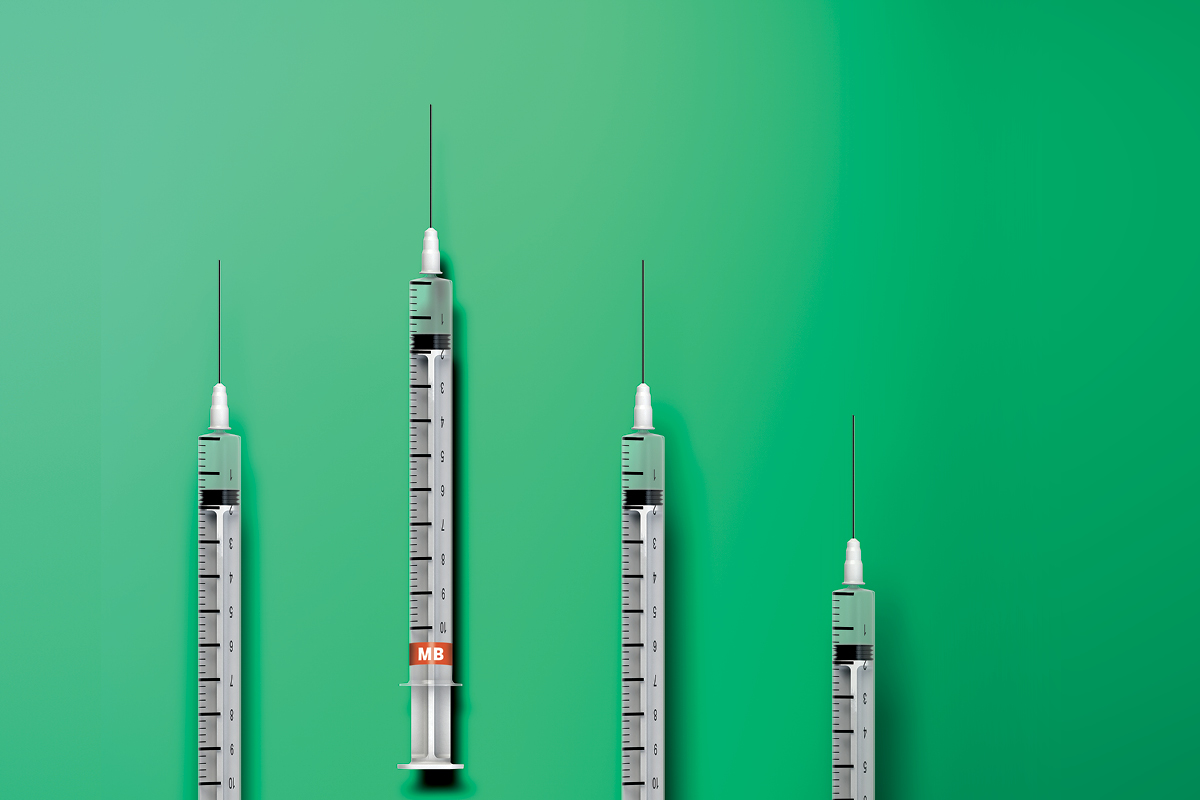 Hip to heparin
A Manitoba model for clinical trials
March 1, 2021 —
A University of Manitoba research team is emerging as a global leader in COVID-19 anticoagulation trials thanks to their innovative, global trial studying different types of heparin, an anticoagulant (blood thinning) and anti-inflammatory drug. Early results released in January show full doses improved outcomes.
The ATTAC trial (antithrombotic therapy to ameliorate complications of COVID-19), is an international multi-platform randomized control trial (mpRCT) led by Ryan Zarychanski, a hematol­ogist, critical care physician and associate professor. He has partnered with Patrick Lawler, at the Peter Munk Cardiac Centre and Ewan Goligher, from the University Health Network, both assistant professors at the University of Toronto.
"The trial is evaluating if therapeutic anticoagulation with heparin will improve clinical outcomes in patients hospitalized with COVID-19," says Zarychanski, also a scientist at CancerCare Manitoba. "With regard to issues of anticoagulation, our trial will inform best-practice on a global scale."
Commonly given to hospitalized patients to prevent blood clots, heparins are being studied as a COVID-19 treatment for several reasons. For starters, blood clots have been observed in a significant proportion of patients in hospital with COVID-19.
Heparins also possess anti-inflammatory properties, and COVID-19 is associated with inflammation, which can increase the likelihood of venous clots in the legs or lungs, or arterial clots which can cause heart attacks or strokes.
Additionally, heparin has been shown to impair the ability of the SARS CoV-2 virus from binding to the surface of cells and thus may have specific antiviral properties.
"The goal of the trial is not just to reduce blood clots but more importantly to reduce mortality and prevent people from needing ICU level care or developing multi-organ failure," says Zarychanski.
The trial originated as two separate trials, with ATTACC studying therapeutic anticoagulation in hospitalized moderately ill patients and the Randomised, Embed­ded, Multi-factorial, Adaptive Platform (REMAP) trial studying therapeutic anti­coagulation in severely ill patients. Each trial has since extended their enrolment criteria and harmonized their protocols to form one large trial enrolling all eligible hospitalized COVID-19 patients.
Then, the National Institutes of Health (NIH), a U.S. government agency, decided to adopt the Manitoba-sponsored combined trial across the whole of the U.S. as part of the ACTIV (Accelerating COVID-19 Therapeutic Interventions and Vaccines) platform.
ATTACC, REMAP and ACTIV-IV have now merged to form a novel multiple plat­form RCT with sites in North and South America, Europe, India and Australia.
The ATTACC/REMAP/ACTIV trial, says Zaryhanski, is a new type of clinical trial strategy: the mpRCT methodology allows inde­pendent networks or platforms to enroll patients using the harmonized protocol and analyze individual patient data as one unified trial."
This allows patients to be enrolled with great speed so a trial conclusion can be made as quickly as possible.
So far, over 3,000 patients have been enrolled in the mpRCT. The ATTACC platform alone has 58 activated sites with 1,200 patients enrolled in Canada, U.S., Brazil and Mexico. REMAP has enrolled nearly 1,500 patients in Canada, U.S., E.U., U.K., Ireland, Australia, New Zealand and Saudi Arabia. The NIH sponsored ACTIV-IV platform has enrolled approximately 400 patients and is expanding rapidly.
Zarychanski says, "Over 300 sites have been activated in more than a dozen countries and we've recently expanded to include sites in low and middle income countries through our REMAP platform."
"Over 300 sites have been activated in more than a dozen countries and we've recently expanded to include sites in low and middle income countries through our REMAP platform."
"Launching the trial in multiple countries gave us the greatest ability to successfully complete enrollment," he says.
To action a trial as large as ATTACC, the project team is large and necessarily international. Day-to-day trial management is lead by Lindsay Bond of Ozmosis Research in Toronto, ON who works collabora­tively with Manitoba multi-site project managers Nicole Marten and Dayna Solvason. As the sponsor, UM expertly leads the processes of international contracting and payments.
"The trial is providing exciting opportunities for our local trainees and faculty," says Zarychanski.
Brett Houston MD (PhD candidate), Gloria Vazquez Grande MD (PhD candidate), Sylvain Lother MD (MSc candidate), Vi Dao MD and Glen Drobot serve as local primary investigators for ATTACC/REMAP who work with a committed group of research coordinators to enroll patients at three hospitals in Winnipeg both on hospital wards and in the ICU.
ATTACC is funded by Canadian Institutes of Health Research (CIHR) ($3.6 million), LifeArc Foundation ($1.7 million), Peter Munk Cardiac Centre ($250,000) and Thistledown Foundation ($500,000). REMAP is funded by CIHR ($1.1 million). Zarychanski credits Research Manitoba, CancerCare Manitoba, and the Victoria General Hospital Foundation with providing essential start-up fund­ing that was leveraged to secure national and international funding.
Zarychanski's team was able to quickly pivot to COVID-19 research due to their experience running clinical trials in hospitalized patients. As cases mount, they are working diligently to figure out whether heparin or other drugs will be effective treatments.
"It has been an exhausting experience for our research team–incredible responsibility and with an obvious expectation to finish the trials as soon as humanly possible," he notes. "In the COVID world, two months feels like two years."
A new model
While we wait for COVID-19 vaccinations in 2021, researchers are racing to find ways to treat the virus and its ensuing complications. In direct response to the challenges presented by the pandemic, teams were required to create or adopt novel methods to design and run trials.
The ATTACC/REMAP/ACTIV-4 multi-platform trial is helping to put UM and Manitoba on the map in the world of clinical trials. Using innova­tive trial methods designed specifically to meet the needs of a global pandemic, the Manitoba co-led initiative is expected to have an indelible impact in the ways clinical trials are conducted.
"The uniqueness of COVID-19 urgently called for novel methods in design and conduct of clinical trials," says Zarychanski. "Manitoba has had a significant leadership role developing new trial methods that are expected to change the landscape of clinical trials going forward."
Zarychanski calls it a "welcome feather in Manitoba's cap," for a Manitoba-co-led and sponsored trial to be supported by the U.S. He expects the new methods incorporated into ATTACC/REMAP/ACTIV will inform the design and conduct of international clinical trials in a post-COVID world.
"It's a compelling model for international collaboration, and I can see already that design elements and methods we've created are being translated into other clinical trials in non-COVID disease states," says Zarychanski. "The experi­ence conducting ATTACC and other COVID-19 trials is serving to increase UM's research capacity and train the next generation of clinical trialists in Manitoba."
Hip to Heparin is one of the feature stories in the Winter 2021 issue of ResearchLIFE magazine.
Research at the University of Manitoba is partially supported by funding from the Government of Canada Research Support Fund.