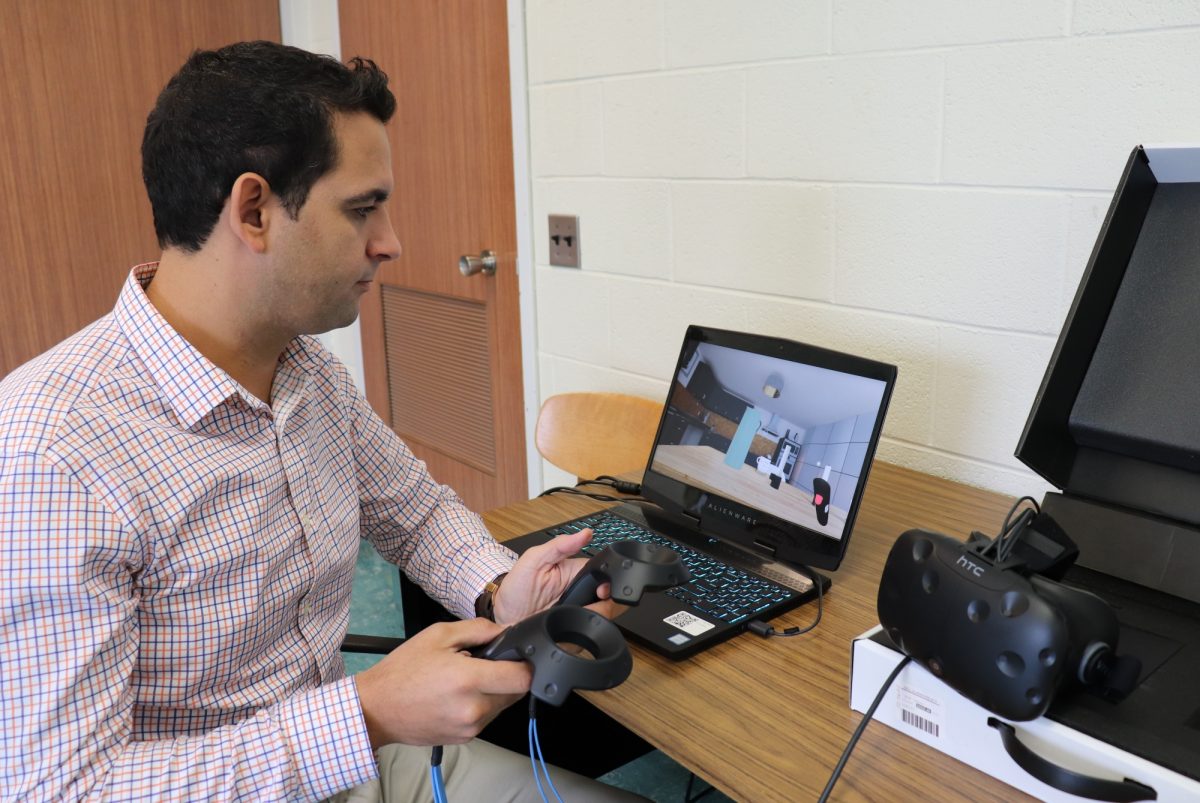 High-tech research projects to create futuristic health-care aids
October 10, 2019 —
Two high-tech interdisciplinary research projects focused on the future of patient care, featuring College of Rehabilitation Sciences faculty, have received funding from the Collaborative Innovation Research Fund (CIRF).
One of the projects is aimed at creating a future where older adults will be able to live on their own longer thanks to sensors in their homes that track their health and help in their day-to-day lives. The other research team is developing a robotic device that patients with motor impairments will use to control a video game while simultaneously performing rehabilitation exercises.
The focus of the fund is on innovative collaborative research in the areas of telepresence, telehealth, telemonitoring and assistive technology.
Dr. Jacquie Ripat, research lead, College of Rehabilitation Sciences, Rady Faculty of Health Sciences, said that the two projects selected have the potential to be transformative.
"They are innovative in terms of bringing teams together with a unique perspective that can make advancements on issues that people have identified as problematic," Ripat said. "They're innovative in terms of harnessing technology, harnessing the experience of computer science or engineering, along with health and rehab."
To be eligible for CIRF funding the teams must include one full-time faculty member and student from the College of Rehabilitation Sciences, and at least one full-time faculty member and student from the faculties of science, engineering or architecture. Funding support is from CoRS and the other faculties.
Smart suite
One research team is working to create a computer platform that they hope will one day help adults live on their own well into old age.
The computer platform is for the Smart Suite that's being constructed by University of Manitoba researchers. The Smart Suite is a replica of living quarters and will be equipped with a variety of sensors to monitor the activities of people in the space.
Sensors inside the Smart Suite will include, for example, Doppler radar, motion sensors and smart floor mats equipped with pressure sensors. The sensors can monitor activities like time spent standing in the kitchen, frequency of hand-washing and the distances walked at home on an average day.
The research team is creating a computer platform to compile and analyze all the data from the sensors in the Smart Suite, said Dr. Amine Choukou, assistant professor of occupational therapy, CoRS.
"We're building the brain of the Smart Suite," he said.
After completing studies in the Smart Suite, the goal is to move the technology into people's homes, Choukou said. The data collected in one's home will train the computer to spot anomalies in a person's behaviour, like if they stop bathing or cooking. The system could also alert emergency services and caregivers if a person falls.
"This is a huge market and a huge health cost reduction for the government," Choukou said. "If we keep people at home, they can live independently for as much time as possible and we will avoid sending them inappropriately to long-term care facilities."
Choukou also sees a future where doctors will gain access to the data collected in someone's smart home. The doctor could review sleep patterns or look at how much time is spent standing or sitting down in front of the TV or computer and make recommendations, he said. Activity monitoring should be considered as a medical prescription preceding any decision to relocate an older adult to a long-term care facility, Choukou said.
The team, which received $50,000 in funding, includes Dr. Rasit Eskicioglu, associate professor of computer science, Faculty of Science; Dr. Pourang Irani, professor of computer science, Faculty of Science; and Dr. Ahmed Ashraf, assistant professor of electrical and computer engineering, Faculty of Engineering.
Video game-assisted rehabilitation
Another team that was awarded CIRF funding is developing a robotic device, called a manipulandum, which enables a patient with limited hand or finger mobility to control a video game while performing rehabilitation exercises.
The robotic device being developed will connect to a computer. The patient – who could have suffered a stroke or spinal cord injuries, or have multiple sclerosis or Parkinson's disease – will use the robotic device to do hand or finger exercises. Each movement they make with the robotic device will control the video game on a screen. The robotic device will assist the patient with the movements if it is too difficult or give resistance to make the movement harder. Over time, the robotic device will learn about the patient's progress and increase the resistance as they improve.
Dr. Tony Szturm, professor of physical therapy, College of Rehabilitation Sciences, said that by adding a gaming element, rehabilitation exercises become more interesting and engaging for the patient. When rehabilitation regimes are prescribed at home, adherence is often low because the exercises are uninteresting and tedious, he said, adding that people could be doing the exercises for 20 minutes per day for anywhere from three weeks to three years.
"I think the idea of having a smart manipulandum controller is very novel," Szturm said. "It applies to a lot of different patient populations. The arm and hand function is really important for people and I think it's something that is neglected otherwise."
Szturm said another advantage of using video games as part of rehabilitation is the data generated from game play. The data can reveal patient progress like response time, movement time and movement accuracy. These stats could support changes to the rehabilitation regime.
The goal is to create an affordable model that patients will turn to in their homes, he said.
"As we prove that people will actually use this at home, then insurance companies and the government are going to say 'OK, let's do it.' If patients don't do this and if they don't get better, we have to provide them home care which is way more costly for years and years and years," he said.
Szturm is a member of the research team, which received $32,000 in CIRF funding, alongside Dr. Nariman Sepehri, professor of mechanical engineering, Faculty of Engineering; and Dr. Rasit Eskicioglu, associate professor of computer science, Faculty of Science.