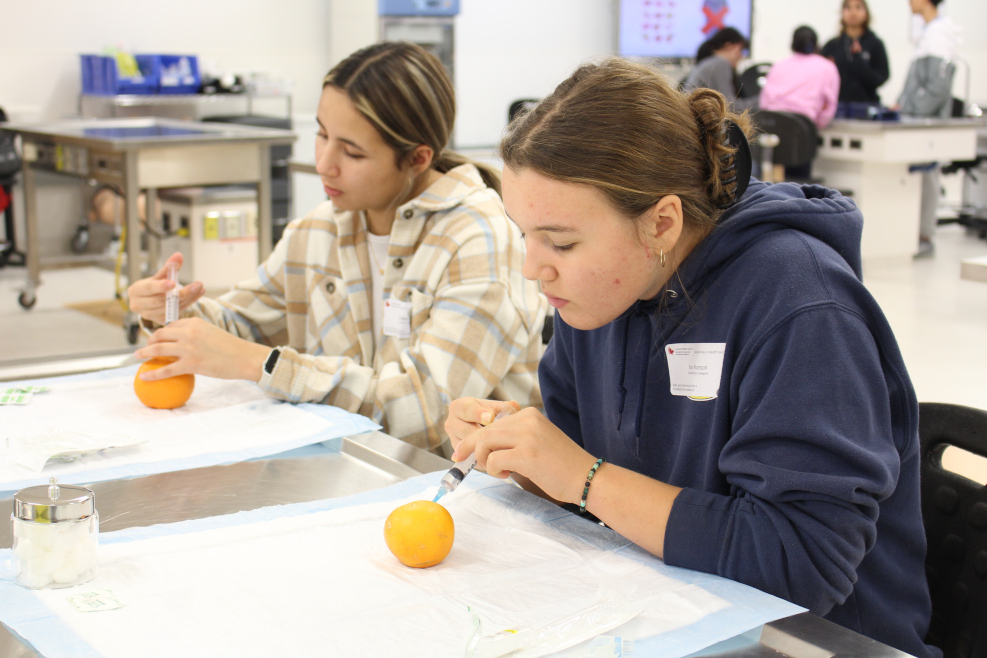 High schoolers explore careers in health sciences at Discovery Days
November 14, 2023 —
With concentration, Nora Hanson carefully pierced an orange with the needle of a syringe.
The Grade 11 student at Nelson McIntyre Collegiate learned how to give an injection as part of a clinical skills in medicine workshop held during the Canadian Medical Hall of Fame Discovery Days in Health Sciences on Nov. 9.
"It was really cool," Hanson said. "It's something I didn't think I'd get to learn about in Grade 11."
Hanson was one of almost 300 high school students and teachers from 73 schools across Winnipeg and the surrounding area who attended the annual event. Another 45 students, who live more than 350 km outside of Winnipeg, were able to attend thanks to travel bursaries.
UM has co-hosted Discovery Days with the London, Ont.-based Canadian Medical Hall of Fame for the past 22 years.
"Discovery Days in Health Sciences provides high school students with a fantastic opportunity to learn from our experts about the numerous career paths in the health sciences and the cutting-edge research happening at the University of Manitoba," said Dr. Peter Nickerson, UM vice-provost (health sciences), and dean of the Rady Faculty of Health Sciences. "We hope students leave with an enthusiasm for the health sciences and an eagerness to become the next generation of health-care professionals and scientists."
More than 20 faculty-led workshops offered the high school students a chance to explore different fields in the health sciences, which included dental hygiene, nursing and medical microbiology.
At the dentistry workshop, Yun Nam learned the steps to give a dental filling. The Grade 12 student at J.H. Bruns Collegiate is thinking about going to dental school because of the manual dexterity needed to be a dentist.
"I heard it's really hands-on," Nam said. "I like using my hands. I have knitting stuff in my bag right now."
Aaliyah Fernandez, a Grade 12 student at Westpark School in Portage la Prairie, took part in the College of Rehabilitation Sciences' workshop because she's interested in physical therapy.
"My teacher talked about how Discovery Days is a great day where people could explore different occupations, so I decided to go," Fernandez said.
The day began in the Brodie Centre atrium with opening remarks by Deborah Ash, finance officer at the Canadian Medical Hall of Fame, and Dr. Sari Hannila, associate professor of human anatomy and cell science at the Max Rady College of Medicine, and deputy director of the Interdisciplinary Health Program at the Rady Faculty.
Dr. Noralou Roos, professor emerita of community health sciences and a Canadian Medical Hall of Fame laureate, presented a talk titled A Message to My Teenage Self. Her advice to the students was to pursue their education, and look for -and build on- opportunities.
An example of an opportunity Roos took was when she ran for student body president at her high school in the late 1950s and won.
"I've always been convinced that is why I ended up being offered a fellowship at Stanford University and was admitted there at a time when it was very competitive for women," Roos told the high school students.
Dr. Sheila Peters, a member of the UM medicine Class of 1993, gave the keynote lecture. Peters, who is Métis, worked in the Health Sciences Centre's emergency department for 25 years. She now practices family medicine at Access Centre Downtown and is a primary care advisor at Keewatinohk Inniniw Minoayawin.
Peters shared her inspiring journey and provided the students with words of encouragement.
"Who are you? Who here doesn't have a hot clue who they are?" Peters asked the audience. "Me. I'm 56 and I'm still figuring it out. It takes time – it's a constant journey. It's continually changing with every celebration and every stress and every change in your life. And don't be afraid to not know who you are but make one step forward slowly and slowly."
After the students attended two workshops, the day ended with a career panel discussion and Q&A session.