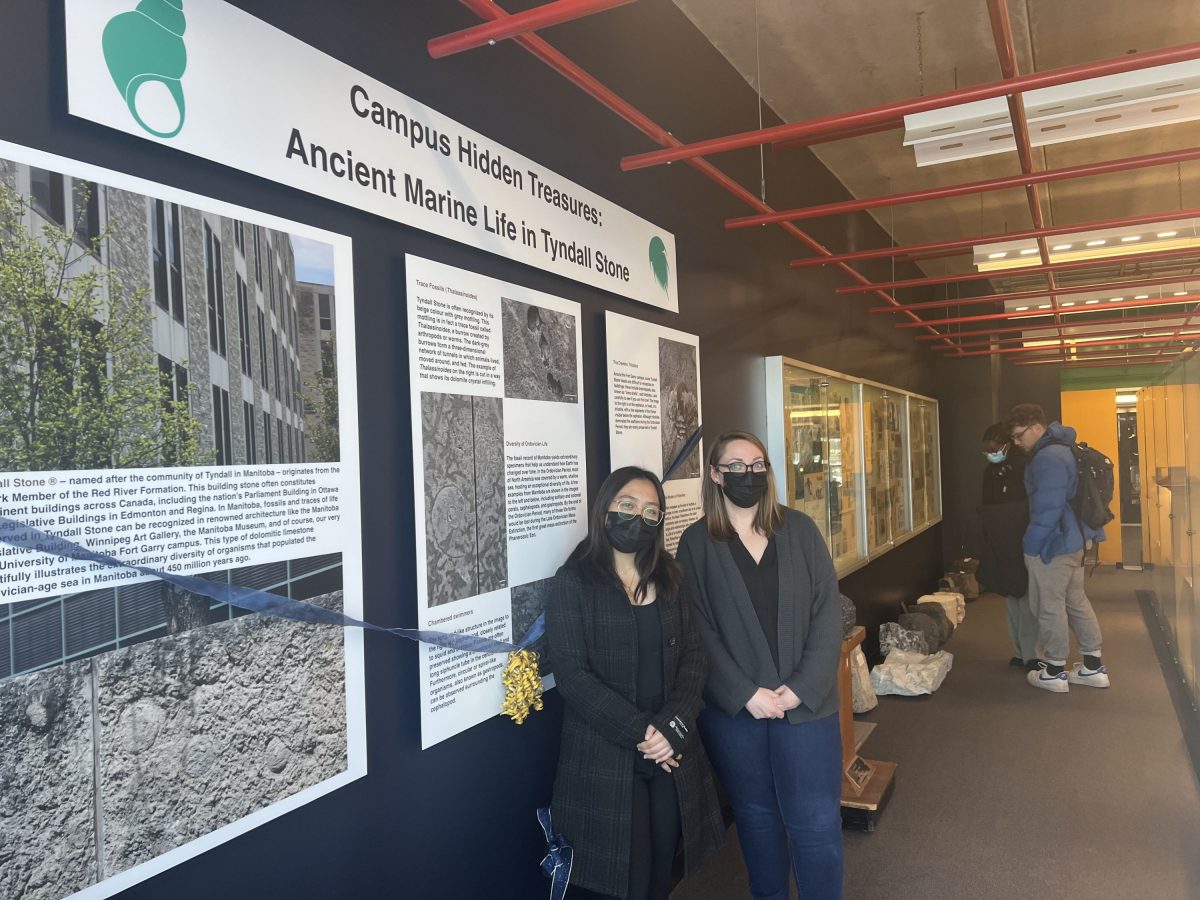 Hidden treasures on campus
Rare fossils inspire student work that has become museum exhibit
May 15, 2023 —
A new exhibit has been unveiled in the Wallace Building's Ed Leith Cretaceous Menagerie: Campus Hidden Treasures: Ancient Marine Life in Tyndall Stone.
Faculty of Science student Gjana Millar began this project as a high school student as part of an AP Capstone research project which became an innovative collaboration between the Clayton H. Riddell Faculty of Environment, Earth, and Resources and Daniel McIntyre Collegiate Institute (DMCI). Kristin Brink, a vertebrate paleontologist and assistant professor in the department of Earth Sciences, was a faculty advisor who advised Millar as she searched for fossils in the Tyndall stone around the UM campus.
The inspiration? It's the walls that Millar and hundreds of students walked through at DMCI every day, where she first noticed the fossils. Now, her discovery of rare Ordovician fossils hidden around UM is bringing more attention to the remarkable marine organisms that are still part of living history from 400 million years ago.
"Tyndall stone is quite a unique building material as it homes a diversity of marine life such as corals, sponges, squids, and much more," said Millar during the exhibit unveiling in February.
"Surprisingly, despite how remarkable these organisms are, they've rarely been looked into; merely just designs on rock to people as they either walk by them, or on them," she says noting that the whole province is filled with these fossils on the walls of building or on walkways. "Maybe it's because they aren't the big dinosaurs people usually see in museums."
Millar hopes that this project will continue to expand our understanding of marine paleontology and spark further research on the evolutionary history of these fossils, even if they're not the common fossils that most people know about.
While all collaborators involved point to the research as the main focus of this project, this partnership exemplifies the opportunities and excellence that students can contribute to all areas of study, showing how these partnerships create meaningful connections that bridge the gap between the high school and postsecondary environments.
DMCI teacher Benjamin Paul is thrilled to see the connections that have been fostered through the AP Capstone program during this project. "I hoped that my students would make connections with expert advisors for their projects in the post-secondary community," says Paul. "Something that once seemed unlikely has now become a reality as we all work together to transition students to realize greater success in university."
Brink says she was happy to hear that Millar was interested in researching fossils she had noticed in the walls of DMCI. "I was excited to hear this, as I think it is important to get young people interested in science, and of course I love fossils so wanted to be involved! I showed Gjana how to look for fossils in the Tyndall stone around campus and how to take photos of specimens with a scale bar, as field paleontologists do."
Brink is now using the display as an example for students in her first-year historical geology course, "allowing students to discover the hidden treasures in Tyndall stone as Gjana Millar did."
Brink is proud that these findings developed into a museum display that will be seen by thousands of students at UM; and of all the things that the UM community does best, the Hidden Treasures exhibit might just inspire a future student to delve into their own research the same way this project stemmed from a simple curiosity.
The next time you walk the halls of the Wallace building, step into the Ed Leith Cretaceous Menagerie and see our campus's Hidden Treasures yourself! And don't forget to look for the fossils in Manitoba Tyndall stone when you are out and about.