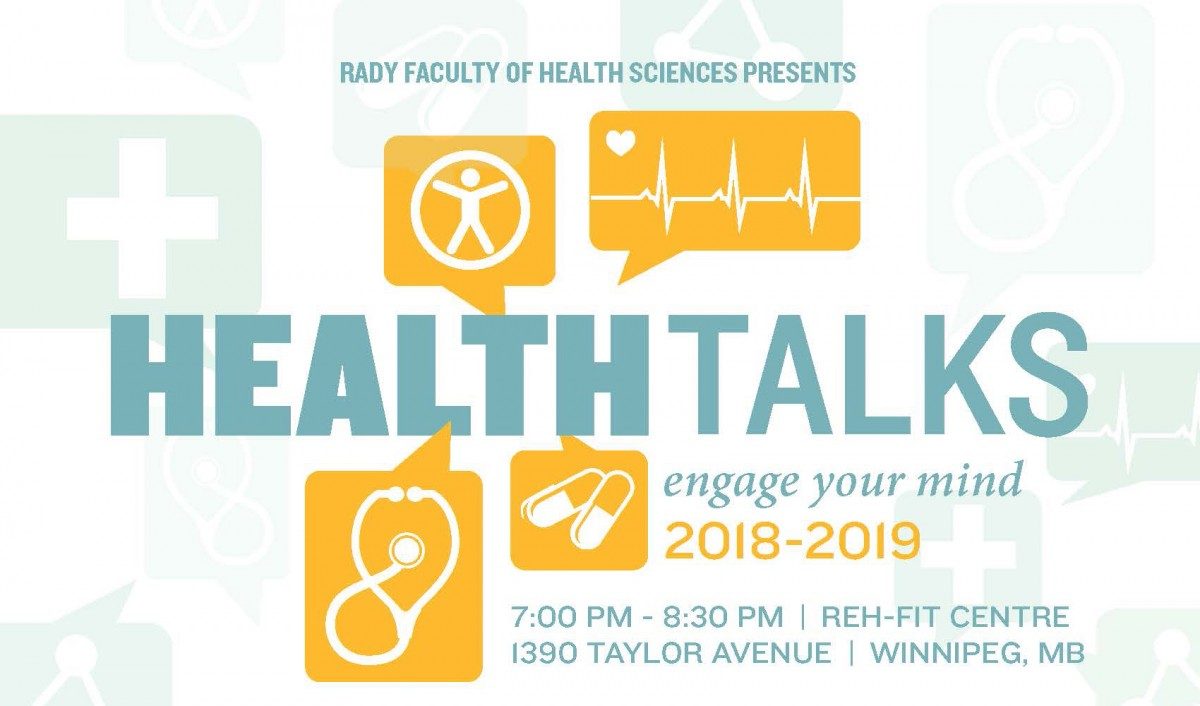 HealthTalks: public lecture series on important health issues
December 21, 2018 —
Get ready for the new year with stimulating and informative public presentations from the Rady Faculty of Health Sciences popular HealthTalks series.
Formerly known as MedTalks, this series is held annually at the Reh-Fit Centre. Each session runs from 7:00 – 8:30 p.m., featuring two lectures and a question period on a specific theme.
Three more HealthTalks are coming up after the holiday break:
MAINTAINING BALANCE:
DECONSTRUCTING DIZZINESS AND FALL PREVENTION SKILLS
Wednesday, January 16, 2019
Taking a tumble isn't just embarrassing – it can be dangerous, too. Find out why it's sometimes hard to keep your balance and the conditions that can be at the root of it. You'll also get a crash course on how to prevent falls so you can stay safe and keep your cool, too.
Lecture 1: Stop the spinning – a primer on vertigo
Speaker: Beth Wonneck BSc, MSc
Lecture 2: Fall prevention
Speakers: Reh-Fit physiotherapy staff Amandev Dhesi & Kelly Small
HEART SMART GALS WON'T YOU COME OUT TONIGHT
Thursday, February 21, 2019
If you think only men get heart disease, think again. It's just as important for women to understand the risks and warning signs – maybe even more so, since most research and information is still targeted at their male counterparts.
If you're a heart-smart gal – or you want to become one – join us for an important evening about the steps you can take to keep your heart happy and healthy for years to come.
Lecture 1: Making sense of cholesterol results
Speaker: Eva Stephens RN
Lecture 2: Cardiovascular disease – what women should know
Speaker: Dr. Olga Toleva FRCPC, MPH
MY SUGARS ARE UP – NOW WHAT? DIABETES UPDATE AND WOUNDCARE SKILLS
Monday, March 18, 2019
We all know it's important to eat a balanced diet and get regular exercise. But sometimes, life gets in the way. For a diabetic, that can mean high blood sugar. Now what?
Find out from the experts how to get back on track safely. They'll also offer some good advice on how to manage wound care – an important skill every diabetic should know.
Lecture 1: My sugars are up – now what?
Speakers: Wound care nursing team
Lecture 2: Wound care
Speakers: Wound care nursing team
Registration is FREE and all are welcome to attend. To register, call 204-272-3122 or email Ana [dot] Mullen [at] umanitoba [dot] ca