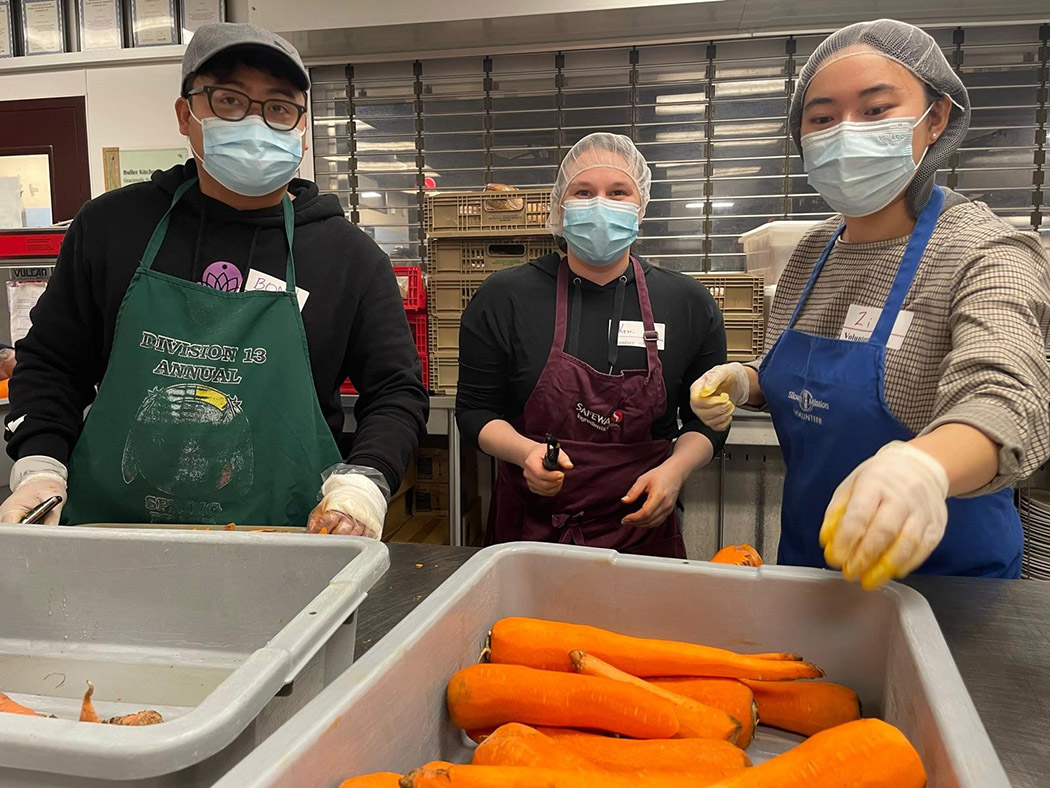 Health sciences students spread holiday cheer
Donations still being accepted
December 13, 2021 —
Students at the Rady Faculty of Health Sciences have embraced the spirit of giving this holiday season with several volunteer and fundraising activities.
On Nov. 29 and Dec. 1, seven students from the Graduate Nursing Students' Association (GNSA) volunteered at Siloam Mission, cooking meals for people from the city's homeless community.
Vanessa Bailon, GNSA co-chair, said some of the group's members had volunteered at Siloam Mission before and knew first-hand that it would be a valuable experience.
"Because it's the holiday season, and with the pandemic causing a lot of stress and trauma within people's lives, we wanted to find ways to spread positivity and Siloam Mission was a good fit," she said.
The GNSA is planning to volunteer at Siloam Mission again before the end of the holiday season, as well as starting work with other community groups.
"Volunteering really ignites your heart, mind and spirit, which speaks volumes when showing compassion and empathy for people you work with and patients you care for," Bailon said.
The Manitoba Dental Students' Association (MDSA) partnered with the Winnipeg Christmas Cheer Board to create hampers for six families. The four dentistry and two dental hygiene classes each assembled a hamper that included food, toys, baking supplies and decorations. Representatives from the classes helped deliver the hampers on Dec. 10.
"The MDSA wanted to do something special for families during the holiday season," said JR Salinas, vice-president of the association. "It has been a tough couple of years with the pandemic and with many people losing their jobs, it makes it difficult to enjoy the holidays. With the hampers, we hope it can help decrease the stress of the holidays, as it can provide food and gifts to families and can help alleviate financial burden."
The Indigenous Health Promotions Group, a student interest group overseen by the Manitoba Medical Students' Association, is collecting donations for the Niji Mahkwa Elementary School Toy Drive until Dec. 18. There is a need for toys for children aged 11 to 13.
Toy drop-off boxes are located in the Brodie Student Lounge and also at Ongomiizwin. Monetary donations can be sent via e-transfer to gmcivor [at] hotmail [dot] com. For every toy donated, your name is entered three times into a draw to win a $40 gift card for Feast Café Bistro. And for every $5 donated, your name is entered into the draw once.
The Nursing Students' Association (NSA) partnered with the University of Manitoba Students Union (UMSU) to collect donations to buy grocery gift cards for students in need during the holiday season. Donations will be accepted until Dec. 17.
"We are in difficult times filled with so much uncertainty, and the donations we collect will hopefully alleviate some of the challenges faced by those who are in need. I hope this program brings some holiday cheer to the recipients," said NSA UMSU representative Kaleab Baliho.
NSA students have also put together a fundraiser to purchase hot meals for health-care workers at Seven Oaks General Hospital on Christmas Eve to show gratitude in light of a tragic incident that occurred there in October. Donations will be accepted until Dec. 20.
"Health-care staff have been working immense hours and overtime throughout the year, and we want to show our appreciation and a simple thank you for their dedication. We want this to serve as a token of gratitude for all they do, even in the midst of chaos," said NSA programming chair Naveena Thakur.