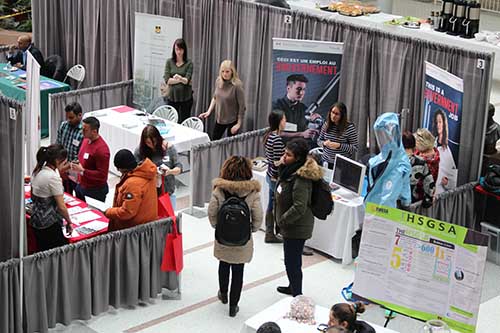 Health sciences job fair returns to Bannatyne campus
January 31, 2019 —
Students seeking job opportunities in the fields of health sciences have the chance to mingle with potential employers at the Health Sciences Industry Fair.
The second annual event takes place on Feb. 13 (from 2 p.m. to 6:30 p.m.) in the Brodie Centre atrium on the Bannatyne campus. While the career fair is aimed at graduate and undergraduate students in the Rady Faculty of Health Sciences, it is open to all University of Manitoba students and alumni.
Students can research job opportunities and connect directly with employers to learn about the skills and attributes the organizations are looking for in future employees. Job seekers can also gain an understanding of the industries and companies that employ students and graduates of health sciences. Information about all job types will be available – from full-time to part-time and co-op to summer positions.
"The Health Sciences Industry Fair was introduced to enhance the graduate student experience," said Dr. Hope Anderson, vice-dean, graduate studies in the Rady Faculty of Health Sciences. "It is important that our students are exposed to a wide range of career options, including those beyond the academic sector, so that they may best prepare for their employment aspirations."
There will be up to 12 exhibitors in attendance. Organizations taking part range from the MB Health Providers Network to the Canadian Food Inspections Agency to Health Careers in Saskatchewan.
The event is organized by the Health Sciences Graduate Students' Association (HSGSA) and U of M Career Services.