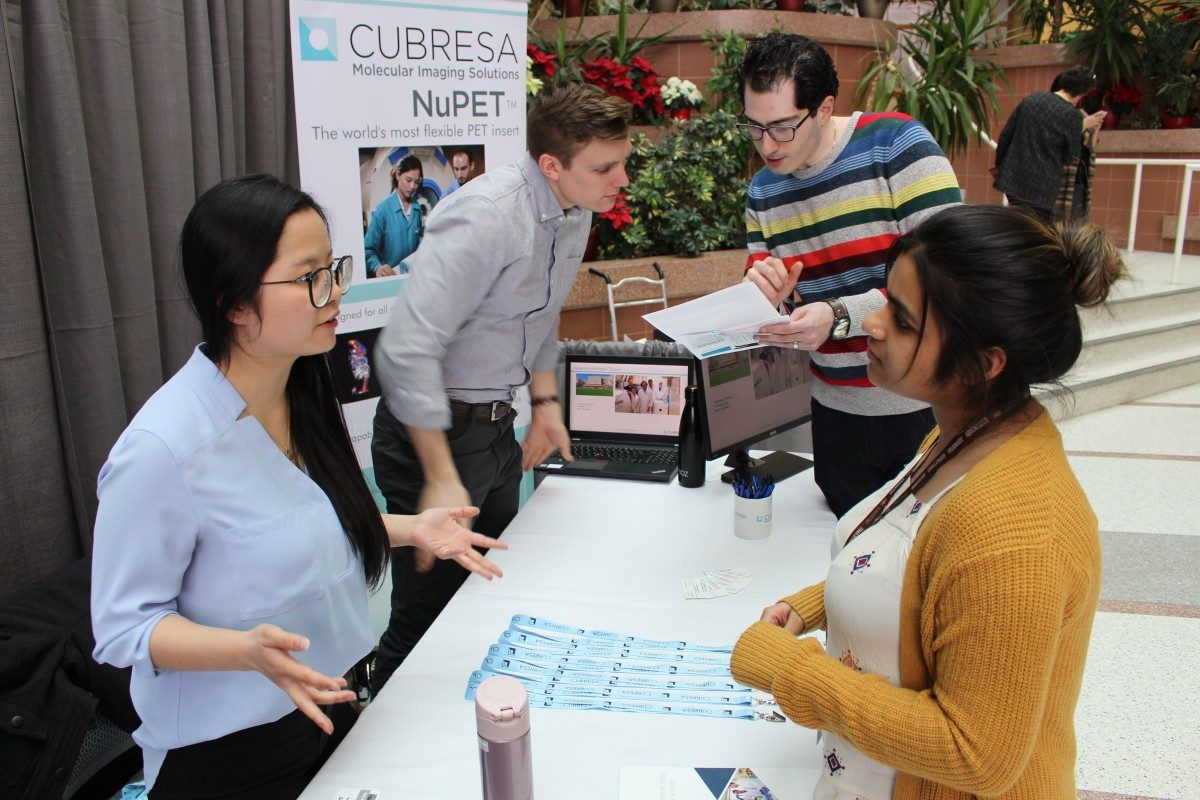 Students and employers connect at health sciences career fair
February 15, 2019 —
Harram Memon's horizons were broadened at the Health Sciences Industry Fair on Wednesday.
While the fourth-year microbiology student went to the career fair looking for work in a research lab, she left thinking about other job possibilities. A recruiter at the career fair told her not to confine herself to looking for lab work because there are plenty of other opportunities for scientists.
"I'll definitely be looking more into it to see what else is out there," she said. "Research is really getting to me, it's fun stuff, but up until this point all I knew was the lab stuff, master's and PhD."
The second annual career fair took place in the Brodie Centre atrium and included 10 exhibitors. Organizations that took part ranged from the Canadian Food Inspection Agency to Emergent BioSolutions to Health Careers in Saskatchewan.
"We are so pleased to welcome the students, alumni and employers who are participating in the Health Sciences Industry Fair," said Dr. Hope Anderson, vice-dean, graduate studies in the Rady Faculty of Health Sciences. "It is our hope that this event will foster connections that are meaningful for everyone involved."
Jessica Snure made a connection at last year's career fair that changed her life. The occupational therapist visited the Manitoba government's booth last year as a student and this year she was behind it recruiting future employees.
"It's a little bizarre being on the other side of things, but I think it demonstrates to students that you can get a job right after university," she said. "This side isn't that far away."
While the job fair was aimed at graduate and undergraduate students in the Rady Faculty of Health Sciences, it was open to all University of Manitoba students and alumni. It was organized by the Health Sciences Graduate Students' Association (HSGSA) and U of M Career Services.
Andre Coleman attended the career fair because the Ongomiizwin Indigenous Institute of Health and Healing had a booth. The master's student in physiology and pathophysiology is from Jamaica and sees similarities between the health issues Indigenous people face and the people of his homeland.
"As a minority group their health problems are sometimes overlooked and I come from a country where health problems are sometimes overlooked," he said, adding that he wants to learn more about Indigenous cultures as he works towards a career as a clinical researcher.
Natasha Klassen, a nursing student, was looking for a summer job. She found a lead with an organization that does rural placements during the summer that could lead to practicum opportunities after she graduates.
"I'm glad there are nursing positions here because I wasn't sure if it was for all disciplines," she said.
Not only were the students benefiting from the career fair, but the organizations were too. Giselle McNally, who was recruiting potential employees for the Canadian Food Inspection Agency, said the Health Sciences Industry Fair is a great place to search for summer students because they're looking for experience related to their fields of study.
"They're looking for actual job experience, not just that cook position or waitressing," she said. "They're looking for real technical experience in an industry that could give them a secure job for a good portion of their lives."