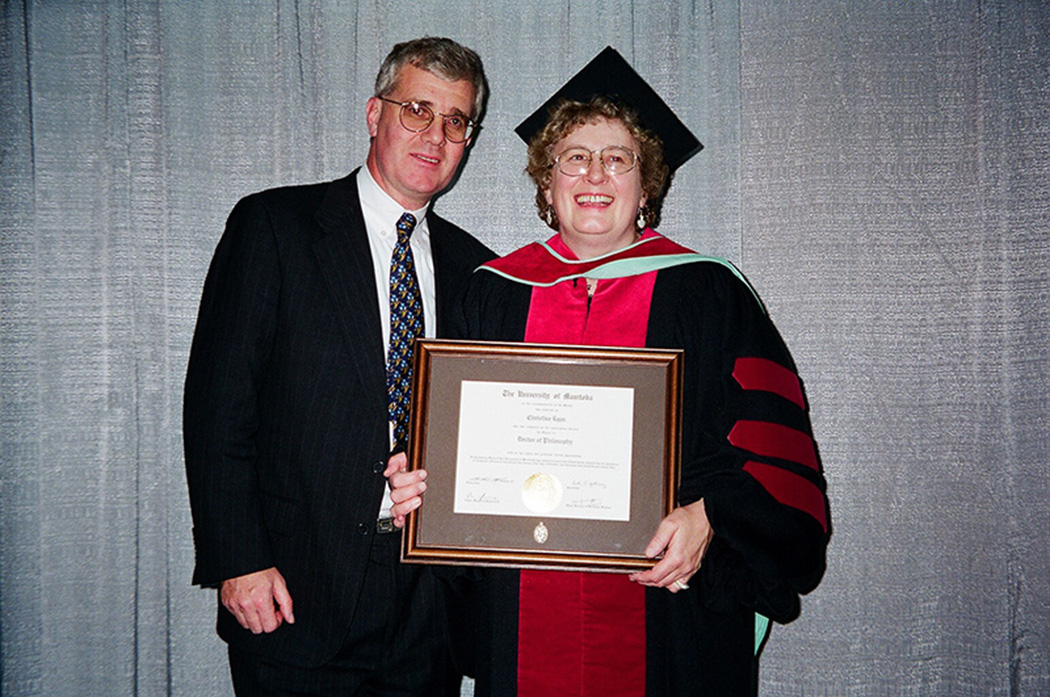 Health sciences alum remembered on 9/11 anniversary
September 10, 2021 —
Twenty years after the tragic events of Sept. 11, 2001, the Rady Faculty of Health Sciences continues to honour the legacy of Dr. Christine Egan, a Max Rady College of Medicine alumna who was visiting her brother, Michael, at the World Trade Center in New York when the twin towers were struck by hijacked passenger jets in the infamous terrorist attack.
Egan graduated from the Hull School of Nursing in England in 1967 and moved to Canada in 1969 to work as a nurse in Iqaluit. In 1999 she earned a PhD in community health sciences from what was then the Faculty of Medicine at UM.
She spent most of her career in Nunavut, including serving as program director of research and education for the Kivalliq Regional Health Board, where she was a strong supporter of nursing in the northern territory.
Her partner, Ellen Judd, distinguished professor emerita of anthropology in the Faculty of Arts at UM, said Egan was initially drawn to the north by a sense of adventure, and she soon decided to stay for years in Baffin Island and later in the Kivalliq region, where she joined in community activities and created enduring friendships.
"She was dedicated to the work she did, but the first thing in her mind was always the people she was working with," Judd said. "Beyond her work in health care and lifelong ties with Inuit and southern colleagues, she enjoyed life in the north and cared about understanding it holistically."
In 2001, an endowment fund was established by Egan's friends, family and estate to honour her by supporting student nurses in Nunavut. Since 2004, over 45 scholarships have been awarded to promising Nunavut nursing students.
"It made sense as a tribute to her to continue things that had been important to her life," said Judd. "It's been a very uplifting and positive thing that very many of us in Nunavut, Manitoba and elsewhere have been able to do together. It honours Chris in a way that I think she would wish."
The selection committee includes a representative from Egan's family, the Inuit Health Program at Ongomiizwin – Health Services, the community health sciences department at the Max Rady College of Medicine and the College of Nursing.
The Dr. Christine Egan Memorial Scholarship will be given out for the 18th time in the 2021-2022 academic year, with $17,600 to be awarded.
Dr. Netha Dyck, dean of the College of Nursing, said the college is proud to honour Egan's legacy through the scholarship.
"Dr. Christine Egan was committed to health and education in Nunavut and, with this scholarship, we are pleased to offer our strong support to students who are completing their education to pursue a nursing career there."