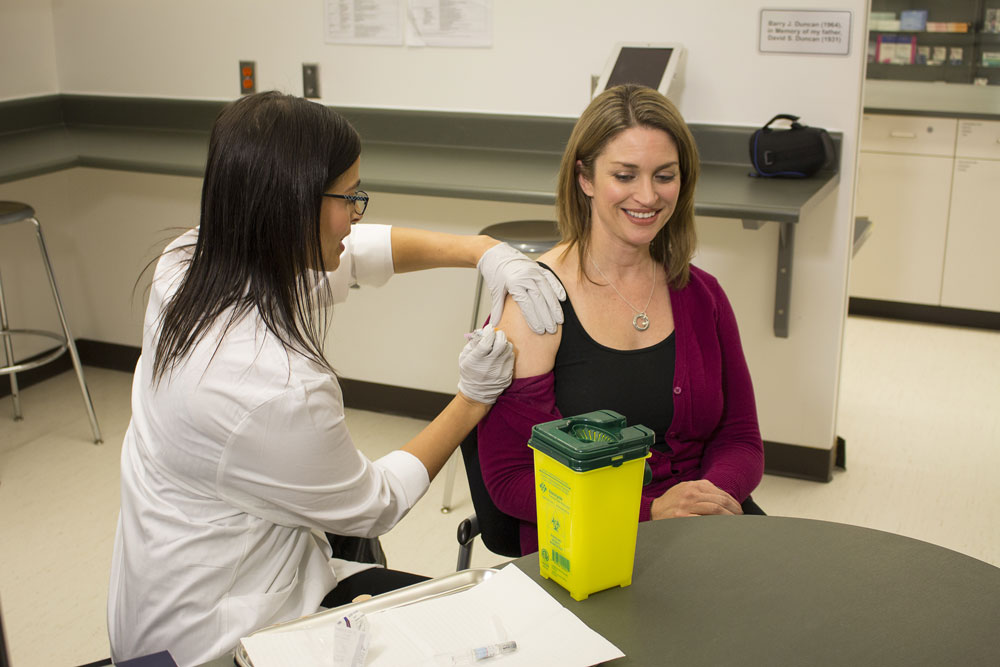 Health Minister challenges the province to roll up their sleeves
October 14, 2014 —
Getting vaccinated just got easier. Manitobans now have access to more health-care professionals certified to administer flu vaccines.
"With more than 530 pharmacists now certified to administer drugs by injection, five new ACCESS centres and four QuickCare clinics now open for service, Manitobans have more options to get their flu vaccine," Minister Selby announced at a news conference held last Friday at the Bannatyne Campus.
To that she added: "With these new options I am setting a challenge for Manitobans … we want this to be a record-breaking year for the flu shot."
Dr. Michael Routledge, chief provincial public health officer, also spoke at the announcement stating just 20 to 25 per cent of Manitobans get their flu shot each year; he expressed his hope is that all groups at risk of infection will get vaccinated this year.
Increased access to immunization is a priority for government to ensure that Manitobans can protect themselves against the flu and protect those at increased risk of serious illness from the flu, said Selby as she listed seniors, care-givers and children among those at a greater risk.
To celebrate the regulations outlined in the Manitoba Pharmaceutical Act — granting pharmacists the ability to administer injections – Selby and Mr. Dennis Whitebird, from the Assembly of Manitoba Chiefs, each received their influenza vaccinations from certified pharmacist.
With pharmacists now able to administer injections, rural and remote communities have significantly better access to the vaccinations and improved health-care. "For us, it's very important that our children, our elders and many of our people that are chronically ill with diabetes or any other disease have access to a flu vaccine," said Whitebird.
Steele's Apothecary within the College of Pharmacy, Faculty of Health Sciences, was the ideal location for these seminal injections of this year's flu season. The Bannatyne campus is the educational epicenter of the University of Manitoba's nationally recognized Pharmacy program. This location provides the necessary environment for the development of clinical skills that pharmacists have as a healthcare providers.
All College of Pharmacy students are trained to administer injections and the University of Manitoba has partnered with the College of Pharmacists of Manitoba to certify the 530-plus practicing pharmacists in the province.
This will be the first year that Manitoba pharmacies are included as sites for flu vaccinations. Over 200 pharmacies in Manitoba are ready to administer the flu shot. All Manitobans are encouraged to contact their local pharmacy or health-care provider to arrange for their immunization.