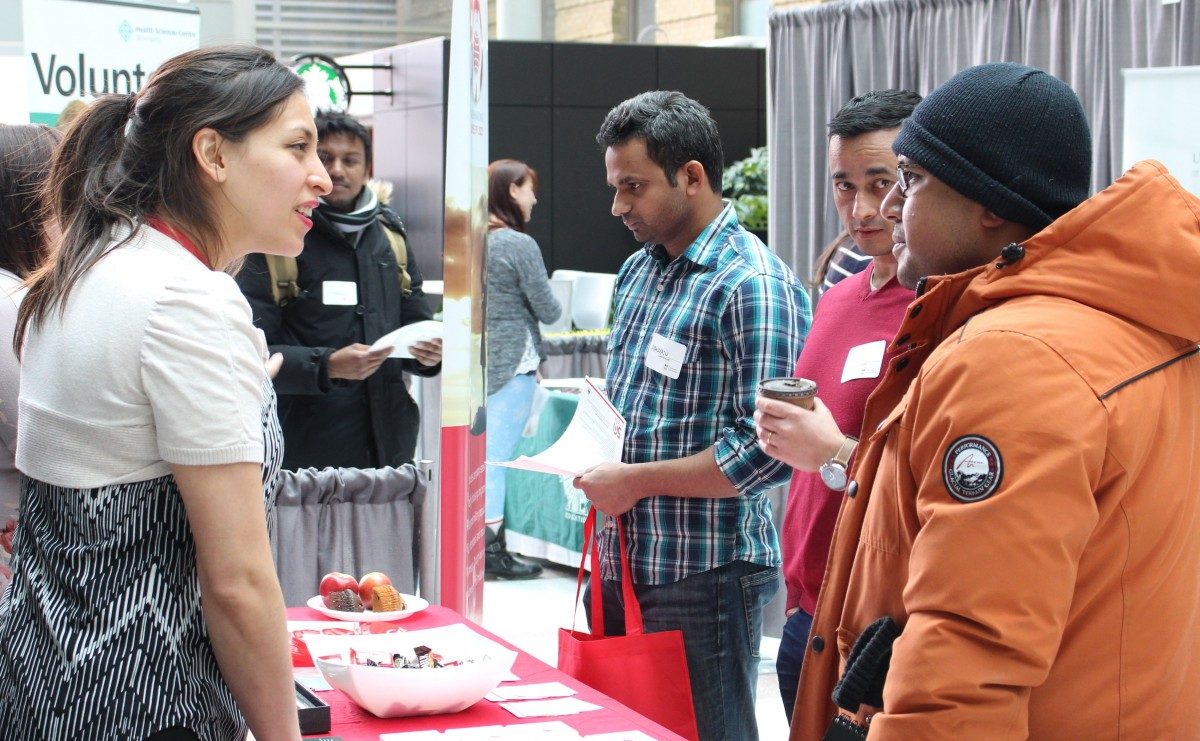 Career fair connects employers with Rady students
February 15, 2018 —
Viridiana Urena-Ramirez says if she can do it, so can other U of M graduates.
Last year, after completing her master's degree in microbiology, Urena-Ramirez landed a full-time job as an associate scientist at Emergent BioSolutions in Winnipeg. She is now testing ways to combat the Zika and influenza viruses.
"I'm applying my knowledge," she says. "All the experience I got at U of M is incredibly useful on a daily basis in my job."
Some master's and PhD students fear they're only suited for academia and are not qualified for "real-world" jobs. But that's mostly because they lack awareness of all the potential employers out there, Urena-Ramirez says.
"A lot of people with master's degrees think there aren't jobs out there for them, but there are – even for people with a bachelor's degree."
On Feb. 13, Urena-Ramirez was on the Bannatyne campus, where she used to hold lab research jobs as a student. She was enthusiastically staffing her company's recruitment booth at the U of M's inaugural Health Sciences Industry Fair.
The free career fair in the Brodie Centre Atrium featured 10 health-related exhibitors, ranging from the Public Health Agency of Canada to Mitacs, a not-for-profit organization that supports research, to Meno Ya Win Health Centre, a hospital in Sioux Lookout, Ont.
The fair was organized by the Health Sciences Graduate Students' Association (HSGSA) and U of M Career Services to help students research job and volunteer opportunities and connect with employers.
It was aimed at graduate and undergraduate students in the Rady Faculty of Health Sciences, as well as the faculties of Science and Kinesiology and Recreation Management.
"This is one of several new initiatives to enhance the graduate student experience," said Dr. Hope Anderson, vice-dean, graduate studies for the Rady Faculty. "The industry fair exposes our students to a wide range of career options and helps them understand how they can best prepare for their post-graduation aspirations."
Kate Yee, a career consultant at Services for Students on the Bannatyne campus, said she hopes the fair will attract more employers and grow each year.
Graduate students need to know there are many options for them outside the university, Yee said. "When I talk to students, some of them say, 'There's not as much opportunity in academia as there used to be.' But that doesn't mean they're not employable."
By engaging with prospective employers, students learn more about the skills, competencies and attributes they need in addition to their academic excellence, Yee said.
Simone da Silva Rosa, a PhD student in molecular biology and member of the HSGSA, said although she is two years from completing her doctorate, she wants to be well informed.
"Even though I'm not looking for a job right now, I want to know about opportunities as a trainee that can get me one step closer to a future job," she said. "Maybe I could do an internship at a company, and in future I could apply for a job there, and they already know me. I also think it's good to know about volunteer opportunities."
Yee said Career Services was gathering feedback from both students and exhibitors to inform next year's edition of the fair.