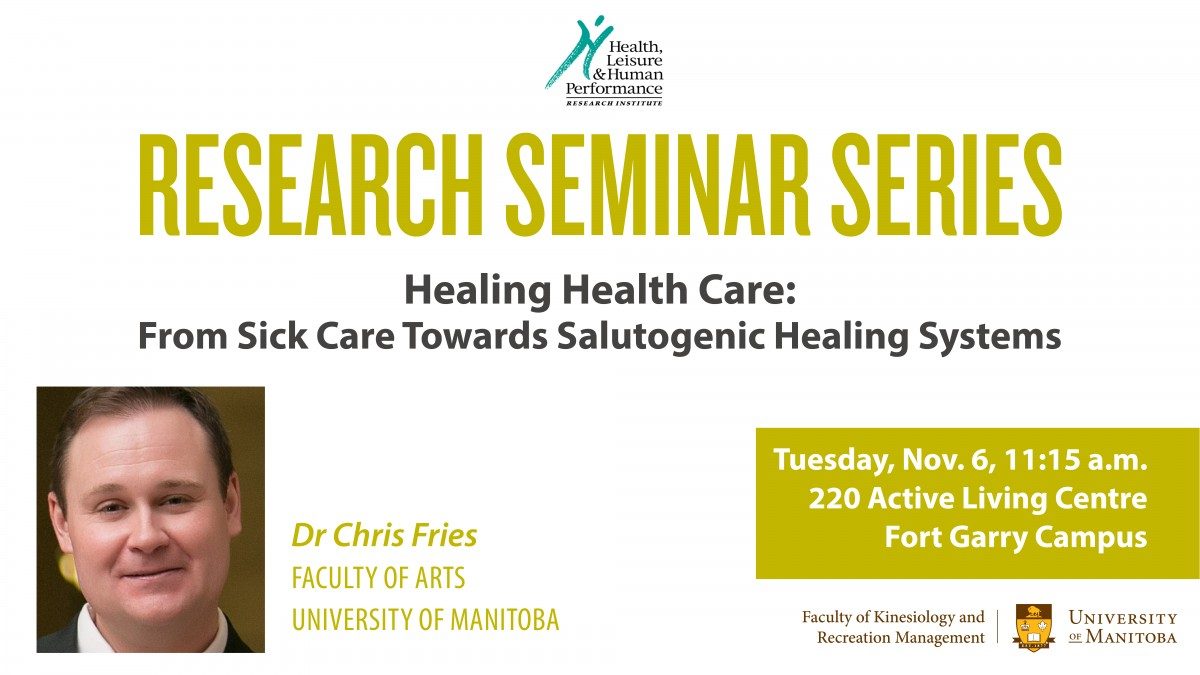 Healing Health Care: From Sick Care towards Salutogenic Healing Systems
October 29, 2018 —
We're pleased with welcome Dr Chris Fries as our guest lecturer for the Health, Leisure, and Human Performance Research Institute seminar series.
Fries, an associate professor in the U of M's department of sociology and criminology, faculty of arts, presents:
Healing Health Care: From Sick Care towards Salutogenic Healing Systems
Salutogenic healing systems describes an approach focusing on factors that support human health and well-being, rather than on factors that cause disease. More specifically, the salutogenic model is concerned with the relationship between health, stress, and coping.
Aaron Antonovsky's salutogenic model is starting to impact health promotion at the level of theory and research. However, the benefits of Antonovsky's theory for population health promotion practices and health care restructuring are unrealized. Following Antonovsky's criticism of contemporary health care as resting upon a pathogenic paradigm, Dr. Fries will outline general shortcomings associated with the pathogenic approach.
It is argued that Antonovsky's theory offers a productive basis for conceptualizing health and health care systems in that it allows us to grasp that debates between population health promotion and providing medical care, are, at their root, unproductive debates predicated on a false dichotomy. A salutogenic health care system is one which pays credence to the nested complexity of human health and strives to strike an adaptive balance between health production and the provision of medical care.
Prior to Dr Fries' talk, there will be an introductory presentation by FKRM graduate student, Linda Diffey on Teaching Indigenous Health Within An Anti-Racist, Anti-Colonial Pedagogical Framework: Using An Indigenous Perspective To Explore The Experiences Of Medical School Instructors.
WHAT: Health, Leisure, and Human Performance Research Institute Seminar Series: Healing Health Care: From Sick Care towards Salutogenic Healing Systems

WHO: Dr Chris Fries, Associate Professor, Department of Sociology and Criminology, Faculty of Arts

WHEN: Tuesday, Nov. 6, 11:15 a.m.

WHERE: 220 ALC