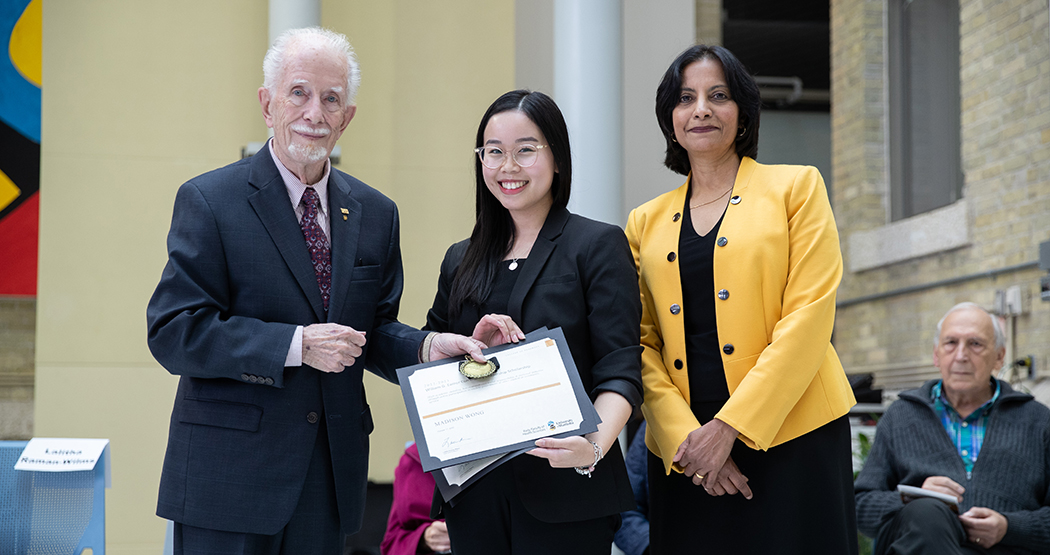 Hard work pays off for PharmD students at academic awards ceremony
November 1, 2023 —
Madison Wong is no stranger to a packed schedule.
Last year she carried a full load as a PharmD student while serving as president of UM's Pharmacy Students' Association (UMPhSA) and president elect of the national branch of the Canadian Association of Pharmacy Students and Interns (CAPSI).
"I like being involved but didn't lose sight of wanting to be the best pharmacist I can be with my studies either," said Wong. She worked hard to find the right balance and was rewarded with four awards at the October 17, 2023, College of Pharmacy academic awards ceremony.
"Both these roles challenged me but also taught me so much about time management, leadership and wellness. This year as president of CAPSI I try to bring all that I've learned forward to this role so I can make the most of my year and positively impact other pharmacy student experiences."
Wong received the David M. Collins Scholarship, Dean's Honour Roll, Pharmacy Class of 2004 Memorial Scholarship and the William G. Eamer Community Leadership Scholarship for Student Excellence.
Likewise, PharmD student John Ancheta received accolades for his efforts with four awards of his own, including Dean's Honour Roll, Dr. Roman (Roy) Bilous Scholarship, Isbister Scholarship in Pharmacy and Marguerite Hulme Scholarship in Pharmacy. "It was a nice reminder of how far I have come as a PharmD student," he said. "It's easy to be lost in all the assessments and exams that seem to follow one after the other with no end. But, taking a step back and reminding myself of the achievements I have made was reassuring and motivating."
"We are very proud of all our students for their hard work and dedication to their learning," said Dr. Lavern Vercaigne, associate dean (academics). "We're extra proud of our award winners today who have excelled in a challenging program. Congratulations!"
For Ancheta, being a successful student comes down to keeping your eyes on the prize. "Studying for my PharmD has certainly been challenging but it's been even more fulfilling knowing that what I'm learning will soon be used to help people in my community," he said.
"I think all the lessons I have learned so far are essentially embedded within the program. More specifically, learning to adapt, being courageous and learning to be kind to yourself. If anything, my advice is to trust the process and to remain true to who you are."
About 125 people attended the College of Pharmacy academic awards evening including learners, family, friends, donors, faculty and staff.
"I'm thankful to the College for holding these types of ceremonies," added Wong. "It's just a nice thing to have for students as it gives time to celebrate our achievements along the way of our pharmacy school journey. It is also a pleasure to get the chance to meet the donors that established and contributed to the awards so you can thank them in person."