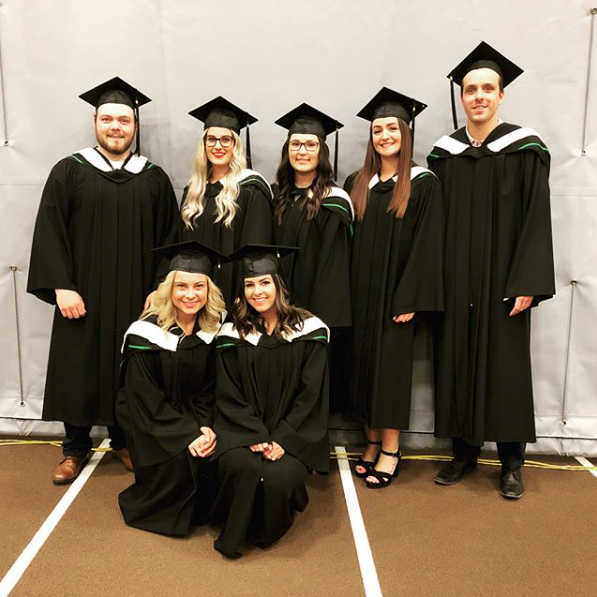 Graduation 101
FKRM welcomes 101 new members into its alumni family
June 6, 2018 —
One hundred and one has a nice ring to it.
That's the number of Faculty of Kinesiology and Recreation Management students we're now proud to call alums. The class of 2018, comprised of students in the streams of kinesiology, athletic therapy, and recreation management and community development, logged the final lap in their educational journey Wednesday, June 6 at the University of Manitoba convocation ceremony.
Two of our convocating students, Athletic Therapy graduate Carling Nordin, and outgoing PERKS council president, Courtney Gabrielle, are featured in pieces on UMToday about what's next after graduation.
Also convocating are four graduate students:
Michael Hlynsky
Major: Kinesiology and Recreation
Thesis: Identifying the Enzymes that Regulate Acetylation of Sarco(Endo) Plasmic Reticulum Calcium Atpase 2a (SERCA2a)
Krista Stewart
Major: Kinesiology and Recreation
Thesis: Effect of an Exercise Rehabilitation Program on Physical Function in Incident Hemodialysis Patients: A Randomized Pilot Study
Scott Kehler
Major: Applied Health Sciences
Thesis: The Impact of Sedentary and Physical Activity Behavior on Frailty in Middle-Aged and Older Adults
Jacqueline Lemaire
Major: Applied Health Sciences
Thesis: Community Health Assessment Through an Income-related Health Equity Lens: A Retrospective Case Study of Three Regional Health Authorities in Manitoba