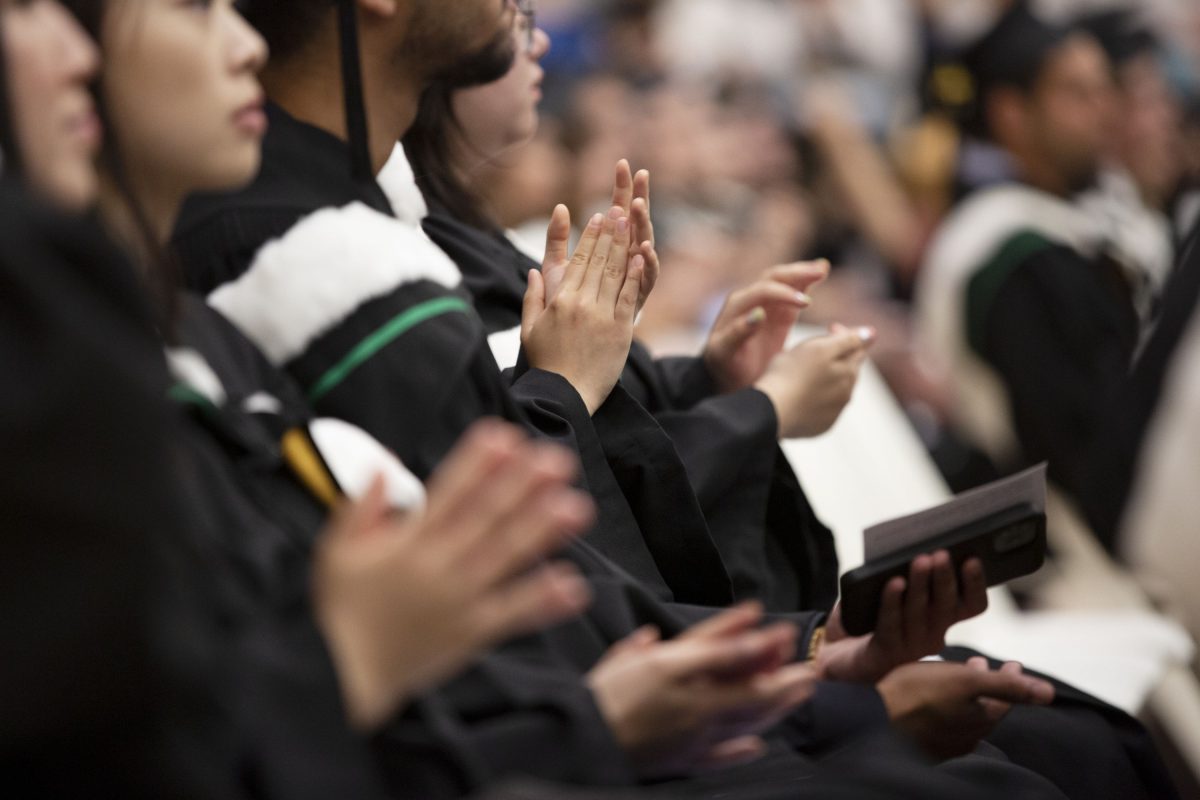 Graduate students following their questions down new pathways
Learn about three graduate students who are following their passions to change communities
October 17, 2023 —
Every person's educational journey is different and often filled with unexpected twists and turns. For many, graduate studies and research might not have been something they'd planned on, but through their curiosity and desire to help the communities around them, it's the path they found. Here is a look at the pathways of just a few graduates.
Dalima Chhibber
Master of Arts: Kinesiology and Recreation Management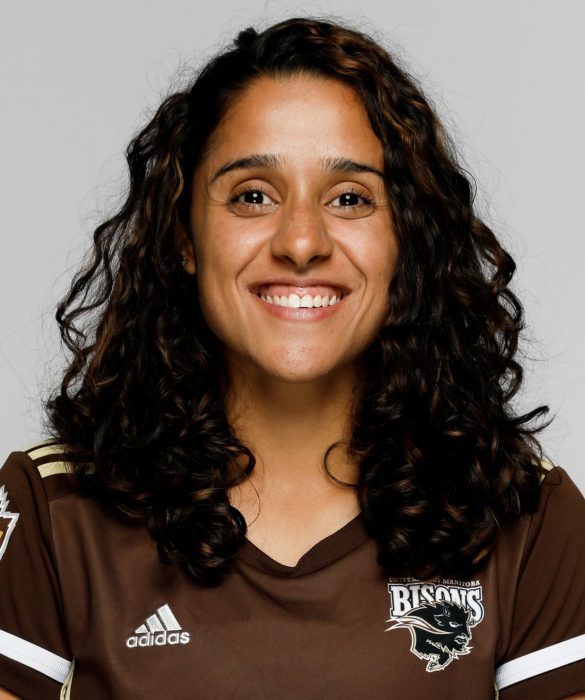 Dalima Chhibber won't be able to attend Convocation in person this year. She is currently with the Indian National Soccer Team on an exposure tour, hopping between countries and tournaments while preparing for the Olympic qualifiers.
Dalima is a professional soccer player, and her passion for the sport inspired her thesis, Exploration of Mental Health Perceptions and Experiences of Current Elite Soccer Players in India, a qualitative study focusing on understanding how athletes perceive, cope with, or understand mental health.
"My study focused on exploring the mental health perceptions and experiences of elite soccer players in India to better understand the current situation," she said.
Not only did Dalima's work centre on the experiences of soccer players, but she was completing said work while playing for the Manitoba Bisons Women's Soccer team.
"It was quite an experience. It was amazing and even overwhelming at times," said Dalima. "But there is nothing about the journey that I want to change."
While Dalima is now back in India, she said she plans to continue looking at mental health in sports and trying to find ways to help train athletes in better mental health strategies. Dalima said part of what encouraged her to focus on mental health is the lack of support for athletes in India.
She hopes to bring what she learned at UM, both on the field and in the classroom, back home to help support other athletes.
Dalima would like to thank her advisor, Leisha Strachan, associate dean, research and graduate studies, committee members, Jay Johnson, associate professor, and Dr. Adrienne Leslie-Toogood, adjunct professor. She'd also like to thank her family, Bisons teammates, Gene Muller, director, athletics and recreation, and Curt Warkentin, associate director, athletics. And finally, Bisons women's soccer head coach, Vanessa Martinez Lagunas, for being a "guardian throughout my journey with Bisons when I was all the way across the world."
Craig Hillier
Master of Arts: Kinesiology and Recreation Management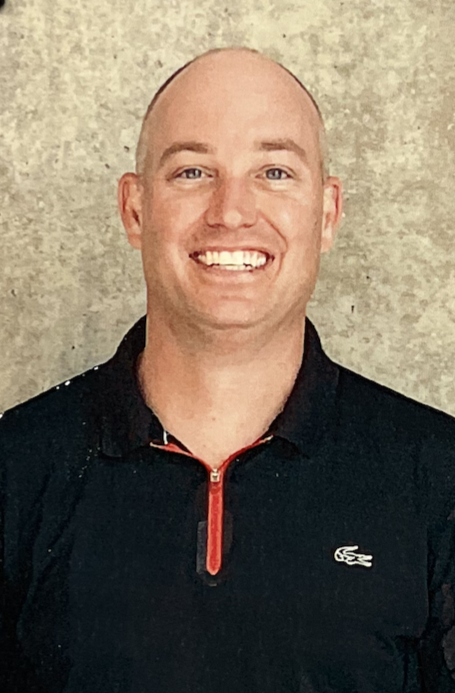 While this might not be Craig Hiller's first Masters Convocation, this time around, there is a little bit more of a "sparkle."
Craig has a biomedical background, receiving his Bachelor of Science in microbiology and a Master of Science from the Dr. Gerald Niznick College of Dentistry. However, during his previous research, Craig said he was missing a bit of the human element.
When at a crossroads in their life, Craig and his wife asked each other what they wanted their future to look like, and Craig said he wanted to help athletes and see that sparkle in their eyes when they learn something new.
"That is priceless," said Hillier. "Knowing that my research is going to impact them."
Craig worked with Ben Schellenberg, associate professor, in the Psychology of Sport and Leisure Activity Lab. Craig's thesis, Savouring with Elite Tennis Players: A Feasibility Study, explores how savouring, a process of up-regulating favourable emotions by concentrating on your positive experiences and successes, can impact elite athletes' overall well-being.
Craig said his past as a Bisons Track and Field alumnus and time in the tennis community inspired him to try and make a positive impact on the next generation of athletes, outside of just their performances.
"I'd like to be able to give back and make an impact if I can help it," said Craig. "Even if you can only help one or two people, it's totally worth it."
While Convocation for many means the end of their journey with UM, Craig is already back in classes to complete his PhD. Craig will continue looking at athletes' mental health and well-being, possibly focusing on the university and U Sports levels.
Craig wants to thank his wife, his advisor, Ben Schellenberg and committee member, Adrienne Leslie-Toogood, adjunct professor. He'd also like to thank committee member Leisha Strachan, associate dean, research and graduate studies, for picking up the phone when Craig first called, and all those people who support him whom he considers true family.
Amanda Slagerman
Master of Science: Kinesiology and Recreation Management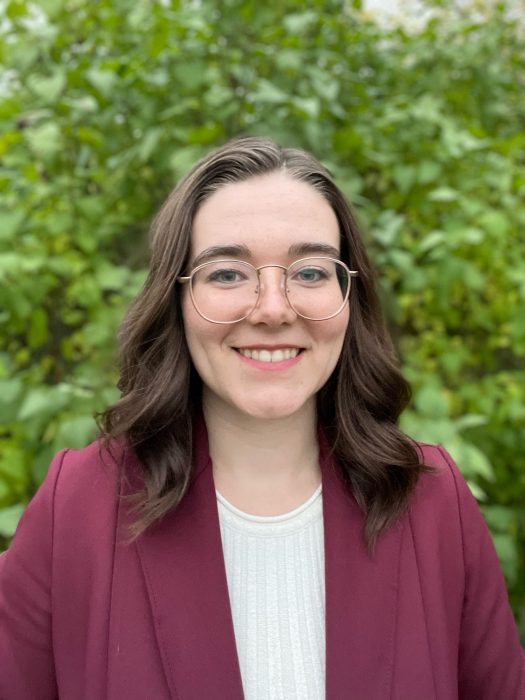 On Amanda Slagerman's desk, she has a mug that reads: "Research. What you're doing when you don't know what you're doing." Amanda said the quote reminds her that you learn as you go, and all you have to do is be curious.
Like many others pursuing graduate studies, Amanda didn't know what she wanted to do after her undergraduate degree. But she did know one thing: She was curious. Amanda completed her undergraduate fieldwork in the Intergrative Musculoskeletal Research Lab under Trisha Scribbans, associate professor. There, Amanda found a sense of joy she hadn't been expecting.
"It felt really fulfilling to do that problem solving and get it to work and then have people come in and be interested in the research," said Amanda.
Amanda's thesis, Changes in Muscle Excitation, Trunk Acceleration, and Jerk Following Unexpected Changes in Load During Repetitive Lifting, looks at measuring muscle activity in the abdomen and back while completing simple physical tasks to understand better what our body experiences. Amanda said part of why she found the work so interesting was how common it is for many.
When looking toward the future, Amanda's curiosity has taken her into the world of wearable assistive technology. She wants to find ways to help fill the needs of specific communities with different pieces of technology like orthotics, prosthetics, wheelchairs, and even wearable technology like exoskeletons. Amanda said her interest comes from her father, an engineer who designs wheelchairs.
"How can we improve a design to reduce the prevalence of lower back pain or whatever it is? That's my ideal situation," said Amanda.
Amanda wants to thank her family, lab mates, and Trisha Scribbans for her support throughout the last four years, as well as her committee members, Steven Passmore, associate professor, and Dean Kriellaars, associate professor.
The Faculty of Kinesiology and Recreation Management is proud to congratulate all of our graduate students on what they have achieved within the faculty and the difference they are already making in the world.