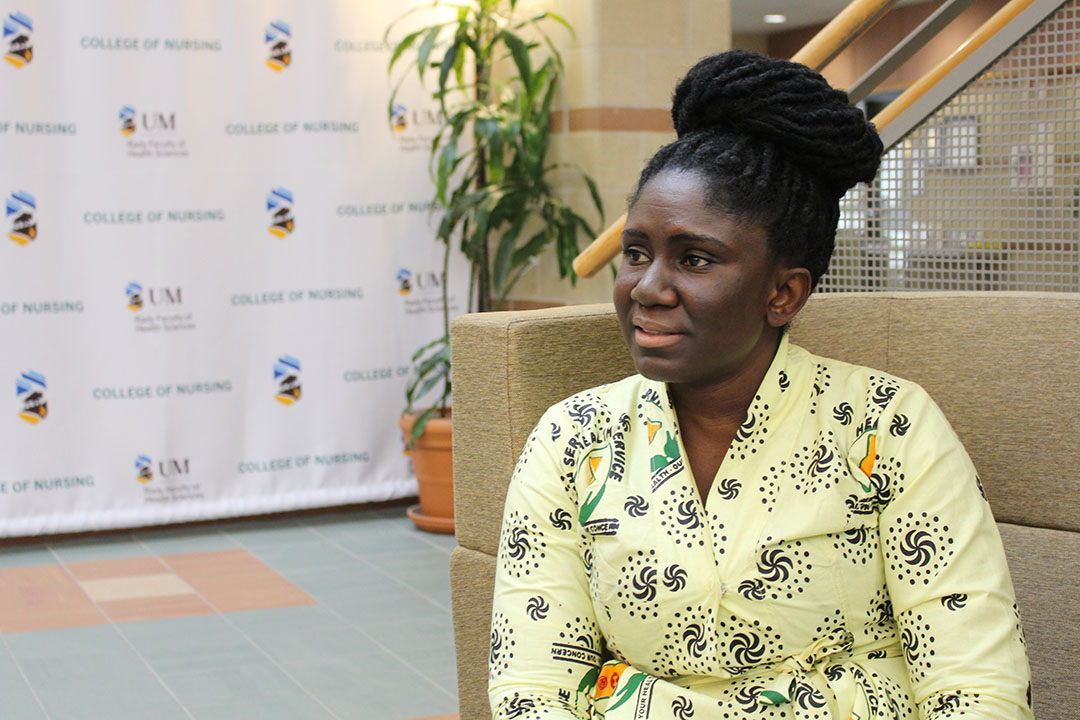 Graduate student aims to improve nurse leadership in Ghana
April 3, 2023 —
Before moving to Winnipeg to attend the College of Nursing, Rady Faculty of Health Sciences in November 2022, Vera Anokyewaa Amponsah worked for over a decade as a nurse in Ghana, her home country.
While working in women's health, pediatrics, triage and outpatient care at a hospital in the African nation's Ashanti region, she saw a need for stronger leadership in nursing, which led her to enroll in the administration stream of the college's master's program.
"I have seen so many gaps in nursing leadership," Amponsah said, noting there is a nursing shortage in Ghana much like there is in Canada, as a result of work stress and migration of nurses to developed countries for better wages.
"We need leaders who can make great decisions so there is more retention of nurses. The nursing environment is getting more stressful."
Amponsah, who received a UM Graduate Fellowship scholarship for $28,000, is currently working on her thesis, with advisor Dr. Sonia Udod, on transformational leadership and its influence on nursing outcomes.
Ultimately, she wants to educate nursing leaders on the importance of empowerment, engagement, effective leadership skills and the need for continued education.
Amponsah first became interested in nursing at the age of 11 after her losing her father, who had problems with speech, walking and daily activities prior to his death due to a stroke.
"I wanted more answers to causes, management and prevention of illness," she said. "I wanted to take care of myself and my family."
She said moving to Canada to study at UM was an opportunity she didn't want to miss.
"I came to Canada because it offers research opportunities and I wanted a broader perspective of nursing not limiting myself to nursing in Ghana to be able to effect change," she said. "Though it was heartbreaking to leave my family for the first time, I also wanted a balanced life, not regretting in future that I did not take such an opportunity to help make a change, and to also inspire my family to go for their dreams."
Amponsah's eventual goal is to return to Ghana as a nurse leader with the necessary leadership and intellectual skills. She is also planning to pursue a PhD in nursing.
"The University of Manitoba is giving me a really strong grasp for that next step," Amponsah said.
Udod, an associate professor in the College of Nursing, said she is impressed by Amponsah's enthusiasm and desire to advance her knowledge of leadership science in nursing.
"As a developing nation, Vera's goal is to bring new nursing knowledge to advance nurse leaders' practice who then can engage nurses in new ways to ameliorate the challenges faced in the delivery of health care," Udod said. "She is a thoughtful and dedicated student, and willing to do what it takes to be successful."