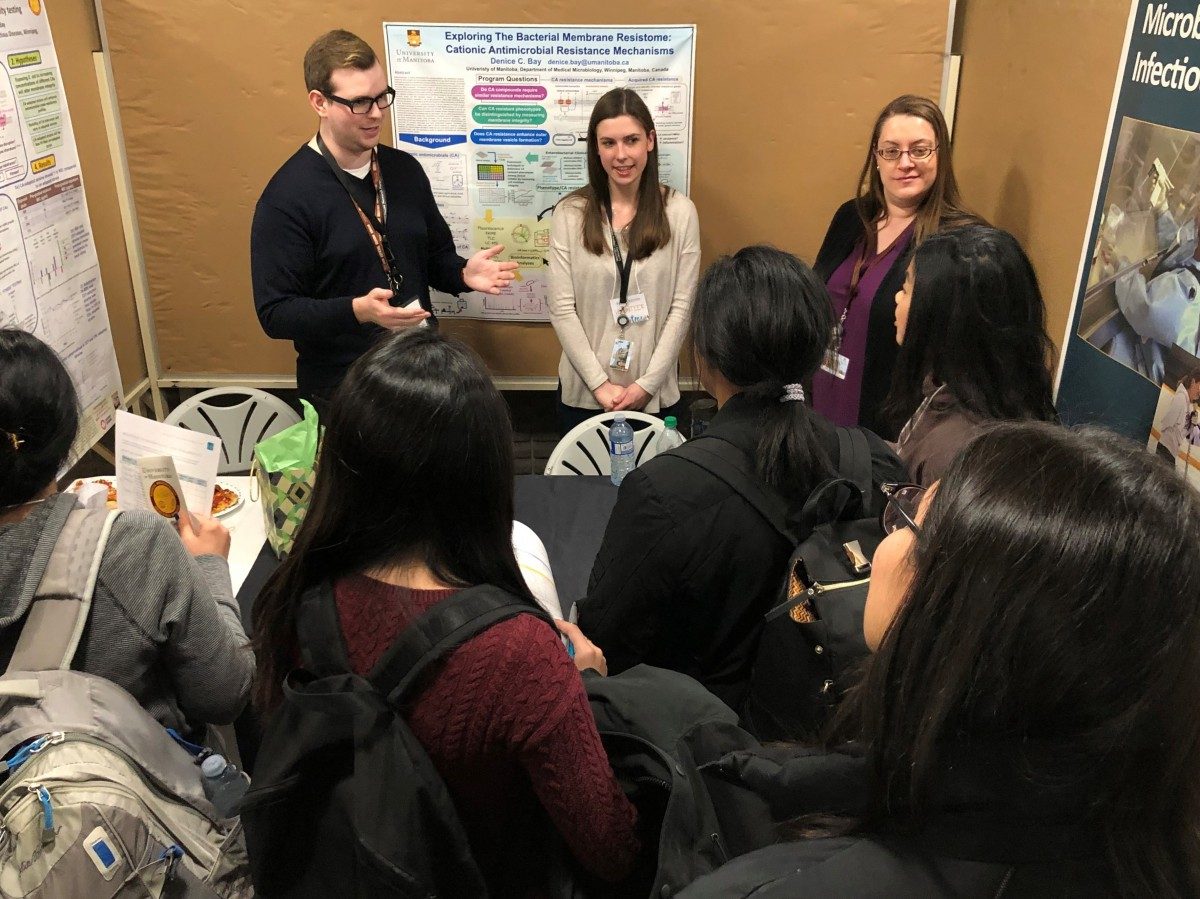 Grad Studies Open House 'incredibly valuable'
October 24, 2023 —
Morgan Taverner says that attending the Rady Faculty of Health Sciences Graduate Studies Open House is one of the most important things an undergraduate student can do if they're thinking about pursuing grad school.
He knows this by experience. Taverner attended the Open House in 2019 as a UM undergraduate student and it helped set him on his path as a master's student in medical microbiology and infectious diseases at the Max Rady College of Medicine.
"If you're thinking of grad school, this is the event to go to," he said. "You don't want to miss it."
The Open House is an opportunity for students to learn about the graduate programs offered by the five Rady Faculty colleges – Dr. Gerald Niznick College of Dentistry, Max Rady College of Medicine, College of Nursing, College of Pharmacy and College of Rehabilitation Sciences. The event will feature presentations on selected programs, networking opportunities with professors and students, a pizza lunch and information booths.
The next Graduate Studies Open House takes place Nov. 15 (from 10 a.m. to 4:30 p.m.) in the Basic Medical Sciences Building on the Bannatyne campus. For those interested in attending, you can register here: https://forms.office.com/r/WEzCUQmvCr.
Students on the Fort Garry campus can catch a shuttle bus to the Bannatyne campus at 9 a.m. in front of the Administration Building (66 Chancellors Circle). A shuttle bus returning to the Fort Garry campus leaves the Bannatyne campus at 4:45 p.m.
"We offer the RFHS Graduate Studies Open House annually, and students always enjoy the opportunity to talk to professors and students from different programs on the same day," said Dr. Hope Anderson, vice-dean of graduate studies at Rady Faculty of Health Sciences. "It gives them a chance to learn about options in the health sciences and explore career pathways that they perhaps hadn't considered before."
Before Taverner attended the Open House, he didn't know what lab he wanted to join and wasn't set on a specific field. But when he saw associate professor of immunology Dr. Thomas Murooka's booth at the Open House he knew he wanted to join his lab.
"They were showing videos they'd taken using a really cool technique that lets you take live videos of immune cells and lymph nodes," Taverner said. "I was just amazed we could even do that. 'I've got to work with that,' I thought."
Taverner encourages undergrads to visit the information booths at the Open House and talk to the current students and principal investigators to see if they're the right fit. He said grad school is a big investment of time, so you want to think carefully about which lab you join before you jump in, and the Open House is a great opportunity to do that.
"I thought the Open House was incredibly valuable because I got to see hands-on what research each lab was doing, and it gave me the chance to talk with several lab members and principal investigators all in one day," Taverner said.
If you have any questions about the Graduate Studies Open House, please contact: rfhsgraduatestudies [at] umanitoba [dot] ca.