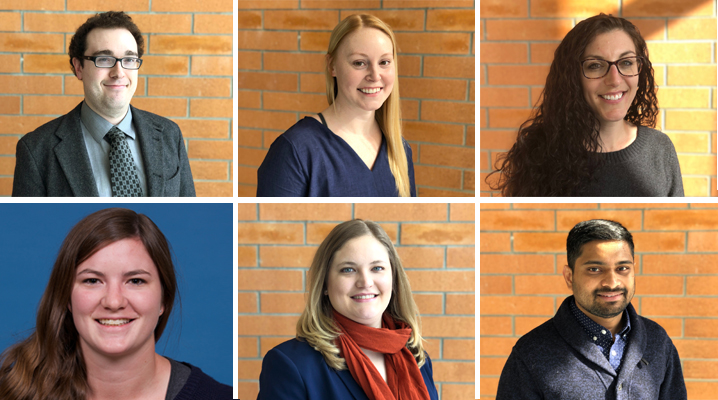 Six grad students receive inaugural Dean Prize
March 27, 2019 —
The Dean of the Rady Faculty of Health Sciences Graduate Student Achievement Prize was awarded in February to six distinguished students.
The inaugural award was created to recognize outstanding academic achievement, notable personal service and strong leadership skills of graduate students in the Dr. Gerald Niznick College of Dentistry, Max Rady College of Medicine, College of Nursing, College of Rehabilitation Sciences and College of Pharmacy.
"I would like to congratulate these exceptional students who represent the diversity of research that is ongoing at the Rady Faculty," said Dr. Brian Postl, dean, Rady Faculty of Health Sciences. "They are leaders, and we look forward to seeing them succeed in all of their future endeavours."
Each college could nominate one master's student and one doctoral student. Colleges without a doctoral program could nominate two master's students.
"We know that graduate students in the Rady Faculty of Health Sciences are working hard and this gives rise to success, often beyond mere academic requirements," said Dr. Hope Anderson, vice-dean, graduate studies, Rady Faculty of Health Sciences.
To be eligible for the award students had to have been enrolled full-time in a master's or doctoral program in the Rady Faculty for at least one year at the time of nomination, achieved a minimum grade point average of 3.5 based on the last 60 credit hours and showed strong skills and potential in leadership, community engagement, social accountability and volunteerism.
Prize winners
Jaden Brandt, a recent graduate from the M.Sc. program in the College of Pharmacy and the DipPH program in the department of community health sciences, has conducted research on the use of sedative-hypnotic medications in the Manitoban adult population. He has been involved in the public discourse on pharmaceutical policy regarding a universal pharmacare program in Canada. Brandt said the recognition of winning the award goes a long way.
"As a recipient, I feel even more motivated to continue my efforts in research in spite of my current graduate studies completion," he said.
Leah Crockett, a doctoral student in the Max Rady College of Medicine, is researching integrated knowledge translation in the area of child health. Crockett believes her eclectic mix of experiences helped her win the award.
"I've worked in multiple sectors, including non-profit, regional health authority, government, global health, and here at the university," she said. "I've also been involved in a number of volunteer experiences, including student governance throughout my M.Sc. and PhD. So the combination of my personal interests, research interests and employment experience has together made me a good candidate."
Emily Hyde, a master's student in the College of Nursing, is looking into how nurses can better discuss sexual health with cardiac patients after a heart attack. Hyde credits much of her success to those around her.
"I think it really speaks to the College of Nursing and the support from that program, the support from our faculty and the support of my classmates," she said. "You're only as good as the people that you're surrounded by so I'm lucky to be surrounded by exceptional people."
Danielle Lee, a doctoral student in the College of Pharmacy, is researching the protective effects of cannabinoids on irregular rhythms of the heart, specifically in the atria. Lee said the recognition of this award will assist her in her career.
"I hope that I continue to work towards the high standards that this award represents," she said.
Lindsey Mazur, a master's student in the Max Rady College of Medicine, is interviewing dietitians and larger-bodied women, exploring discussions of weight, food and health in prenatal care, and if there were any experiences of weight discrimination. Mazur said she is thrilled to have won the prize, but there's an added bonus.
"As a researcher who is also a dietitian, it's quite the honour to be recognized by my faculty and helps validate that dietitians can be and are leaders in health and advocacy," she said. "Regardless of this award, I would continue this work but now, the type of advocacy I do gets a bigger platform because of this award, and that's the most exciting thing."
Manoj Medapati, a doctoral student in the Dr. Gerald Niznick College of Dentistry, is looking at how bitter taste receptors detect bacterial signalling molecules. Winning the prize has inspired Medapati to forge ahead with his work.
"Encouragement in the form of awards or recognition are of immense importance in research," he said. "Though basic science researchers conduct significant research to add to the available pool of knowledge, they barely get the deserved recognition. Awards such as these encourage budding researchers like me, who are trying to broaden their thinking and take up a career as an independent researcher."