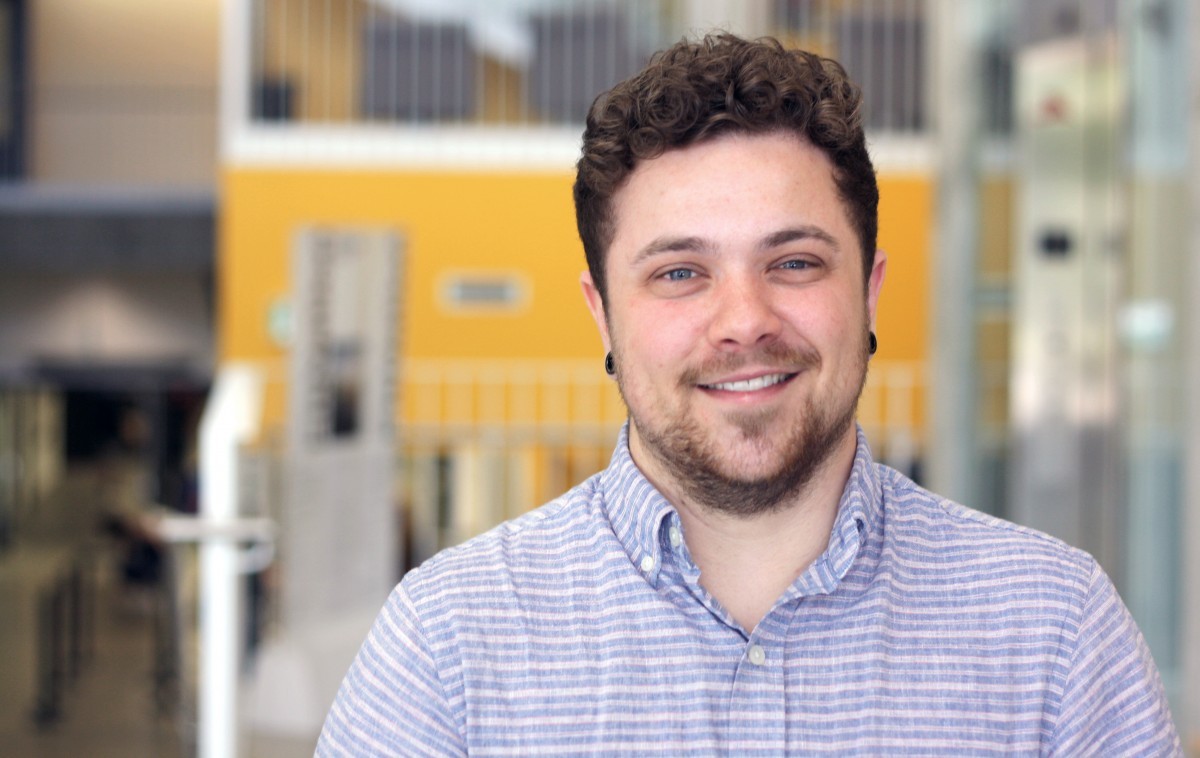 Grad student wins award for thesis on transgender policies in sport
May 31, 2016 —
At this rate, our graduate students are going to need a bigger trophy case.
That's because Jaxon Rae Hutton was named a 2016 sport study scholarship recipient from the Lyle Makosky Values and Ethics in Sport Fund for his Master's research project on transgender athletic policies in Manitoba high schools.
Hutton, 26, a Faculty of Kinesiology and Recreation Management graduate student, follows in the footsteps of fellow FKRM graduate student (now alumna) Alix Krahn, who was the inaugural recipient of the award last year for her research project on verbal and mental abuse in elite female volleyball in Manitoba.
The sport study scholarship program provides annual financial awards to support the study of current values and ethics-based challenges, and related policies affecting (non-professional) Canadian sport, with the program being managed, and award winners selected by the True Sport Foundation.
Hutton's research project is entitled "Exploring the Effectiveness and Impact of the 'Policy on Transgender Athletes': Learning from the Experiences of Trans-Youth in Manitoba High Schools."
"I'm happy that the topic is being acknowledged at a national level."
It focuses on the Manitoba High Schools Athletic Association's (MHSAA) 'Policy on Transgender Athletes,' enacted in February 2015 in attempt to make high school sport in Manitoba more inclusive to all students.
Hutton's research will delve into whether or not the new policy is indeed having a positive impact in the lives of trans- (a term Hutton uses to include a wide variety of gender identity labels, such as trans, gender creative, Two Spirit, non-binary, etc.) youth. He hopes his research will add to the growing scholarship on trans- athletes by focusing specifically on the Manitoba context in which sport policy development in other contexts may draw from.
"I'm happy that the topic is being acknowledged at a national level. The True Sport Foundation is looking to make sport across Canada more inclusive so the fact that they recognize that my project can help do that is important to me," adds Hutton. "I want to provide a space for trans- youth to have a voice and to share their experiences on this topic, and this award helps toward this goal."
Hutton says he will use the money to travel across Manitoba to interview trans- students interested in participating in his interactive study. The award is worth $2,000.
"We believe [this] research will help contribute to a deeper understanding of the important issues facing Canadian athletes, as well as the sport community as a whole," said Karri Dawson, Executive Director of the True Sport Foundation. "We are very happy to see that this scholarship is stimulating the thoughtful examination of values-based and ethical sport."
The other recipient of the 2016 award is Sarah Barnes, Queen's University, for her PhD project, "Historical and contemporary understandings of sleep, sport and human performance."
Note: a previous version of this article incorrectly named the True Sport Foundation as the True North Foundation.