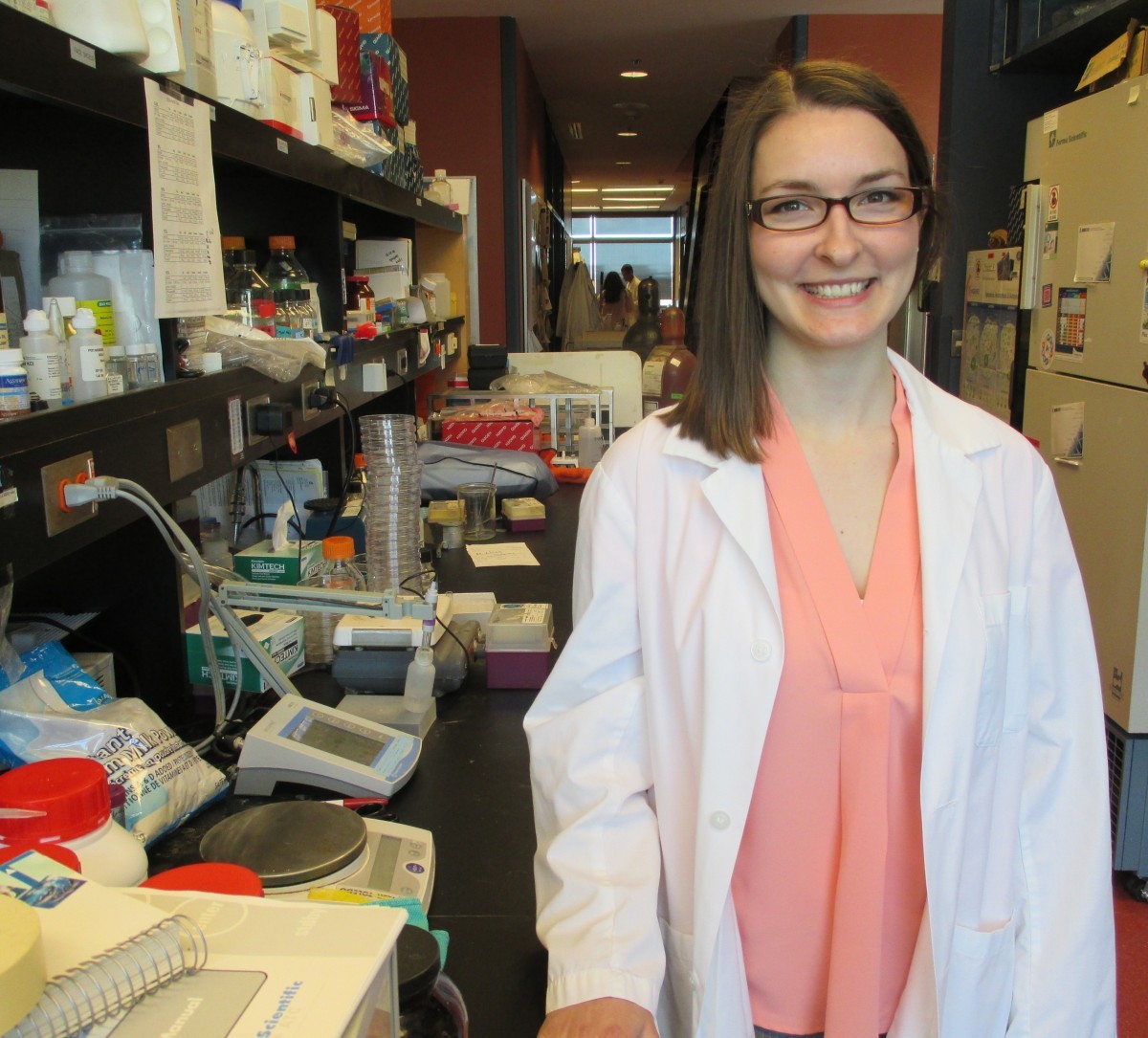 Grad student in running to be tops in Canada
Vote for Rebecca (Delong) Dielschneider for 3MT People's Choice
May 15, 2015 —
Immunology graduate student Rebecca (Delong) Dielschneider is taking her award-winning Three Minute Thesis (3MT) presentation "Lysosomes as Targets in Leukemia" all the way to Nationals.
After winning first-place and People's Choice at the local U of M 3MT competition in February, Dielschneider went on to win People's Choice at the Western Canada regional 3MT competition last month.
The public can vote online for their favourite 3MT presenter from the video presentations of the 11 Canadian finalists. People's choice voting runs from May 15-May 25. Winners will be announced Friday, June 5 2015.
Dielschneider, a doctoral student working with Dr. Spencer Gibson, chose immunology and cancer research because she wanted to help people from "behind the scenes". She believes scientific research allows her to think creatively and pursue answers to tough biological questions, advancing medicine and improving human health.
During the 3MT competition, each graduate student competitor has only three minutes and a single slide to clearly explain the nature, goals and significance of his or her research. Learn more about 3MT at the University of Manitoba.
Rebecca is the recipient of several donor-created awards, including the Emil and Lynette Hain Scholarship for Oncology Research and the Nancie J. Mauro Graduate Scholarship in Oncology Research. Generous individuals and organizations have created hundreds of scholarships, bursaries, and fellowships that place graduate students like Rebecca at the forefront of discovery and innovation.
Research at the University of Manitoba is partially supported by funding from the Government of Canada Research Support Fund.