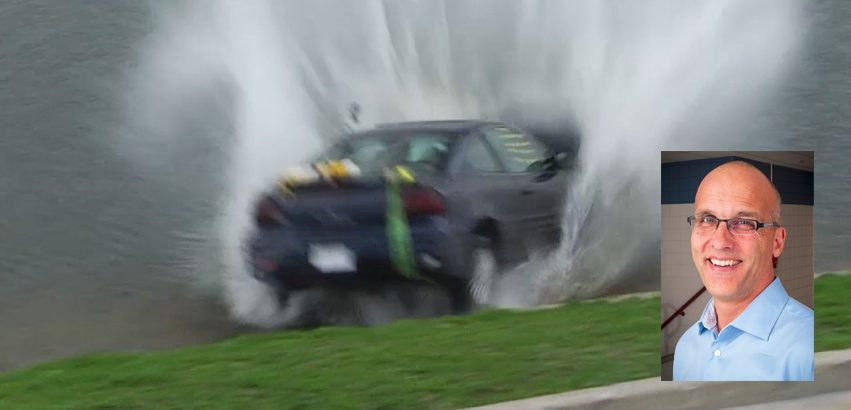 Giesbrecht Publishes 100th Paper
July 25, 2017 —
Faculty of Kinesiology Professor Gordon Giesbrecht has hit a rare milestone:  this month, he published his 100th paper in a peer reviewed journal.
"I'm not a paper-counter but my post-doc supervisor taught me many years ago that when you use public money for research, you have a responsibility to publish it," said Dr Giesbrecht.  "Recently, as I've added papers to my CV, I've noticed I was getting close to 100. Obviously, to get this many publications, you have to work with many collaborators and research trainees over the years, which I certainly have done."
The paper, called An automatic window opening system to prevent drowning in vehicles sinking in water, was published in Cogent Engineering's July edition.
The milestone paper signals the end of a five year journey which saw Dr Giesbrecht work with an inventor named Michael Percher, to develop and test a life-saving product that could reduce the number of drownings in sinking vehicles.
Every year about 400 people die in submersed vehicles in North America,with number increasing to between 2,000 and 5,000 in all industrialized nations.
The product has a water sensor and a power window control module, which overtakes the vehicle's master power windows switch, forcing all the electric side windows to open, ultimately allowing a person stuck in a submerged vehicle to get out.
The hope is that automobile manufacturers will eventually install the device in all new vehicles.
This 100th paper is Dr Giesbrecht's eighth as part of Operation ALIVE (Automobile Submersion: Lessons In Vehicle Escape) which he started in 2006. He has performed approximately 150 vehicle submersions (most with people in them) to research vehicle sinking characteristics, and exit routes/strategies to prevent vehicle drownings.
Dr Giesbrecht has also written two "ALIVE" papers regarding emergency response protocols for 911 operators taking calls regarding vehicles either sinking in water, or stranded in floodwater. These protocols are used in 60 per cent of the English-speaking world and in many other languages.
"Six to 10 per cent of all drownings happen in vehicles. Knowing how to get out of a submerged car could really be the Stop, Drop and Roll of the 21st century. It is simply SEAT BELTS, WINDOWS, OUT: Children First," said Dr Giesbrecht. "We know how to act if we are on fire. Now, we need to learn the process for getting out of a vehicle that's underwater.  Undo your seat belt, open a window, and get out.
"One aspect I love about this paper is that I got to submit a cover photo. So I chose one in which I was driving a car at 45 km/h into the water to test the device… under controlled conditions, of course."
To view the paper, click here.