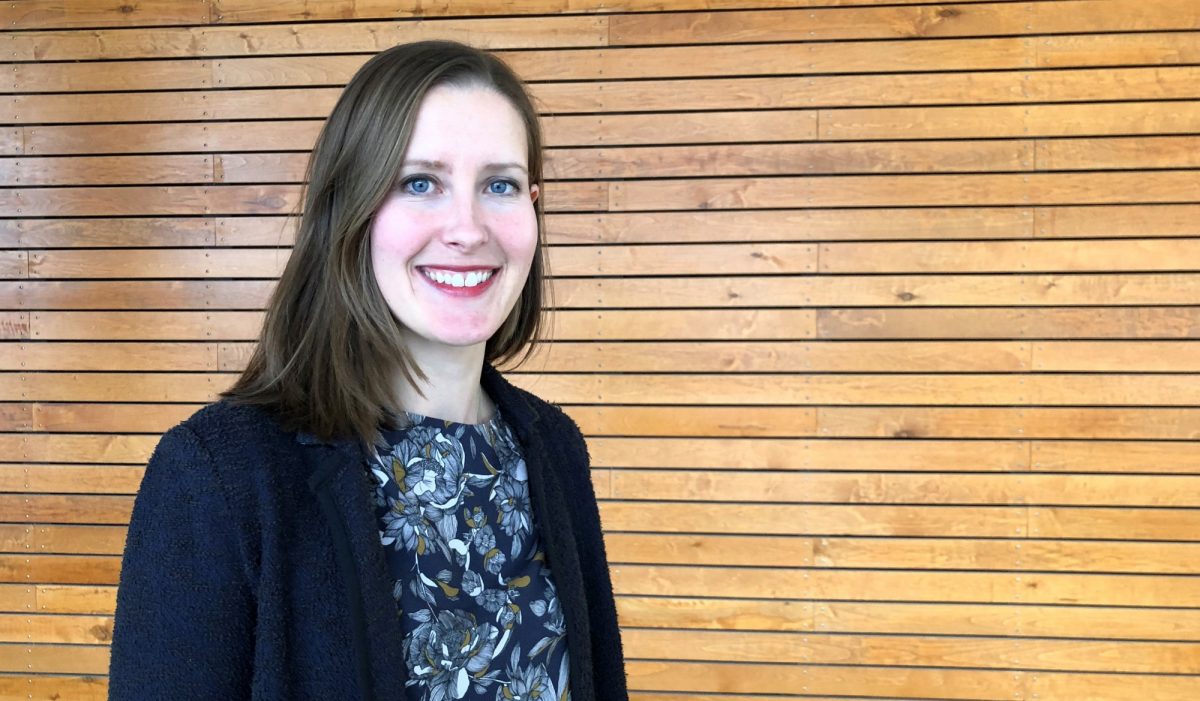 Getting personal
July 8, 2019 —
The motivations for Dr. Kaarina Kowalec's research are both professional and personal.
Kowalec, a new assistant professor in the College of Pharmacy, chose a research path focused on multiple sclerosis (MS) and psychiatric illnesses in part because her mother has MS, and others in her life have had mental health issues.
"It's important to understand who these people are, what they live with on a regular basis and how we can improve their quality of life," she says.
Kowalec is interested in personalized or precision medicine – the cutting-edge idea of tailoring treatment to the individual, based on their genetic profile and risk factors. Genomics – the study of genomes – as well as biostatistics and epidemiology play roles in her multi-disciplinary research.
The professor and her lab team are analyzing population-based health data and genomic data to learn how to identify patients with MS or psychiatric disorders who are at high risk of experiencing poor outcomes.
For a person with MS, a poor outcome can be a serious adverse reaction to a drug. Kowalec has previously published on how a particular genomic variant is associated with drug-induced liver injury in MS patients.
She is currently co-investigator for a study of genomic variants that make some MS patients more susceptible to lymphopenia (an abnormally low level of a kind of white blood cell) caused by the drug dimethyl fumarate. The study is funded by a National Multiple Sclerosis Society grant of $64,020.
For a person with schizophrenia, a poor outcome can mean that the illness is poorly controlled, leading to long hospital stays or suicide. Kowalec compares the data for patients who have poor outcomes with that of patients who have better outcomes.
The end goal of her MS research is to one day have people with the disease give a saliva sample for genetic analysis, and a few days later find out whether they are likely to have a serious reaction to a particular drug.
Patients with schizophrenia would find out from a saliva test whether they are genetically likely to be treatment-resistant, so doctors could follow them more closely and they could be placed on more intensive drug treatment.
"I really don't want to do research that's only going to be one line in a textbook," Kowalec says. "I'm not into doing research for the sake of science – it needs to help someone."
Beyond schizophrenia, she is interested in why drugs just don't work well for some psychiatric patients. "Between 30 and 60 per cent of people with psychiatric illnesses respond poorly to therapy," she says.
"Schizophrenia, major depressive disorder, bipolar disorder and anorexia nervosa often run in families and have overlapping genetic architectures. I want to identify the genetic, clinical and demographic risk factors associated with poor outcomes in these disorders."
Kowalec, who was born and raised in Winnipeg, started her MS research while earning her PhD in pharmacogenomics and pharmacoepidemiology at the University of British Columbia.
Her schizophrenia research began while she was a CIHR Banting Fellow and European Commission Marie Sklodowska-Curie Actions Fellow in medical epidemiology and biostatistics at the Karolinska Institute in Sweden.
After living in Stockholm for two years, Kowalec says she misses the Swedish tradition of fika, a daily break for coffee and a sweet treat with friends or coworkers. But she's excited to be back at the U of M, where she earned her bachelor's in microbiology in 2008 and her master's in medical microbiology in 2011.
"I always wanted to come back here," she says. "I'd done my master's here, so I knew the quality of the research I did was identical to the quality of research I did in other places. I really like the size of U of M, and in my experience, people here are trained to the same rigorous level as at the larger universities."