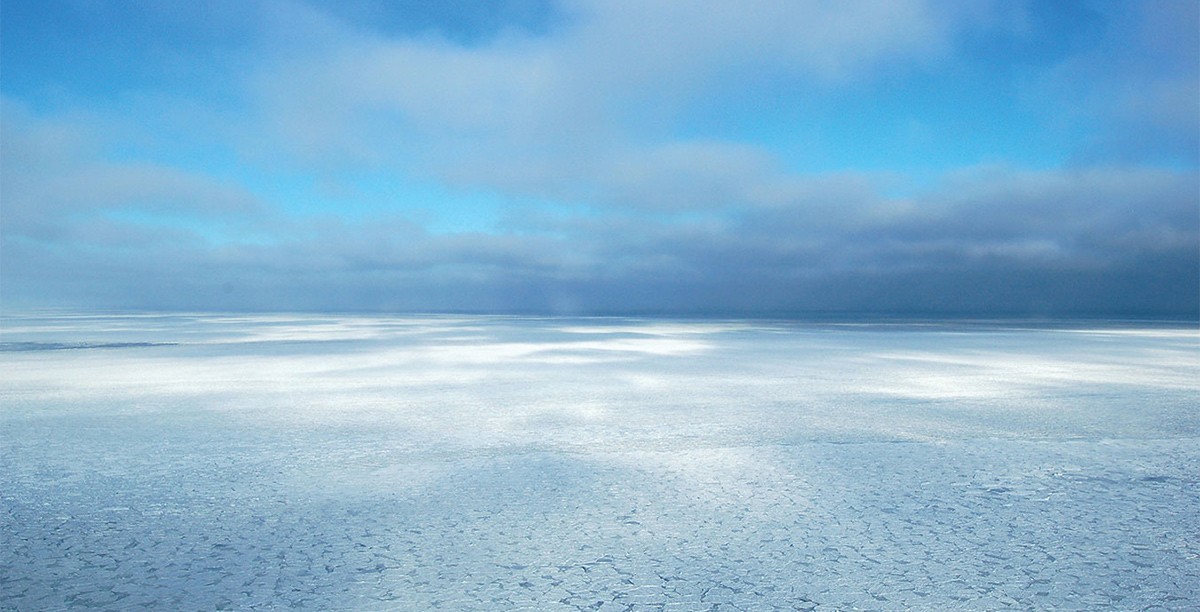 'Genice': Genomics and Ice
New research project partners teams at Universities of Manitoba and Calgary to study the impact of oil spills in Arctic environments
December 8, 2016 —
A collaborative research project titled 'GENICE' that partners the University of Manitoba and the University of Calgary has been awarded $10.7 million as part of the Genome Canada 2015 Large-Scale Applied Research Project Competition (LSARP).
Announced today in Montreal by Minister of Science Kirsty Duncan, research teams led by the University of Calgary's Casey Hubert, associate professor in the Faculty of Science and Campus Alberta Innovation Program Chair in Geomicrobiology and University of Manitoba's Research Professor Gary Stern, Centre for Earth Observation Science, will combine their expertise in the areas of genomics, petroleomics and sea-ice physics to investigate the potential for native microbial communities to mitigate oil spills, as warmer temperatures and melting sea ice usher in increasing shipping throughout Arctic waters.
This crucial environmental research will be undertaken at the Churchill Marine Observatory, a unique research facility the U of M is building in Churchill, MB, and on board the Canadian Coast Guard Ship, Amundsen.
As temperatures warm and shipping and resources exploration in the North increases, oil spills will be inevitable in the Arctic.
The University of Manitoba has long been a global leader in sea ice research and its Churchill Marine Observatory supports the technological, scientific, ethical, environmental, economic, legal and social research that is need to safely guide (through policy development) the unprecedented Arctic marine transportation and oil and gas exploration and development throughout the Arctic.
"The expertise that we bring to the table are in the areas of petroleomics and sea ice physics, and a new facility located in Churchill that will allow us to study oil degradation process under controlled ambient Arctic conditions," says Stern.
"The idea is that we will be able to emulate different thermodynamic states of the sea-ice and how, under these conditions, different crude and fuel oils will interact with native microbial population in a controlled environment," says Stern.
The 2015 LSARP competition aims to support applied research projects focused on using genomic approaches to address challenges and opportunities of importance to Canada's natural resources and environment sectors, including interactions between natural resources and the environment, thereby contributing to the Canadian bioeconomy and the well-being of Canadians.
"The addition of this research partnership between our two institutions will expand our respective teams and their capacity to advance our knowledge about impacts on the Arctic ecosystem and effects of the changing climate on all aspects of the North," says Dr. Digvir Jayas, vice-president (research and international) and Distinguished Professor at the U of M.
About the partners
The project will be managed by Genome Alberta in conjunction with Genome Prairie and with an international collaboration of funding partners that have shown the desire to protect the complex Arctic environment:
Genome Canada, Alberta Economic Development and Trade, University of Manitoba, Natural Resources Canada, Arctic Institute of North America, Arctic Research Foundation, Stantec Consulting Ltd., National Research Council of Canada, Research Manitoba, University of Calgary Petroleum Reservoir Group, University of Newcastle Upon Tyne, Georgia Institute of Technology, Churchill Northern Studies Centre, Amundsen Science Inc., Environment and Climate Change Canada, Genome Quebec, Aphorist, and Aarhus University.
Stern and Hubert are co-presenting at ArcticNet's Annual Scientific Meeting in Winnipeg this week. Close to 700 leading Arctic researchers, students, indigenous leaders, policy makers, northern community members and private sector representatives are gathered to address the numerous environmental, social, economical and political challenges and opportunities that are emerging from climate change and modernization in the Arctic.
More on sea ice and microbes
Did you know microbes live inside the sea ice? Søren Rysgaard, Canada Excellence Research Chair (CERC) in Arctic Geomicrobiology and Climate Change at the University of Manitoba, explains this focus of his research.
Research at the University of Manitoba is partially supported by funding from the Government of Canada Research Support Fund.