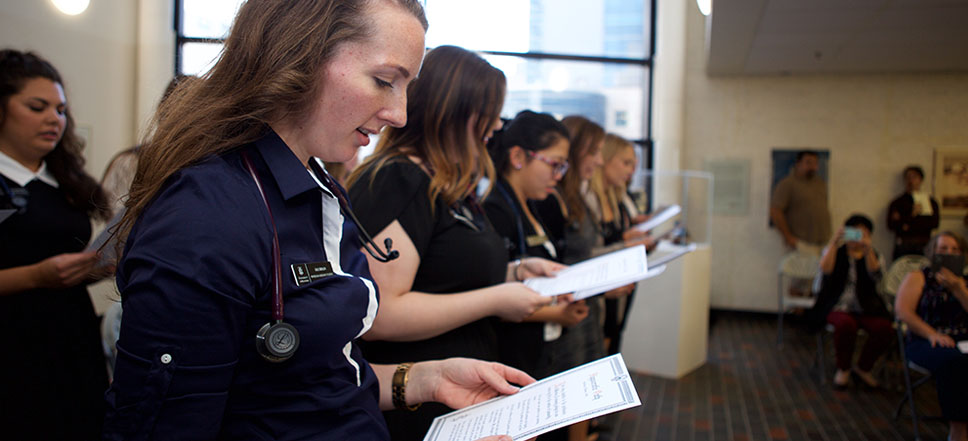 Future physician assistants welcomed to fast-paced program
September 6, 2018 —
Lynn Vuongphan is already a health-care professional, having practised for seven years as a U of M-trained occupational therapist.
But this fall, she is enthusiastically back in student mode. Vuongphan, 31, is a member of the newest class to enter the U of M's master of physician assistant studies (MPAS) program.
In just over two years, she'll graduate as a physician assistant (PA), a clinician who works as a generalist medical provider in collaboration with doctors. PAs perform duties such as assessing patients, ordering and interpreting diagnostic tests, performing procedures and prescribing medications.
At Inaugural Exercises on Aug. 30 on the Bannatyne campus, the 15 new MPAS students were formally presented with stethoscopes and recited the Hippocratic Oath. After the ceremony, Vuongphan said having worked as an occupational therapist on an inter-professional team that cared for stroke patients influenced her decision to become a PA.
"I really saw the value of inter-professional collaboration, the value of communication, the value of teamwork," she said. "The PA profession emphasizes all those things."
The MPAS program, launched in 2008, is celebrating its 10th anniversary. It's one of a handful of PA programs at Canadian universities, and the only one at the graduate level.
The program is offered through the Max Rady College of Medicine, Rady Faculty of Health Sciences and the Faculty of Graduate Studies. It consists of one year of biomedical science and medicine courses, followed by 13 months of clinical rotations.
To date, the program has produced 106 physician assistants, 90 per cent of whom are employed in Manitoba, said Ian Jones, director of the program.
"Physician assistants help to reduce wait times for care, and they can quickly adapt to the needs of the system," Jones said. "PAs can work in an emergency department, a hospital ward or a family practice on the same day, making them an asset to communities."
This year, there were 135 applicants from eight provinces for the 15 spots in the in-demand program. Many applicants, like Vuongphan, have experience in health care or biomedical research.
Manitoba was the first province to license physician assistants. It is one of four provinces where PAs are licensed to practise.
"We've been a model for the rest of the country to emulate," said Dr. Ira Ripstein, associate dean of undergraduate medical education at the Max Rady College of Medicine.
Several speakers at the ceremony emphasized that the 25-month MPAS program is fast-paced and demanding. "This is a hard program to get into," said Dr. Jonathon Bellas, medical director of the program. "It needs to be hard. The volume of information you are required to learn in a short time is incredibly challenging. And at the end, you have an incredible responsibility."
Kali Braun, 30, comes to the program with a master's degree in medical microbiology. She and her husband have three children under the age of five. One reason she chose to become a physician assistant, she said, is that the job offers better work-life balance than some health-care professions.
"It's a good fit for me because I have a young family," Braun said. "The training, although intense, is only two years, and then you're able to go straight into practice."
Braun also said she likes the possibility of switching specialities within the profession. U of M-trained PAs, Jones noted, have worked in more than 30 medical specialties.
Braun has a "village" of family members ready to help with childcare. "I'm ready for what's going to get thrown at me," she said. "I'll make it work."