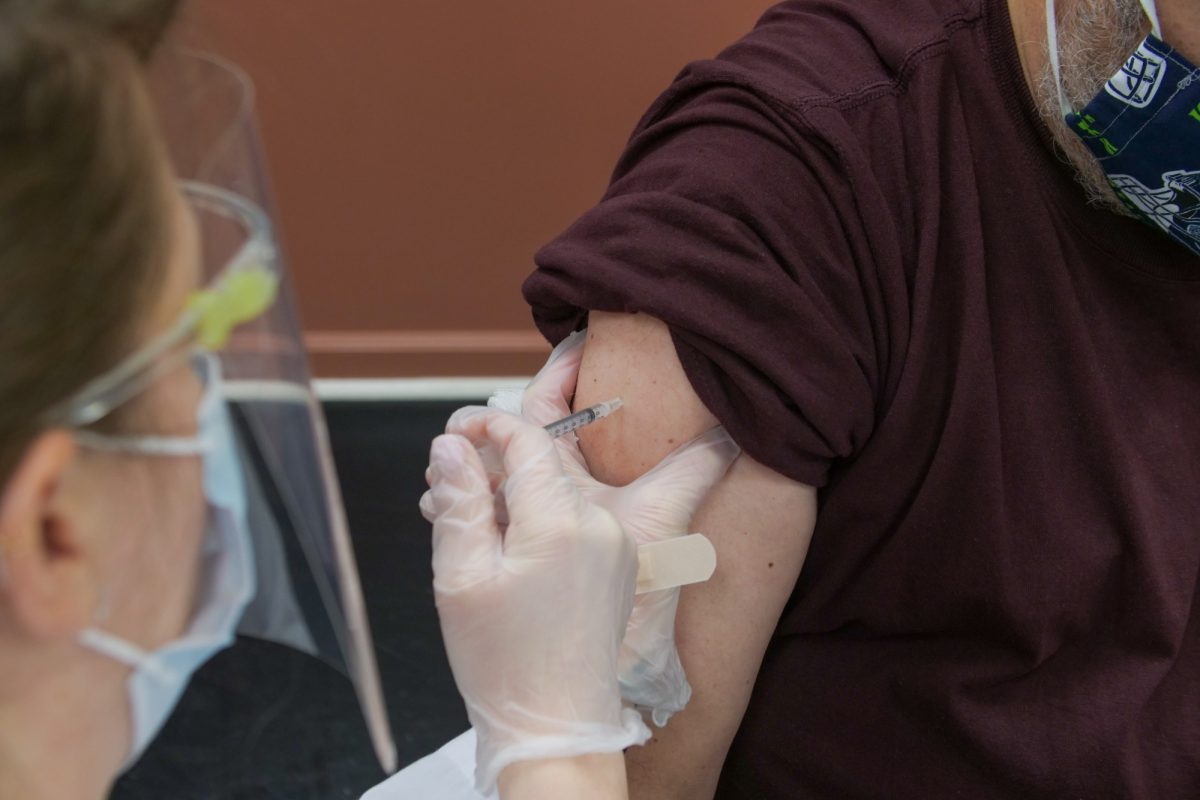 Future health professionals shine on vaccination front lines
July 20, 2021 —
When the call went out for paid staff to work at Manitoba's COVID-19 vaccination clinics, more than 300 students in the Rady Faculty of Health Sciences felt honoured to join the ranks.
Rikka Yambao, a fourth-year bachelor of nursing student, knew she wanted to undergo training for the work and get involved.
"I wanted to use the skills and knowledge I've learned from nursing school to do my part in putting an end to this pandemic," she says.
Since March, Yambao has worked shifts at Shared Health's RBC Convention Centre and Leila vaccination supersites, and at pop-up clinics.
"I've been assigned to all the sub-roles of the immunizer position, such as being the one injecting the vaccine, the one preparing the vaccines, the one who deals with informed consent for individuals with health-related concerns, and the one who observes the crowd for anyone feeling faint or having potential adverse reactions," she says.
"It feels absolutely rewarding. It may be exhausting for us to meet hundreds of people each day, doing the same thing over and over, but it's worth it."
Yambao introduces herself as a student nurse before administering the needle. "Some clients are surprised or worried about our abilities," she says. "But at the end, most of them are like, 'I did not even feel that poke at all! You'll be a great nurse when you graduate!' and that itself is satisfying."
Registered nurse Denise Gout Smith, a skills lab facilitator at the College of Nursing, has observed her students on the job while working shifts as an immunizer herself.
"It's rare that students going through a nursing program get to witness and participate in such a huge, important process," Gout Smith says. "They're getting to see public health in action.
"They're enhancing their psychomotor skills by, for example, mixing, diluting and drawing up the vaccines into the syringes, and by doing repeated intramuscular injections. They're under pressure to immunize safely, but also efficiently and quickly.
"To watch these students interact with the public in their cheerful, professional and kind manner, and to watch them excel at giving the vaccines and caring for their community, makes me very proud. They're positive role models for others who might be considering a career in nursing."
Josie Abbott, who has completed two years of the four-year PharmD program at the College of Pharmacy, works one or two shifts per week at the supersites.
"I try to pick up shifts whenever I'm not working at my summer job in a pharmacy," she says. "I've gained lots of experience drawing up and giving immunizations, which will be helpful in future practice giving immunizations in a pharmacy or at flu clinics."
Abbott says there's a sense of community at the supersites. "It's rewarding to see the smiles, laughs and sometimes happy tears of the Manitobans who have received their vaccine," says the future pharmacist.
"With every vaccine you give or question you answer, it feels like we're getting one step closer to the end of the pandemic."
Tegan Turner, who will soon start her third year of medical school at the Max Rady College of Medicine, has been working at the RBC Convention Centre, Leila and Selkirk sites, and with the UM department of pediatrics and child health at pop-up vaccination clinics.
"You go into work knowing that you're making a positive difference," Turner says. "It's been very rewarding to help someone through anxiety surrounding vaccination, or to provide answers to questions.
"One of my favourite parts has been the opportunity to work with a wide range of health-care professionals. I've had the opportunity to ask questions, learn from others' experiences, and combine a variety of perspectives to achieve a common goal."
Natalie Pesun, a future dentist who is going into her third year at the Dr. Gerald Niznick College of Dentistry, has worked at the RBC Convention Centre and Leila supersites.
"The first shift or two, it was overwhelming," Pesun says. "But as I settled into each of the different roles I was trained on, I was able to see how all these people can become one unit.
"It was so inspiring to see health-care professionals and students coming together with a common goal. It was rewarding to feel like I could play even the smallest part in Manitoba coming out on the other side of this pandemic.
"Many people don't enjoy getting needles, which is something I'll probably also encounter in dentistry. Learning how to help make those patients more comfortable is a lesson I can carry into my future clinical practice."
Liz Cronk, a registered nurse, says she was highly impressed by the student nurses with whom she worked at the RBC Convention Centre supersite. One student taught Cronk how to use the online Public Health Information Management System.
"She was exceedingly pleasant, patient and respectful," Cronk says. "She even made notes for me for reference. I was also very impressed with her patience, understanding and respect with all the clients, especially elderly clients and people with disabilities."
Based on the skills and conduct of the students, the health-care system is in good hands, Cronk says. "These are our future nurses. I can rest assured that clients like myself will be well looked after."