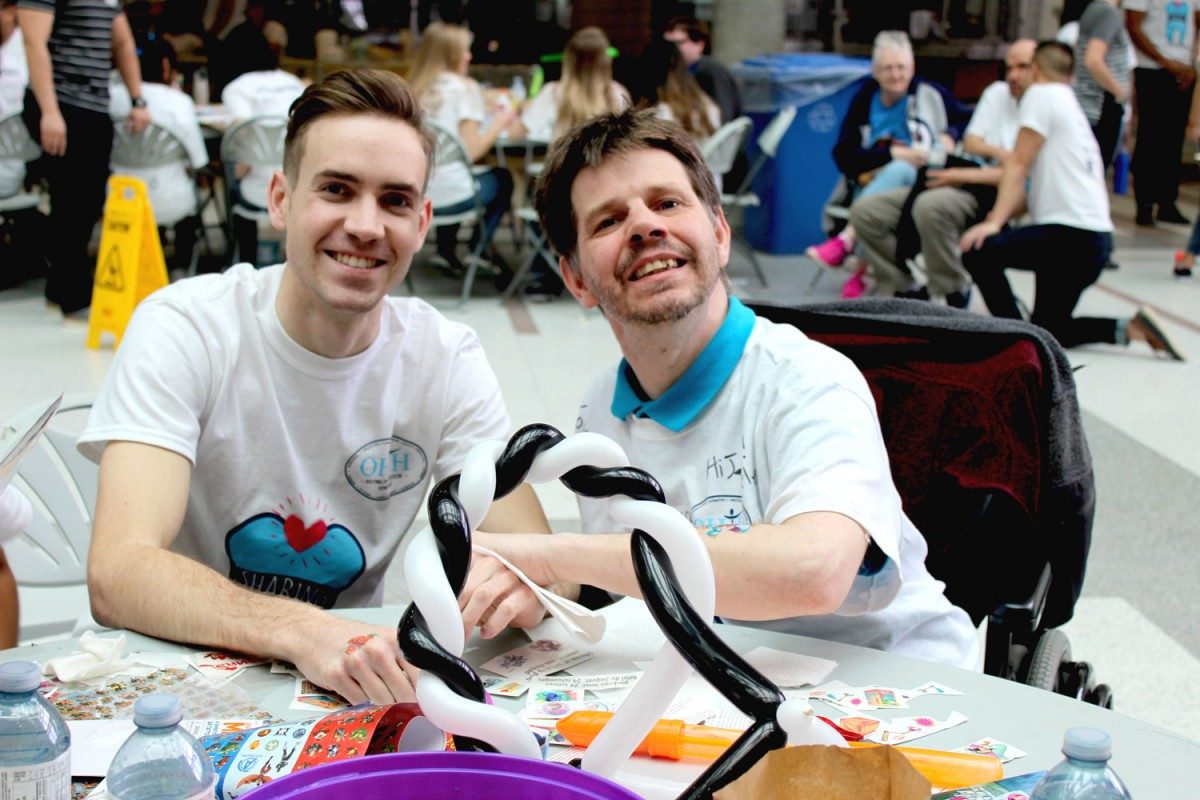 Fun and games help dental students connect with special-needs community
April 13, 2017 —
At the U of M's recent Sharing Smiles Day, an enthusiastic guest named Trevor joined dental students in playing ball hockey and basketball, then belted out a karaoke song.
"I'm having fun," said the Winnipeg man with special needs. He did, however, have some advice for the dentistry and dental hygiene student volunteers:
"They should say 'Open wide.' They're learning to take care of everybody's teeth."
Preparing to care for everybody in the community – including those with disabilities, who often face barriers to accessing care – is what Sharing Smiles is all about.
About 100 guests – mostly adults with special needs and their care providers – socialized with 100 student volunteers at the fourth annual Sharing Smiles Day on Saturday, April 8 at the Brodie Centre Atrium on the Bannatyne campus.
The three-hour event, which combined fun with educational messages about oral health, was put on by the Winnipeg chapter of Oral Health, Total Health, a national non-profit organization. The chapter is led by students from the College of Dentistry, Rady Faculty of Health Sciences.
Guests and volunteers shared activities such as games, crafts, karaoke, dancing, temporary tattoos and meeting St. John Ambulance therapy dogs. After a pizza lunch, guests received oral-care gift bags to take home.
The event aims to help dentistry and dental hygiene students build their comfort and confidence to work effectively with all kinds of clients. At the same time, it increases awareness of oral health in the special-needs community.
"We're helping to break barriers between us, as future dental professionals, and this group of people who are underserved when it comes to dental care," said Israa Elgazzar, a second-year dentistry student and one of the event's organizers.
"I think we benefit by getting out of our comfort zone," said second-year dentistry student Natalie Rosenthal, who was dancing with Beth, a music-loving guest. "They're wonderful people."
Sharing Smiles Day demonstrates to people with disabilities that oral-health professionals are friendly and welcoming, said Dr. Catherine Dale, an assistant professor in the College of Dentistry who brought greetings as president of the Manitoba Dental Association. "The more masks we can take off, the better," Dale said. "It breaks down perceptions that dental offices can be elitist or scary."
Guest speaker Shauna McGregor, a dental hygienist who provides care at St. Amant, said working with clients who have special needs "has its challenges, but the rewards outweigh those challenges."
Rebekka Tia, a third-year dental hygiene student, said having everyone wear a Sharing Smiles T-shirt helped unite guests and students.
"It's nice, because you're not in a clinical setting," she said about the gathering. "It helps us learn how to approach people with special needs in a safe, fun setting."