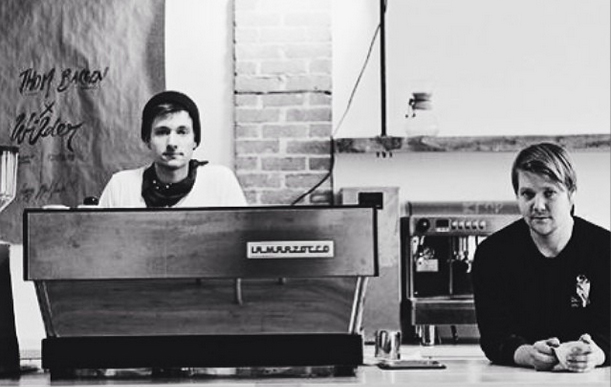 From undergrad to coffee nabob
May 16, 2014 —
Handcrafted coffee is their business, and business is good.
"A few weeks ago, we ran out of beans, thanks to the spring rush," said Thom Jon Hiebert, of Thom Bargen Coffee and Tea said, as almost every one of the seats in his modern-rustic style café were in use on a Thursday evening — not an uncommon occurrence for the coffee shop at 64 Sherbrook Street.
Hiebert [BA/'10] founded the spacious coffee bar in 2012 with his friend Graham Bargen. Lattes come laced with delicate milk-foam designs and are brewed from ethically sourced, Canadian-roasted coffee.
Hiebert credits his education at the U of M with helping him achieve success as an entrepreneur. He graduated in 2010 with a major in psychology (Faculty of Arts) and a business minor (Asper School of Business).
"Asper [School of Business] really laid a great foundation for understanding the aspects of business, ranging from all the accounting and finance, to marketing," said Hiebert.
"I really think if I [hadn't] gone to Asper, I wouldn't have been as confident to jump into things that I did."
The two entrepreneurs acknowledge that while West Broadway has always been their preferred location to open a café, the neighbourhood isn't as high traffic an area as other downtown locations — something that made the venture more than a little risky.
But Bargen, who worked in international remote sales and marketing for five years before becoming an entrepreneur, said he felt ready to start a business with Hiebert because of his knowledge of risk management.
"I felt like he was so good throughout the whole process with assessing risk. That was helpful to me," said Bargen over indie music and the buzz of customer conversation in the background.
"I definitely did feel comforted by his degree. I remember being comforted by going over the numbers with him every day — it was encouraging."
Hiebert says that although running a coffee bar is a tough business, the community has received them well. The duo celebrated the café's first anniversary in February, and partnered with a St. Boniface café, Café Postal, as part of a pop-up coffee tent at Festival du Voyageur.
"There's a lot of room for growth, and we're excited to keep growing," Hiebert said.
"We're both ambitious, and this isn't it for us. I think Winnipeg can handle more."