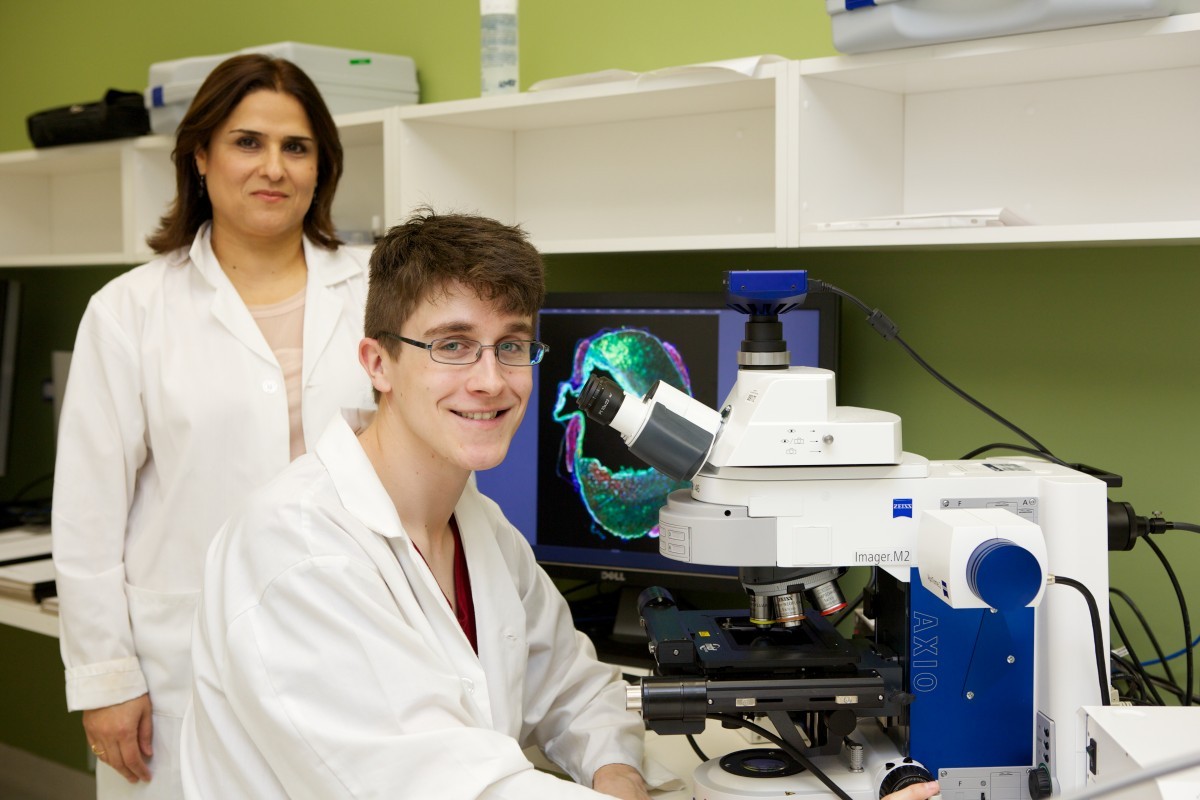 From stem cells to Romantic suicide
Undergraduate Research Awards acquaint students with an array of academic research
August 15, 2013 —
There's mounting confidence in his voice as Evan Proulx tells me about the lab research he's helping to conduct this summer as a recipient of an Undergraduate Research Award. He is composed and articulate, and his knowledge about his research and regenerative medicine is impressive; he's been placed with Soheila Karimi, an assistant professor in the department of physiology and pathophysiology, Faculty of Medicine, and director of the Spinal Cord Injury and Stem Cell Laboratory. The Karimi Lab focuses on promoting repair and regeneration after spinal cord injury/disease using stem cell-based therapeutic approaches.
The undergraduate student in microbiology wasn't always so confident, he says. In fact, Proulx's summer research experience, along with two Faculty of Science co-op placements in Lethbridge, have allowed him to grow both as a student and as a person. Along with improving his social skills, he says, the research experience has also exposed him to "the kind of dedication it takes" to do work at this elevated level. "Dr. Karimi's expectations in the lab are very high," he says. "And as an undergraduate student, you need as much experience as possible," not only for future job or graduate work possibilities, but also to help ease the transition into the job market, he adds.
Hands-on work such as this research has helped him to clarify his goals, too. Though he began his university education with a science focus, he is now looking towards something in the health care field and plans to apply for master's studies after he completes the final year in his program. "I don't know exactly where my academic path will lead, but I am now leaning towards something in health care. I like the idea of helping in that way," he says.
Karimi: 'Training and teaching fresh and motivated students such as Evan is a part of my job that I enjoy the most.'
For her part, Karimi agrees that the Undergraduate Research Award is a tremendous prospect — for both the students and researchers. "Undergraduate Research Awards are excellent opportunities for junior students to get exposure and develop hands-on experience in scientific research. We need to train the next generation of researchers in biomedical science and these initiatives would allow us to recruit enthusiastic students like Evan into our research programs. Training and teaching fresh and motivated students such as Evan is a part of my job that I enjoy the most."
It's not all about science research, though.
More than 80 undergraduate students, from sciences to the fine arts, received Undergraduate Research Awards and were placed with a faculty member or lab this summer. As part of the application process for the awards, students interview any two professors to find out more about their areas of research, scholarly work or creative activity and write summaries. Students then choose one professor and write a rationale for their choice, indicating how this research, scholarly work or creative activity fits with their own long-term career aspirations. Students present the results of their research, scholarly work or creative activity at the annual Undergraduate Student Research Poster Competition.
Undergraduate Faculty of Arts student Michelle Fu is working with Michelle Faubert, an associate professor in the department of English, film and theatre. Faubert's research interests in the history of psychology and insanity in the Romantic period have led her in interesting directions, and have resulted in a prolific output — she's edited and written several books on aspects of those topics. Fu says that the subject matter fascinated her since she took a course with Faubert in her second year; now she is helping Faubert research her latest book project, on suicide during the Romantic era.
Romantic suicide: Undergraduate research award recipient Michelle Fu has learned that a small document can provide a plethora of unexpected information. The language used in a historical newspaper death notice, for instance, offers a window on the era's attitudes towards suicide
Faubert says that her research focuses primarily on literary representations of suicide in the Romantic-era, though she also look at how "philosophical, religious, medical, and legal discourses of the period played a role in shaping the way suicide was perceived and understood by society."  Her experience working with an undergraduate researcher has been completely positive: "With only a minimum of training about how to use various databases and catalogues, Michelle Fu has discovered a wealth of information on my topic that will help me to advance my research greatly."
Additional benefits for the professor of participating in this award program, notes Faubert, "are to advance your research by gaining raw data and discovering new resources, as well as through discussing your research with someone new and thereby developing your conceptualization of it." She also notes that the research process "helps a new scholar to discover new research methods and gain first-hand experience of an advanced research project" and provides "the satisfaction of seeing a new scholar advance in their intellectual development."
Not only has the experience allowed Fu that intellectual development as a scholar, both the research activity and content have been extremely interesting, she says. And it's provided her with sustained experience in research methods and exposure to primary-source research. She's learned, for instance, that a small document can provide a plethora of unexpected information: The language used in a historical newspaper death notice offers a window on the era's attitudes towards suicide, notable because Faubert's project is concentrated around the idea that "suicide was silenced as a topic of rational debate," explains Fu.
"I'm enjoying it a lot. You get to do things that you wouldn't in the regular classroom," Fu adds enthusiastically. "You are participating in an in-depth research process — it's the scope of research and the range and diversity of the research for a large project like this.
"It's just a great opportunity."
This article originally appeared in the August 15, 2013 edition of The Bulletin.
Research at the University of Manitoba is partially supported by funding from the Government of Canada Research Support Fund.