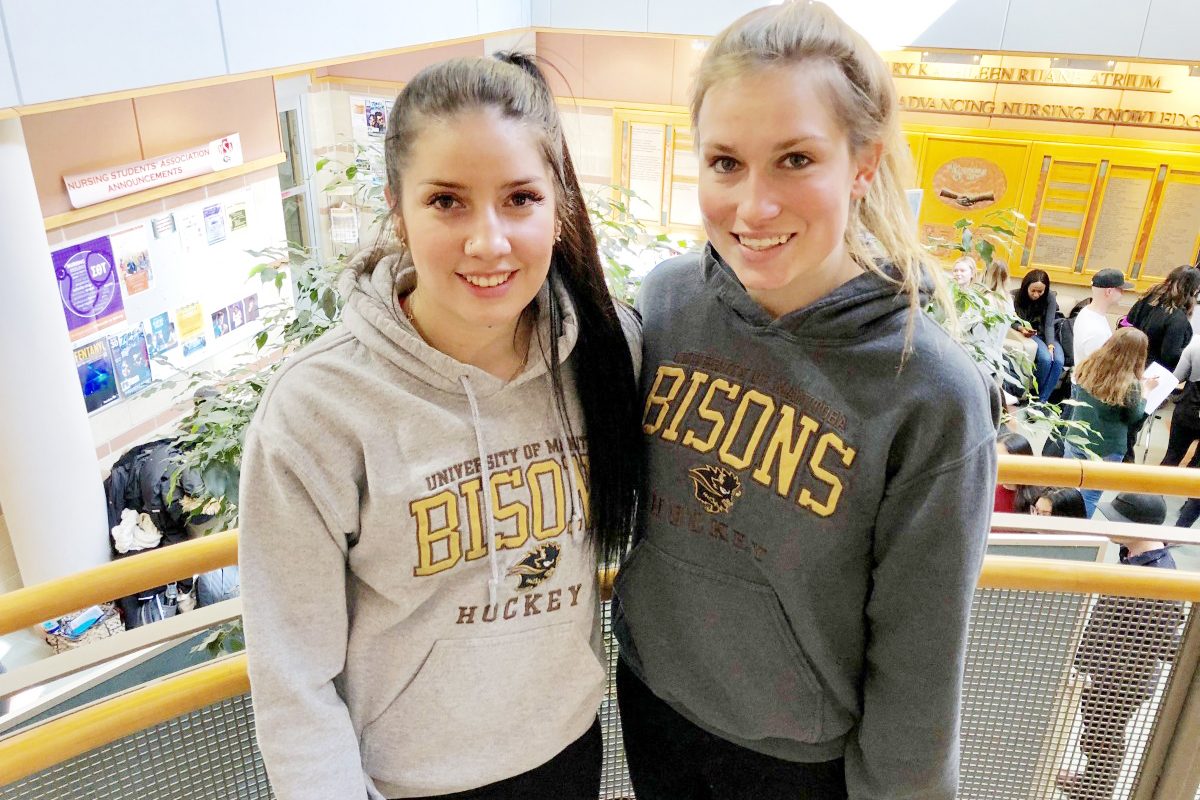 From patients to pucks
Two nursing students win national hockey championship
April 11, 2018 —
When the final whistle had blown on the 2018 U SPORTS Women's Hockey National Championship in March and the U of M Bisons were celebrating their historic championship win, forwards Charity Price and Courtlyn Oswald didn't have much time to relax and soak it in.
They had no choice but to quickly turn their thoughts back to school and the next big tasks in front of them.
Oswald and Price are College of Nursing students in the Rady Faculty of Health Sciences who spent the championship hockey season juggling a gruelling training and game schedule while keeping up with what's considered to be among the most hectic fields of study at the university.
"I can't even really explain how busy and intense it was to be in third year nursing while we had this long , amazing season," laughs Price. "It was a great test of our time management skills. In fact, that might be the biggest thing we've taken away from juggling hockey and school!"
Oswald and Price are both third year nursing students and they've been playing Bison hockey together for the past four years. Oswald is from MacGregor, Manitoba, while Price is originally from Slave Lake, Alberta, and came to the University on a hockey scholarship.
"Charity is actually a semester ahead of me but because of our connection in hockey, I would say she's become a bit of a mentor to me," explains Oswald. "It was great to have her input and advice so I'd know what to expect going into different situations."
To put their timetables into context, during the season Oswald and Price have a full-time nursing class schedule from Monday to Friday. They would also have four hockey practices a week plus three to four strength training sessions and games every Friday or Saturday, often at other universities across the country.
Sunday was typically their only day off, not that you could really call it "off".
"I've found myself many Sundays sitting down and staying there for 12 hours straight, just to keep up on things I've missed the week before," says Oswald.
But both women say they have not only stayed on pace with their classmates, they have a feeling of accomplishment for being able to arrange their lives to get the most out of their passions.
"My life right now is not something I can take a week at a time. I've been very organized, planning my schedule months in advance. It's a lot of asking my hockey coach if I can do a certain thing on a certain day with the team, then telling my professors, sorry, I won't be in class, what can I do to make it up?" explains Oswald.
The Associate Dean of Undergraduate Programs for the College of Nursing says she and her fellow faculty members are thrilled to see two of their own undertake two such demanding challenges and come out on top.
"The undergraduate nursing program is definitely time-intensive and challenging," says Marie Edwards. "Trying to balance and navigate our program while at the same time spending countless hours training for, practicing, and playing hockey at an elite level requires incredible dedication, time management, and skill. Congratulations to Charity and Courtlyn on their success on the ice and for serving as great role models in our program and at the University."
Some might question if the enormous pressure Oswald and Price have been under is worth it. The young women say absolutely.
"Everyone's been super supportive allowing us to rearrange everything so it fits," says Price. "Our professors have been so accommodating and our classmates have helped us out by giving us notes and always letting us know what we've missed. It's a lot of long days, and of course a lot of studying but it's all worth it, especially after the championship win."
"Our coach actually said he wanted hockey to be a break from school stress for us," says Oswald. "So that meant you'd never find us studying in the locker room and that was nice for me. With school stressing me out, to be able to use hockey as a relief from that or visa versa."
As they move forward into their final year of nursing, the duo will no longer be playing together as this championship season was Price's fifth and final year of eligibility.
Although Oswald does have one year left on the ice, she chuckles when she thinks about having free time after she graduates.
"I don't think I'll know what to do with myself, I honestly have no idea what free time feels like."