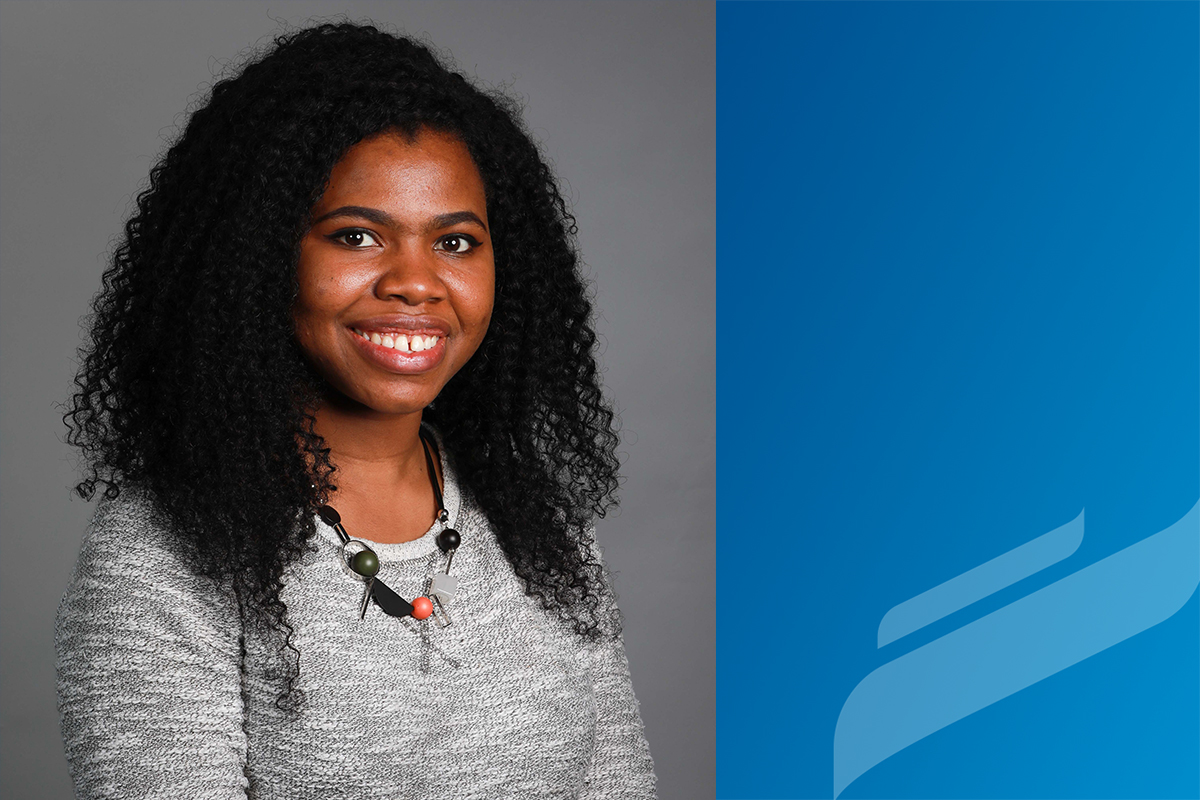 From Lagos to Winnipeg, an international student's journey
FKRM alum Anthonia Aina talks about her struggles and success
February 10, 2022 —
Anthonia Aina, graduate of the UM's Kinesiology master's program and present PhD student at the University of Toronto, touched down on Manitoba soil from Nigeria on September 11, 2018. Aina, who completed her undergraduate degree at the University of Lagos, wasted no time getting involved in the faculty. Arriving only the day before, she explained: "I was on campus on the 12th, and I've been here since then."
Prior to pursuing her master's in Canada, Aina worked as a licensed physiotherapist for two and a half years in Nigeria. Possessing a range of academic and applied experience, she was well equipped to succeed in the program. Since starting her master's 2018, she has gone on to work as a fitness attendant at the Active Living Centre (ALC), has pursued research in her areas of interest, and has been awarded the prestigious Ruth Asper Scholarship in Kinesiology and Recreation Management. However, she explains, although she certainly is an ambitious person, she hasn't always been as confident as she is now.
International students face many barriers—from communication gaps and complex financial decision-making to the demoralizing effects of culture shock. Often being one of just a few African students and employees, Aina was initially worried that her training in Lagos wouldn't be recognized or valued in a Canadian context.
Only a few months after her arrival, she learned of the Ruth Asper Scholarship. "I kind of felt like I wasn't going to get it. I felt like I do not have the same experiences as many people who were in the faculty who were schooled in Canada," she explains. "I told myself I wasn't going to apply because I felt discouraged."
But, four days before the deadline she woke up in the middle of the night, overcome with the realization that this decision would eliminate any possibility of her winning the scholarship, no matter how small.
"I woke up and was like, 'hmm, you literally just disqualified yourself because you think you're not going to get it, because you think your experiences are probably not the same. But your experiences are valid, and useful and unique, too'."
Aina composed and submitted the application, and a month later, in January 2019, she was informed that she had been chosen as the recipient.
"I'll say that scholarship definitely helped, psychologically," she explains, "because it made me realize that I was unique in my experiences and my experiences were valid. . . I knew that I could do anything after. I wasn't necessarily discouraged because of my different background or training."
Since then, Aina has been busy working in the FKRM, as a student and as a fitness attendant at the ALC. She says that her background as a clinical physiotherapist has helped her in her work as a fitness attendant, and vice versa.
"I think my role as a fitness attendant makes me a better physiotherapist and my role as a physiotherapist also makes me a better fitness attendant," Aina explains.
"A lot of the job in physiotherapy . . . (is) movement therapy, exercise therapy. And since I started working at the ALC my knowledge of exercise prescription has gotten a lot better," she says.
Ultimately, both Aina's past experiences and the new expertise have contributed to making her into the skilled trainer and a researcher she is today. She is interested in now focusing her PhD research on modal control, music, and stroke rehabilitation, studying how the central nervous system impacts human control mechanisms and developing rehabilitation techniques catered towards people who have suffered strokes.
"I'm not sure where I'm going to end up," Aina said, when asked of her future goals. "I enjoy doing research so it's definitely going to be between doing research for the rehab community or just being in the rehab community as a therapist."
Emboldened by her successes, Aina also devotes time to helping inform and empower other international students, mainly from Africa, to share her experiences on subjects related to navigating the Canadian university system as an international student.
"Myself and a few other Black people just talk to students who are thinking of studying abroad and don't know how to go about it."
"Sometimes, like I said, I told myself I was not worthy, that I was not going to make it, that I was not going to apply, and there's so many people in the same shoes, like 'oh no, I'm not good enough.' What this group is, is an open platform. People can talk about their fears, people can ask their questions."
Having encouraged a number of students to attend the University of Manitoba, Aina hopes that more and more international students will consider pursuing their studies with FKRM.
"When I came to Canada and to the faculty one of the first things I looked out for was to see how many people looked like me, and I found only one person, and I was like 'okay, this is going to be interesting.' But as time goes on, I think there are more and more people beginning to join the program who have an African background."
She adds, "it could be better. . . and that would involve more conversations."
"Don't let fear stop you," she says. "Generally, a new experience is scary, especially if you see people who don't look like you, but at the end of the day it's worth it."
Aina will be moving to Toronto at the end of the month for her PhD work, and is already looking fondly back on her time in the at the University of Manitoba.
"I have definitely learned a lot and grown a lot from being within this faculty and within this university community, and I'm grateful to all the people who have helped," she says.