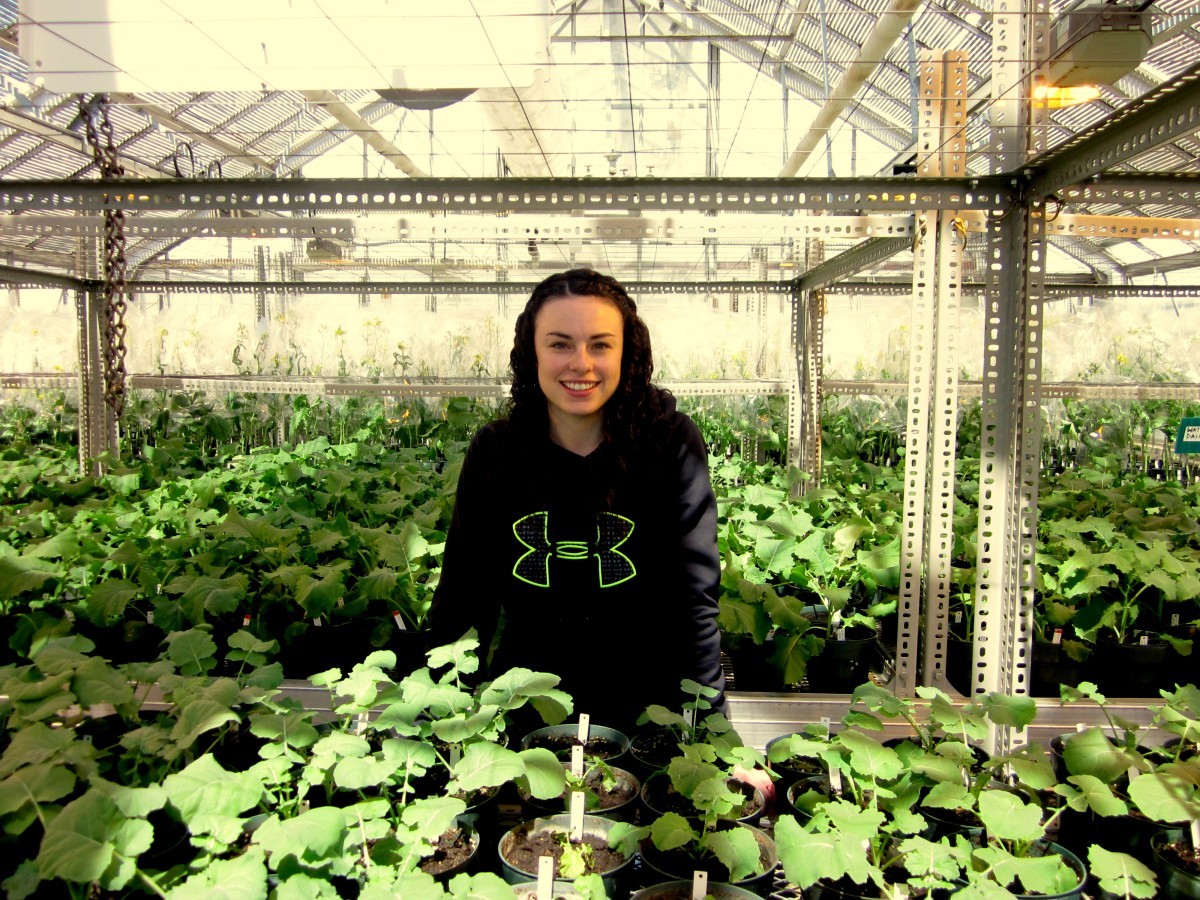 From here, I can go anywhere!
May 30, 2014 —
To celebrate the university's 135th Spring Convocation, UM Today spoke with several graduands about highlights from their time at the University of Manitoba — and what's next for them.
Michelle Ward is graduating from the psychology honours degree program this spring with her BA (Hons).
A highlight from your time at the U of M: While there have been many memorable moments throughout my undergraduate degree at the U of M, the greatest highlight for me was the feeling of accomplishment that I felt immediately after presenting my Honours Thesis research to classmates and faculty from the department.
What's what's next for you? This spring I will be entering the School Psychology program at the University of Manitoba where I will begin conducting my Master's thesis under the guidance of Dr. Janine Montgomery. Through my training at the University of Manitoba I hope to gain the knowledge and expertise necessary to provide psychological services to children and adolescents.
How has the U of M prepared you for your future? Throughout my years at the U of M I have had the opportunity to learn from and work under many incredible researchers in the field. The stimulating environment that my professors have created has helped me to grow as both a writer and a researcher and has strengthened my ability to problem solve and think critically. Each of these skills will be invaluable to me as I begin my career as a School Psychologist.
Aaron Szucsik is graduating from the dental hygiene diploma program in the School of Dental Hygiene, College of Dentistry, Faculty of Health Sciences.
A highlight from your time at the U of M: It was great being surrounded by so many dedicated and enthusiastic teachers and mentors — their passion for dental hygiene was very inspiring. One highlight was making a presentation during my second year to grade 4 and 5 students about oral health. Feedback they gave to us and how we were able to engage them was encouraging and exciting — as a learner myself to be able to provide the information to the students and how the students were so interested in learning about oral health and oral hygiene. It's one-of-a-kind experience to be able to teach someone else something after you've been learning.
What's next for you? I would like to work as part of a dental team as a dental hygenist. Giving back to the community is extremely important to me as well, and I want to work with the underserved and help them to improve their oral and overall health.The Community Health course I took raised my awareness about the needs of the underserved and dental hygiene care isn't covered by healthcare — and sometimes people have difficulty accessing these services. That exposure was something I was grateful for. To be able to educate and give oral health care to those populations would mean a lot to me. I'll also be volunteering at Mt. Carmel Clinic.
How has U of M prepared you for your future? I feel I've gained the skills and knowledge I need to make me confident and make me a confident oral health professional, and I feel like I'm well-equipped to meet the oral health needs of those I'll serve. Going into the program, I didn't have the social skills I needed — I think I'm a lot more confident in how I interact with people now. My communication skills have improved tremendously.
Uliana Kovaltchouk is graduating with a Bachelor of Science with a major in microbiology and a minor in chemistry.
A highlight from your time at the U of M: The vast array of opportunities the University of Manitoba has offered me makes it next to impossible to describe a single highlight from my undergraduate experience. However, my experience in science research over two summer terms (under NSERC USRAs) is among the most memorable. I experienced the constant shift of the field of microbiology, and the importance of integrating what we have learned in the past with the modern view. The ability to share my findings with fellow students and members of the community during the Undergraduate poster competition, has been the most rewarding. Sharing ideas, strategies, and problems is what drives science forward, and the Undergraduate Poster Competition was a medium that aided in interconnecting young scientists and our research.
What's next for you? I was accepted to the College of Medicine, so I am extremely excited to be continuing my education at the University of Manitoba for the next four years!
How has U of M prepared you for your future? As an explorer, I constantly peer into the unknown. The University of Manitoba has helped me develop and refine skills vital for contemporary exploration. My intrinsic drive to study the undiscovered coupled with being nurtured by cutting edge researchers, has transformed how I view the world we live in. This ultimately has led me to study climate change and Inuit culture in the Arctic to probing for complexes in the mitochondrial outer membrane. We are all explorers, and it is about uncovering the passion for a discipline that will keep one exploring for life. The University of Manitoba guided me over the 4 years of undergraduate studies to unearth my passion for medicine, and I hope that I can be a better physician with the skills gained as an explorer.
Michelle Stevens is graduating with a Bachelor of Science in Human Nutrition from the Faculty of Human Ecology
Can you describe a highlight from your time at the U of M? My year as President for the Human Ecology Students' Organization (HESO). It allowed me to be a leader and a peer to my executive but also learn from them and from the other faculty presidents. We had a great year and left the new administration in a strong position for this year.
What's next for you? This September I was accepted into the Manitoba Partnership Dietetic Education Program. The internship will provide further knowledge in my field and will help me become a Dietitian. I also plan to travel for a short while to Europe after internship, as my reward for almost 6 years dedicated to studies. Then, I look forward to kicking off my career and leveraging my skills.
How has the U of M prepared you for your future? The University of Manitoba has provided me with so many skills such as leadership, teamwork and communication as well as the importance of continual learning and perseverance. I feel that my education was well rounded and that now I am prepared to go out into the working world, leverage my skills and continue to learn and improve.
Danica Swaenepoel is graduating from the plant biotechnology program (part of plant science) in the Faculty of Agricultural and Food Sciences.
A highlight from your time at the U of M: The greatest highlight during my time of U of M was having the opportunity to be a student in the faculty of agriculture. All of the staff and students really do create an environment that feels like home. I'm proud to be an aggie and I'm grateful for the opportunities I've had within the faculty — being a part of the faculty of agriculture's student organization (FASO), being a faculty of agriculture student ambassador, and making friends that I will have for the rest of my life. It's been great.
What's next for you? I have already started post-graduate studies within the plant science department. I am now a Master's student working with Dr. Robert Duncan on research in Brassica species such as rapeseed and canola.
How has U of M prepared you for your future? My professors and advisors have been excellent. The biotechnology program makes its students very well prepared to go on to post-graduate studies, which is what I have chosen to do. I have had numerous mentors in my professors, advisors, and other academic staff within the faculty. I have been able to take so much away from my undergraduate degree at the U of M and I am very thankful for that.
Kevin Sagan is graduating from the civil engineering program (Faculty of Engineering), specializing in water resources engineering.
A highlight from your time at the U of M: One of the biggest highlights of mine was receiving a U of M Undergraduate Research Award in Summer 2012. I worked for Dr. Shawn Clark from Civil Engineering, and he got me involved in six different projects over the course of the summer. I learned a lot of practical skills and had some great new experiences, like getting my boating license and doing field experiments on the Red River. Maybe the most memorable experience from that summer was helping another student to build a large-scale sandbag testing facility. The facility received a lot of media and industry attention, I even got to be part of a live TV interview, and it was exciting to be part of a project that could be so useful to the flood fighting effort in Manitoba.
What's next for you? I will be starting my Master's degree in September with funding from an NSERC graduate scholarship. My research will look into the uncertainty in flood estimates that are used for dam design, as well as the effect of climate change on these design floods in the future. It will be an interesting project with good connections to industry, and it's especially important given the amount of hydroelectric power generation in Manitoba and in Canada. After my Master's, I plan on staying in Manitoba to pursue my engineering career, as our province is always fraught with new water resource challenges to overcome.
How has U of M prepared you for your future? The university provided tremendous support to me through financial awards and showed me that my hard work does not go unnoticed. In terms of academics, my professors in Civil Engineering were knowledgeable and enthusiastic, and I feel they have positioned me to be successful in my engineering career. The Co-Op program offered by the department has also been extremely helpful in getting me valuable summer work experience and connections for my future career. All of this support I've received from the U of M has left me feeling well prepared for my upcoming Master's studies and for entering the engineering workforce.
Vanessa Hunzinger is graduating from the College of Dentistry, Faculty of Health Sciences.
A highlight from your time at the U of M: The comraderie that our graduating class had built over the course of four years together. The international students that joined our class in third year only added to our close connection as a class.
What's next for you? I am joining my father, Dr. Marcus Hunzinger, who himself is a University of Manitoba graduate in dental practice at Cityplace Dental Centre. I am excited to have a wonderful mentor to help lead me in the first steps of my career. I will also be taking continuing education courses in interceptive dentistry, which is a field that I have become particularly interested in, due to my professor Dr. Frank Hechter who played an important role in my development as a dentist.
How has U of M prepared you for your future? The Faculty of Dentistry provided me with the skills and knowledge to flourish in the field of dentistry. There are many incredible professors and instructors who dedicate their lives to the education of the students. I will always be grateful for the gift that my hardworking mentors had given me. I am stepping into an incredibly wonderful profession and I am excited for what the future holds.