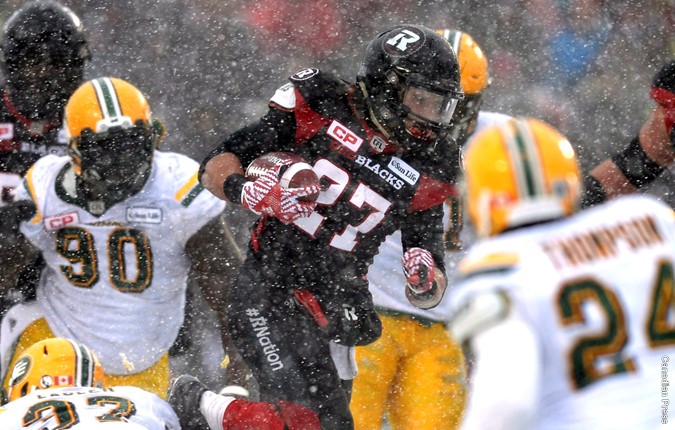 From Brown and Gold to Redblack
Former Bison playing for 2016 Grey Cup
November 21, 2016 —
Former University of Manitoba Bison football star Kienan LaFrance is heading to his second consecutive CFL Grey Cup with the Ottawa REDBLACKS.
Ottawa selected LaFrance in the sixth round during the 2015 CFL Draft. In his first CFL year, the 5'10", 210-pound runner had 17 rushing yards on six attempts. He also had plus had two receptions and added three punt returns for 68 yards.
LaFrance had a strong end to his Bison career in 2014. He was a conference all-star as he finished second in conference with 785 rushing yards and tied for first in overall touchdowns in Canada West with ten. His seven rushing touchdowns also was tied for fourth in the conference and was third in all-purpose yards in Canada West with 1,058.
"Kienan stepped in and said, 'guys, give me the hole. This is why I'm here. I'm here to get us to the Cup and win the Cup.' And man, the kid responded," Ottawa QB Henry Burris said of his running back. "He's a Manitoba Bison so if there's anybody that's used to running in these conditions, it's definitely the guy from Manitoba."
Sunday's tilt between the REDBLACKS and the Calgary Stampeders kicks off in Ottawa at 5:30pm Central Time.