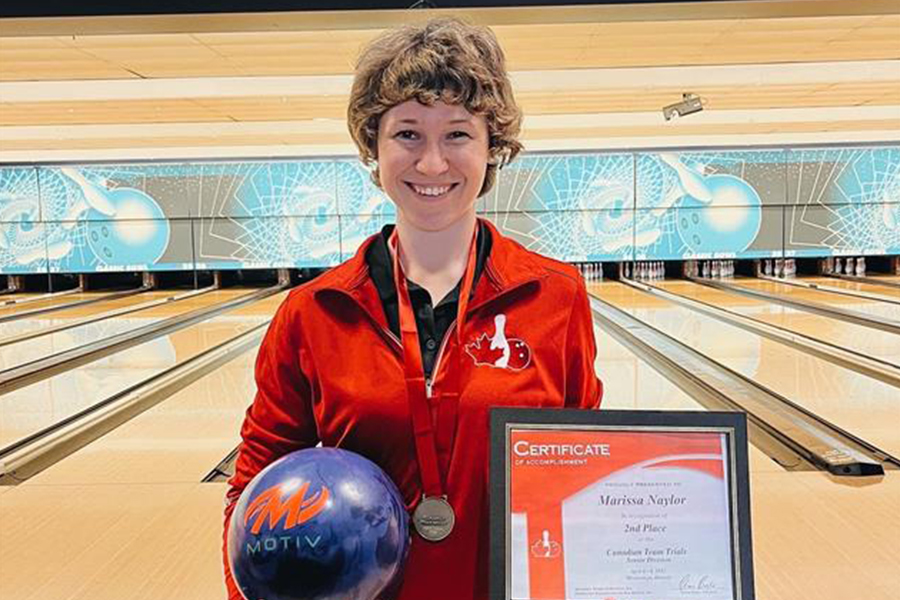 FRKM alumni profile: Marissa Naylor
Marissa's Team Canada tenpin bowling journey, and more
April 13, 2022 —
Marissa Naylor [BRMCD/20], recent Recreation Management and Community Development graduate with a minor in marketing, placed 2nd in the Team Canada tenpin bowling trials last week, earning a spot with Team Canada to compete in the World Championships that will be held in October.
Naylor has been involved with the faculty and Bisons sports in different capacities over the years, having been captain of the Bisons women's golf team for five years, and currently working as FKRM's social media coordinator. Naylor's achievements in sport, kinesiology, community development, and marketing are diverse, and she stands out in all of these areas because of her drive to achieve and promote healthy living. Though bowling isn't usually a university-level team sport in Canada and Bisons don't have a bowling team, Naylor says being a part of FKRM informed her understanding of the importance of health, wellness, and working hard to meet one's goals.
How did you get into competitive bowling?
So, my parents did it when they were younger. When I was still in the womb, my parents were bowling, so I've been bowling really since I could walk, which I mean could be as low as age 3, age 2. But yeah, I've been bowling for as long as I can remember. I tried out for a Team Canada four times now, and this is my second time making the team. I made my first nationals when I was eight years old, so it was pretty long ago now. But I've had the privilege of representing Manitoba multiple times and now on Team Canada twice. I've been bowling since I was very, very young.
Where did you bowl growing up?
When I started bowling, I started bowling in Manitoba organizations, third party stuff. It's not really existent in Canada in terms of 10 pin bowling colleges, but down the states it's very popular, it's an NCAA sport. So, the difference between Canada and the US in that regard is very large. But there are opportunities to do it here, for sure.
How did the University of Manitoba impact that journey? What part did it have to play?
So, being with Bisons sports for five years now and then also being in the FKRM faculty and an alumni of it, it's all about physical activity, wellness and doing what is best for you, but also best for your health. And so, it really supported that dream in the sense of going for what you want and achieving your dreams and not holding back. And I think that's exactly what the faculty and Bisons sports and every realm of the faculty portrays in mission statements, vision statements and values, and what they portray to staff and students as well.
Tell us about the recent trials in Toronto, what was that like?
This was my 4th time trying out. The first time I made it was in 2017 as a youth member and then this was my first time as an adult and also my best finishing position ever in the Team Canada trials. There were 40 bowlers all coming from across Canada and within the competitors there were at least 10 professional bowlers there, so it's not an easy feat. They bowl like all year round, which is pretty crazy to think about, especially as a double sport athlete in two different very different sports.
What are you most excited for in terms of competing with Team Canada?
That's a big question. I would say the biggest thing is just representing my country again and representing it on the biggest stage possible. We're going to the World Championships and there's two different championships, there's one in Brazil and one in Peru. The selection is going to be made at the end of this month, so it's to be determined which one I'm going to. But I think the biggest thing is just that representing your country and hearing your national anthem at the biggest stage is one of the coolest things that you can imagine. I mean, bowling will be in the Olympics fairly soon we're hoping, so that's probably another goal there— to finish well and then hopefully make it to the Olympic stage.