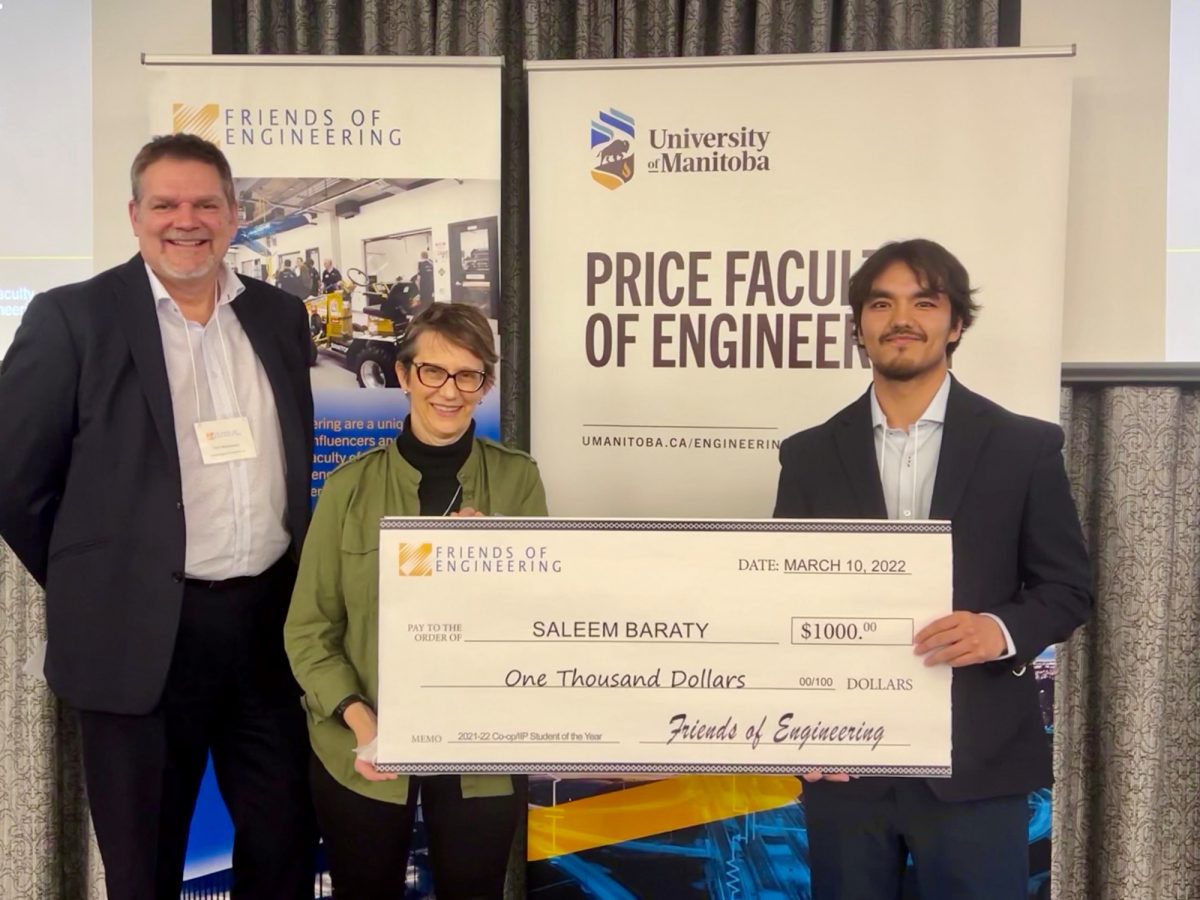 Friends of Engineering awards Co-op/IIP Student of the Year
Saleem Baraty has been named the 2021-22 Friends of Engineering Co-op/IIP Student of the Year.
March 14, 2022 —
The Co-op/IIP Program at the Price Faculty of Engineering is an integral part to the experiential development and education of students. Away from the four walls of a traditional classroom, the program allows students to learn professional engineering skills and techniques and apply them in a real-world setting. Using their engineering knowledge in an industry environment, students learn new skills and gain valuable insight into future careers. Each year Friends of Engineering awards a student who excelled during their time in the program with the Co-op/IIP Student of the Year Award and a $1,000 cash prize.
This year, Friends of Engineering is pleased to announce Saleem Baraty as the 2021-22 Co-op/IIP Student of the Year Award. Saleem, a fifth year civil engineering student will graduate this May and has experienced three separate placements in the geotechnical, construction management, and municipal fields of civil engineering. Friends was also pleased to name mechanical student Kylee Kolesar a an honourable mention.
Coming to Canada at the age of three in 2001, Saleem was determined to make the most out of his engineering studies. He worked as a site supervisor during the construction of a new water treatment plant in the community of Windigo Island, lead the PR/Social team for three years on the Steel Bridge Design Team, and conducted field investigations for TREK Geotechnical.
"As a result of working multiple Co-op/IIP work terms, I have been able to increase my personal and professional development and growth tremendously. As I continued further in my academic career and took on multiple work terms, I was able to experience uncomfortable situations that pushed me to develop my skills and knowledge. In addition, I also met outstanding engineers that taught me about the realistic expectations of our field and the in-demand attributes I should focus on as an engineering student." – Saleem Baraty
Friends of Engineering presented Saleem with the Co-op/IIP Student of the Year award at their AGM at the Norwood Hotel. When asked, "what does it mean for your work to be recognized by this award?" Saleem responded in kind with, "I am humbled and grateful that the Friends of Engineering chose me as the recipient for this year's award. I immigrated at a young age from my home country of Afghanistan, and it has been my goal to make the most out of every opportunity that has been given to me. Receiving this award showcases that the work that I have conducted through the years was meaningful and worth the difficulties it took to reach this stage."
Friends of Engineering, the Co-op/IIP Program and the Price Faculty of Engineering congratulates Saleem on his honorable distinction and wish him the best in his future engineering career.