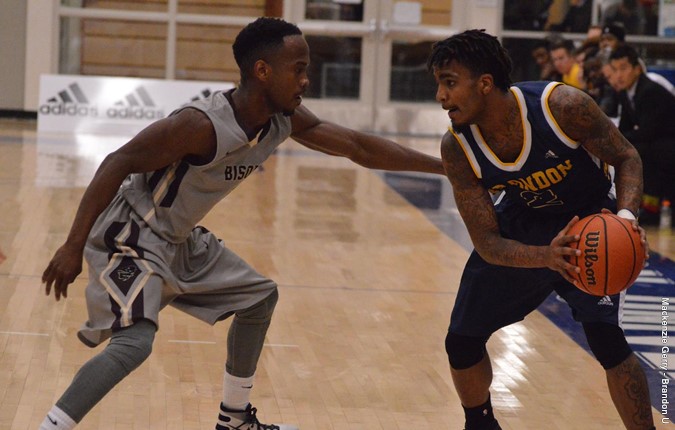 Four in a row
Bison men's basketball team is on fire
November 30, 2015 —
The Manitoba Bison men's basketball team lit up Brandon over the weekend.
The herd handed the Bobcats an 86-75 loss on Friday and an 89-72 loss on Saturday.
AJ Basi was the top scorer for the Bisons with 18 points.
Manitoba improved to 6-and-2 on the season.
Meanwhile, the Bison women's basketball team fell to Brandon on Friday and Saturday night.
HOCKEY:
The Bison men's hockey team wrapped up their Regina road trip with a couple of wins, 6-2 on Thursday and 5-3 on Friday night.
The men improve to 7-and-9 on the season.
The Bison women's hockey team split their series with the Regina Cougars.
They lost Friday night 2-1 but came back on Saturday to win 1-0.
The women are 9-and-7 on the season.
VOLLEYBALL:
The Bison men's volleyball team beat Regina 3-0 on FRIDAY AND 3-2 ON Saturday.
They improve to 10-and-2 on the season.
The Bison women's volleyball team Won 3-1 on Friday but lost 3-2 on Saturday against the Cougars.
Bison women are 2-and-10 on the season.
SWIMMING:
Bison men's swimmer Dillon Perron finished in a tie for second in 200m breaststroke at the Canada West swimming Championship.
Bison women's swimmer Kimberly Moors was fourth in 100m freestyle.
Both Manitoba Bisons swim teams placed seventh in team standings in the eight team competition.
GREY CUP CHAMPS:
Former Bison football players Don Oramasionwu and Eddie Steele are 2015 Grey Cup Champions with the Edmonton Eskimos.
They are the first Bisons to win a Vanier Cup at Manitoba and win a Grey Cup in their career
Both Oramasionwu and Steele played with the Bisons as part of the 2007 Vanier Cup Championship team.