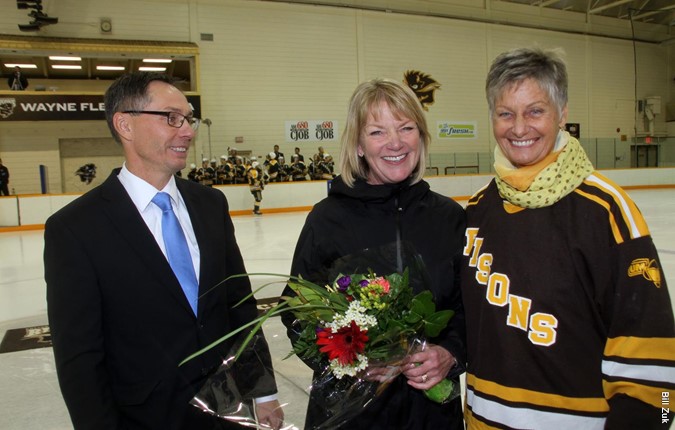 Former Bisons athletic director headed to MB Sports Hall of Fame
June 27, 2017 —
It's been a busy retirement for Coleen Dufresne.
Fresh off the heels of receiving a major U SPORTS award, the former University of Manitoba Bisons athletic director has been named amongst this year's class of Manitoba Sports Hall of Fame inductees.
Dufresne retired in August 2016 after serving as Bison Sports athletic director since 2001.
Her highlights are many. Dufresne oversaw the addition of Bison women's soccer program to the list of U SPORTS varsity sports offered at the U of M. She was also at the helm while four Bison teams won CIS championships and nine conference championships. Prior to her executive role, she was head coach of the women's basketball team  (1984-2001) and UNB (1980-84), winning three U SPORTS championships with the Bisons in 1988, 1996 and 1997 and earning national Coach of the Year honours in 1983, 1988 and 1998.
Dufresne has also attended six Universiades, a pair of World University Championships and has served on the FISU Executive Committee as well as the U SPORTS Board of Directors.
"This is a well-deserved honour for a true titan of the Manitoban sports scene," says Dr Douglas Brown, Dean, Faculty of Kinesiology and Recreation Management. "Coleen is a trailblazer in so many ways. Her hard work has paved a path for coaches and student-athletes for generations to come."
The 2017 Manitoba Sports Hall of Fame inductees are: Sandra Carroll – Basketball, Athlete; Jaimie Dawson – Badminton, Athlete; Coleen Dufresne – All Round, Builder; Wayne HIildahl – Sport Medicine/Special Olympics, Builder; Arthur (Art) Johnston* – Golf, Builder *Posthumous; Jamie (HANCHARYK) Jones – All Round, Athlete; Cindy Klassen – Speed Skating, Athlete; Bob Kraemer – All Round, Athlete; 1995 Kelly MacKenzie Team – Curling, Team.
"These eight individuals and one team join an exclusive club of Manitoba's finest in sport," says Jamie Kraemer, Chair of the Hall of Fame's Board of Directors. "We strive to collect, preserve, celebrate and showcase the history and heritage of sport excellence and achievement and these eight recipients and one team have earned their place in Manitoba's sport history. Collectively with those we honoured back in April at Sport Manitoba's Night of Champions in our Veteran Induction, 2017 is an exceptional slate!"