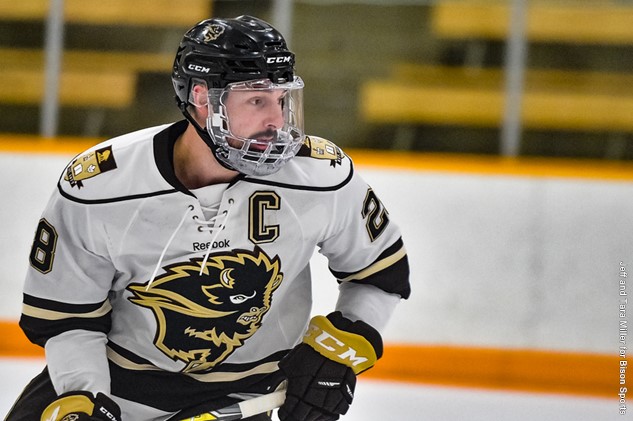 Bison men's hockey captain & FKRM student earns noteworthy scholarship
$1,200 scholarship named in honour of Fleming family, namesake of Bison hockey home rink
November 24, 2017 —
The Bison men's hockey team play an important home weekend series in a battle for third place in the Canada West conference by hosting the Calgary Dinos on Nov. 24-25 weekend at the Wayne Fleming Arena (U of M Fort Garry campus).
At the Friday Nov. 24 game, the inaugural Fleming Family Hockey Coach Scholarship will be presented to Bison men's hockey team captain and FKRM student Brett Stovin during the game's first intermission.
"Stovin has demonstrated a commitment to coaching hockey in Manitoba. The $1,200 scholarship will be applied to his University of Manitoba tuition," said Sport Manitoba in a release.
Stovin, 23, has already been coaching for eight years and completed his first two levels of the National Coaching Certification Program. This past summer he worked as the Head Hockey Coach for the University of Manitoba Mini U Programs and in the spring coached the Manitoba Beast AAA hockey team. He has also coached the AAA Manitoba Colts. His passion for hockey is also clear in other leadership roles including: refereeing, intramural supervising, and as a UMAC (University of Manitoba Athletes' Council) team rep.
The Manitoba Foundation for Sports scholarship program administered by Sport Manitoba announced a new scholarship this year. Jennifer Fleming created the Fleming Family Hockey Coach Scholarship, in memory of her father Jake Fleming and her brother Wayne Fleming, to recognize an upcoming Manitoba hockey coach who shows similar coaching and leadership traits that were characteristic of both Jake and Wayne.
"Teaching, coaching, and sharing the game of hockey was not only a passion for my Dad Jake and brother Wayne, it was ultimately their life's work, pleasure and reward," said Jennifer Fleming. "This scholarship is a way to carry forward their passion to the next generation of coaches." Jennifer has flown in from the West Coast to present the scholarship tonight.
In 2013, the University of Manitoba renamed their arena the Wayne Fleming Arena, in honour of the former Bison's men's hockey coach who passed away that year from brain cancer. Fleming played four years for the Bisons in the 1970's and was the team's head coach for nine seasons in the 1980's. He went on to coach Team Canada in multiple Olympics as well as numerous NHL teams.