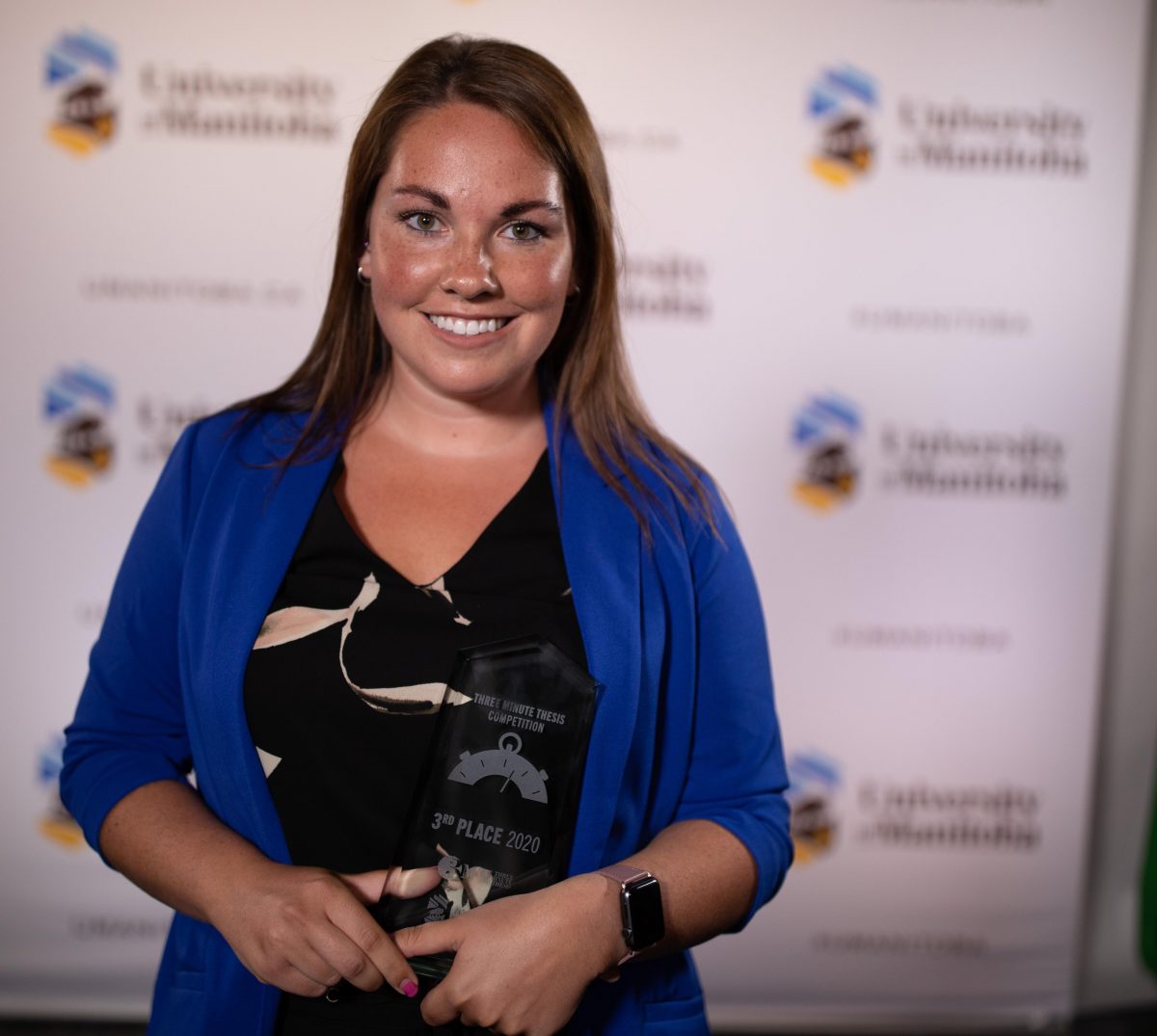 FKRM master's student nets 3rd place at 3MT finals
June 5, 2020 —
No one in the studio could pin-point where the sound—a clicking, intervaled-tapping—was coming from.
As the knocking-like rhythm reached a crescendo inside the Three Minute Thesis finals broadcast room, an IT technician whispered "relax" to Sarah Bohunicky, directing her attention to the clicking her shoes were making against the floor as she waited on deck to present her thesis.
"You could say I was jittery," said Bohunicky.
The Faculty of Kinesiology and Recreation Management master's student had reason to be extra nervous. Instead of presenting in an auditorium full of mostly strangers, the finals were moved to a virtual, live-feed format because of physical distancing. This meant far more people—including friends and family—could tune in and watch.
"I was quite nervous knowing this," she said.
As Bohunicky stepped-up to the UM-crested backdrop and stared into the camera lens, she said her nerves began to vanish.
"Going in front of the camera wasn't nearly as nerve-wracking as I was expecting and once I got into the rhythm of my presentation, I felt my confidence grow and became very excited for everyone to hear about the stuff I spend most of my days working on."
After it was all said and done, Bohunicky was awarded third-place overall (and $750) by a panel of esteemed judges in the 2020 UM Three Minute Thesis finals Wednesday, June 3.
"I am truly humbled to have placed third out of an original 124 applicants for the 2020 competition," she wrote on Instagram following her award win. "For those who watched, I hope you learned something about posture and will want to come participate in my study."
Bohunicky's presentation was based on her master's thesis of determining whether a four-minute massage can reduce a person's risk factor in the development of neck and shoulder pain. "It's amongst the most common pain people tend to have," she said.
Alana Signore, also a Faculty of Kinesiology and Recreation Management master's student, placed in the top-12 of the annual competition. A list of all the finalists and their research topics can be found here.
Three Minute Thesis 3MT® is an annual competition where challengers have three minutes to explain their research and its importance or relevance, using only a single static image or slide to illustrate their topic. At the University of Manitoba, 3MT® is part of an overall strategy to highlight our graduate students, promote research at the University of Manitoba, and connect with the community.