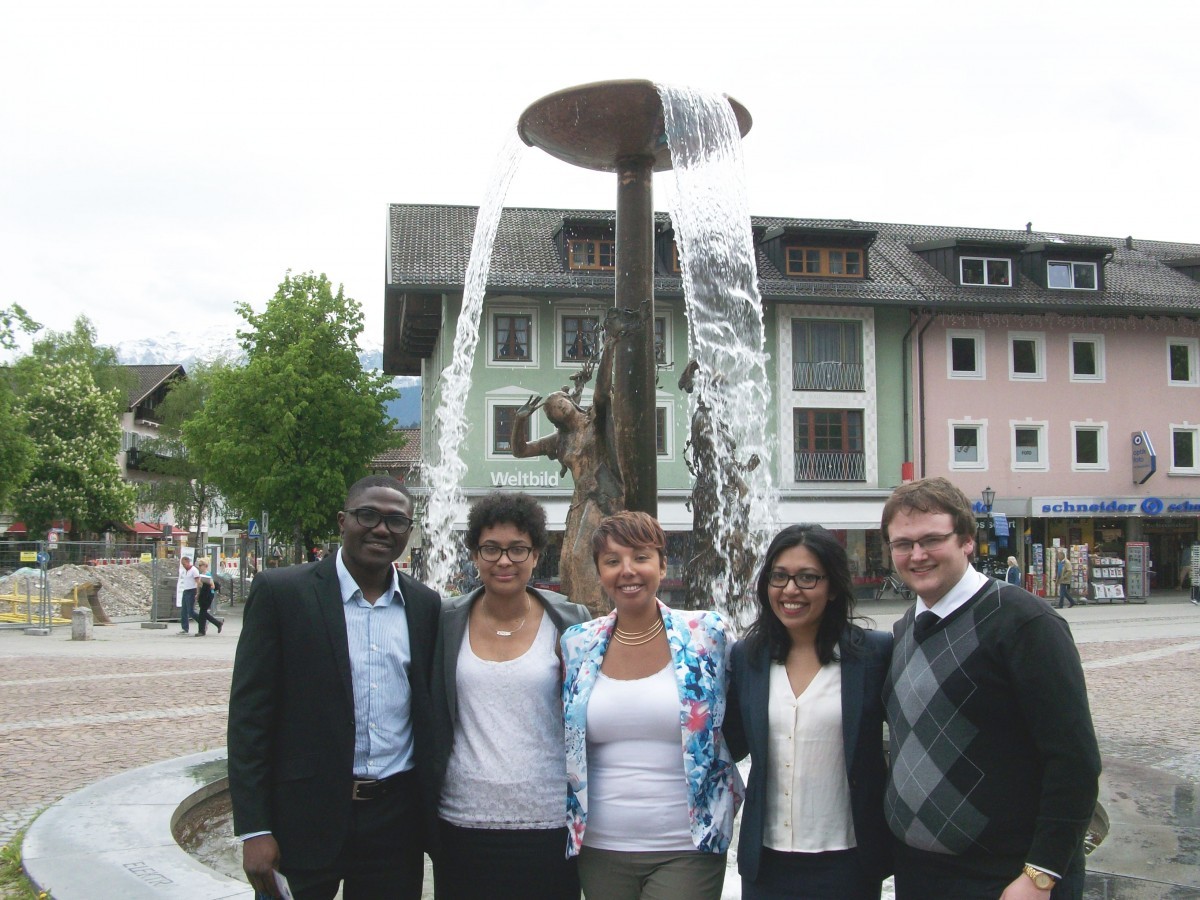 Five students in Germany for G20 Youth Forum
May 7, 2014 —
The University of Manitoba has sent five students to the G20 Youth Forum in Munich, which runs from May 7 to 11 in Garmisch-Partenkirchen, Germany.
The students are:
         Kyra Wilson, Faculty of Social Work
         Tahsina Alam, Faculty of Law
         Brent Hardy, global political economy, Faculty of Arts
         Thianne Diop, history, Faculty of Arts
         Elikem Tsamenyi, graduate student in political studies
The G20 Youth Forum is the largest international civil society event organized for young leaders in 2014, and more than 1,200 young leaders, students and academics, representatives of the business world and governments are participating. It is organized by the Swiss-based G8 and G20 Alumni Association.
This year G8 and G20 Alumni Association introduce three new platforms, which facilitates global change through cross-sector collaboration between parliamentarians, professors, university administrators and young leaders for better cooperation within the participants of the G20 Youth Forum: Joint Sessions of the G20 Youth Summit, Conference publication (academic articles in the conference proceeding) and the International Young Parliamentarians' Debate.
Parliamentarians' Debate participants G20 Youth Forum Final Results will be disseminated throughout the world and shared, in particular, with the G20 Heads of States and leading international organizations such as IMF, World Bank, OECD, European Commission, or United Nations.
Participants will attend the G20 Youth Forum Opening Gala Dinner with concert of Classical music, as well as the Closing Gala Dinner, which will be held in the atmosphere of lively Bavarian folklore. These evening events will help to create a positive mood and develop personal trust and friendship between all the participants of the G20 Youth Forum.
Five professors are also attending the Forum: Andrea Rounce, political Studies, Michal Baffoe, Faculty of Social Work, Luming Wang, marketing, Asper School of Business, Shauma Labman, Faculty of Law, and Vladimir Okhmatovski, electrical and computer engineering, Faculty of Engineering.
Jeremy Mckay, an Asper School of Business student is also attending, paying his own way.
Featured student, Tahsina Alam
Tahsina ("Tisha") Alam is a second year law student at the University of Manitoba, Faculty of Law. Tisha holds a Bachelor of Arts degree in Economics and Sociology from the University of Toronto.
Prior to attending law school, Tisha worked as a social worker for one of the largest social services agencies in Toronto. She has a wealth of experience and understanding in how social and economic policy can affect society's most vulnerable members.
Since commencing her law studies, Tisha has worked as a legal research assistant for the Faculty of Law and has done research with professors primarily in the areas of Aboriginal law and Criminal law. In March 2014, Tisha will be presenting a research paper at the 7th Annual Law Students' Conference in Windsor, Ontario, where she will discuss the issue of Aboriginal overrepresentation in the Canadian child welfare system.
Additionally, Tisha has worked internationally in Bangladesh through a University of Manitoba experiential learning program. In Bangladesh, Tisha engaged in several advocacy projects relating to the human rights of sex workers and indigenous peoples. She also worked as the trip leader and translator to the team of four students who travelled from Manitoba to Bangladesh along with her.
Before immigrating to Canada, Tisha lived in Bangladesh and England, and her exposure to different cultures and experiences have shaped her perspectives and fueled her passion for social justice. She strongly believes that sound economic and social policies and pluralistic legal frameworks are key tools in building a society where everyone can thrive. At the G20 Youth Summit, Tisha will play the role of Finance Minister of Canada and present a paper on the challenges that unpaid internships pose to youth employment.
When not occupied with pressing social, economic and legal challenges of the moment, Tisha enjoys running, watching movies, playing the violin, and spending time with her three younger siblings.