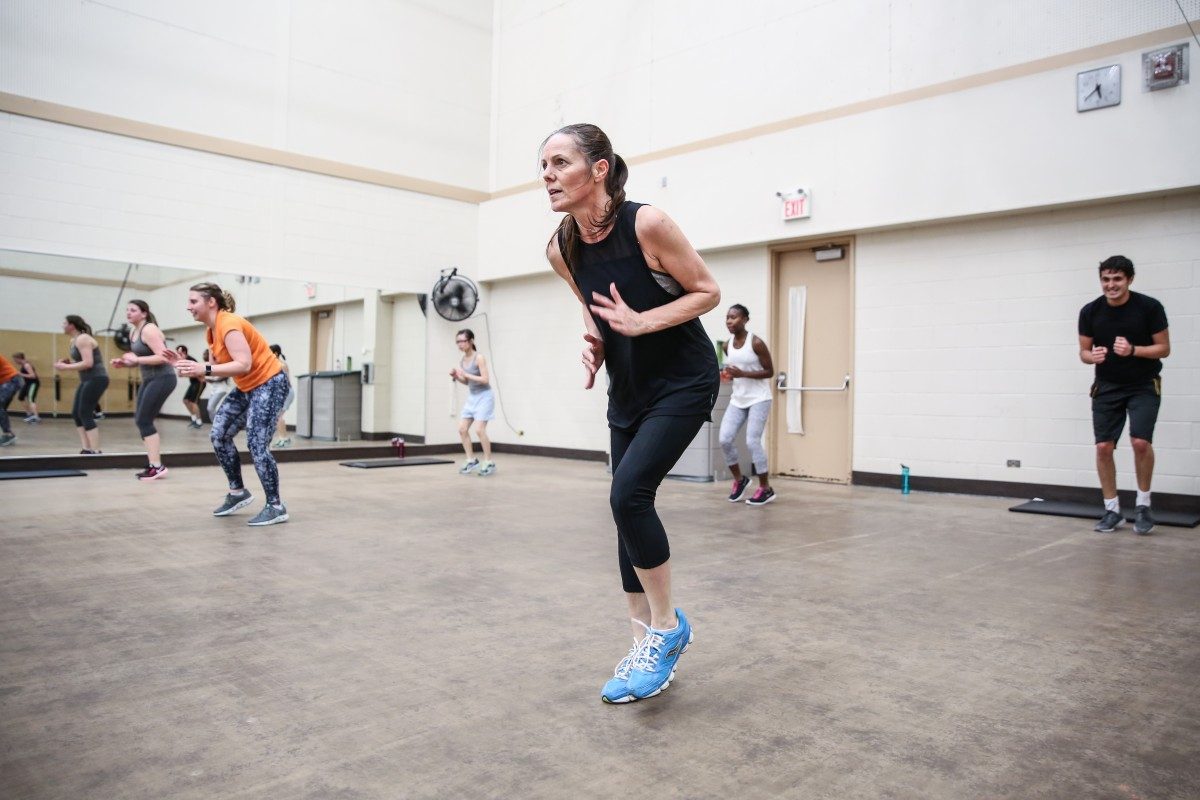 Fitness & recreation at U of M: An employee's perspective
December 18, 2018 —
Recreation Services sat down with member Lynn Bohonos, a University of Manitoba Human Resources department employee to get her take on fitness & recreation opportunities on campus.
How long have you been with U of M, and what is your current position?
I've worked on campus for 28 years. I left the university in 2008 and returned home to the UK. In 2011, I came back to Winnipeg and back to the U of M. Currently, I work in Human Resources with Learning and Organizational Development in an administrative role.
What do you enjoy most about being a U of M Recreation Services member?
I enjoy the group fitness classes that are included in the membership. There are so many to choose from and at different times of the day, seven-days-a-week. The fitness classes have great, enthusiastic instructors that challenge you to do the best you can, and even offer modifications for those that need it. I've made so many new friends (from students to other employees) and even those that aren't part of the U of M community.
"We have something very unique here: an amazing fitness centre available to us at a very reasonable cost, right at our office door. I can go at lunch time, after work, or on a weekend. It's so convenient for me."
What does fitness and healthy living mean to you?
This has become an important part of my life to find a good balance in both my physical and mental health. I feel so much better after working out at the gym. It helps to clear my mind, makes me feel accomplished, and there's a certain amount of pride that goes when you notice improvements with your mind and physical strength. I feel like I'm in control of my life and I want to be around a long time to see my granddaughters grow up so I have to put in the time and effort to ensure that happens.
I've become a huge advocate of recreation services and enjoy going on my own and inviting friends to come with me. It's just that great! (Just ask my co-workers).
Have you ever visited during our Free Week events and, if so, what program(s) did you sample?
I visited free week September 2018. There's an incredible buzz in the gym during this time. Lots of energy. I believe I tried a yoga class at that time.
Is there a particular program you would like to try during the winter Free Week event?
I would like to try the open climb, bouldering, and boxing for fitness.
Would you recommend Free Week to co-workers, friends, or family?
Oh, absolutely without a doubt! I would, and in fact already do. I think free week is the best time to get out and try as many classes as you can, try different equipment, try the track that is available, and see if you would like to commit to getting a membership or to enhance an existing membership.
Try us out for free Jan. 7-11 and experience the benefits of being a Recreation Services member and/or program participant. Learn more: Free Week Winter 2019.