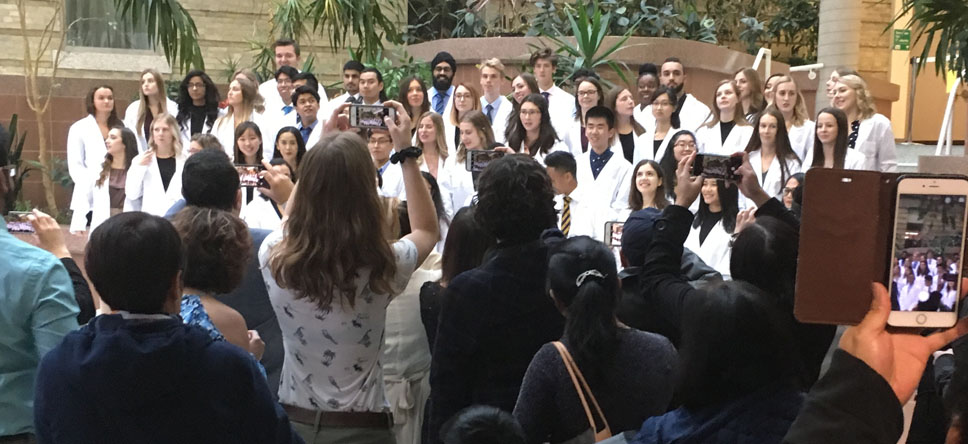 First ever class embarks on path to PharmD at Pharmacy White Coat Ceremony
October 5, 2018 —
This fall marked a milestone in the history of the College of Pharmacy as the first students set to graduate from the new Doctor of Pharmacy (PharmD) program put on their white coats for the first time.
"You are an extra-special class for us," Dr. Lalitha Raman-Wilms, dean of the College of Pharmacy, said to the Class of 2023 at the Oct. 1 White Coat Ceremony. "You have been admitted into the first year of a rigourous curriculum and we are confident that it will prepare you well to embrace the vital role that each of you will play as future pharmacists."
This year, the incoming class of 55 students will complete one year of the B.Sc. (Pharmacy) program before transitioning to the PharmD for a further four years of study. The new program offers an advanced curriculum with significantly more experiential learning, which will create an even stronger foundation for new graduates as they embark on their careers as pharmacists.
As the daughter of a pharmacist, first-year student Christine Vaccaro has had a front-row view on the growth of the profession. Her mother's work inspired her to want to follow in her footsteps, "As a kid, my favourite thing to find in our mailbox was my mom's Canadian pharmacist's letter," said Vaccaro, referring to the professional publication that offers news and insights for pharmacists.
What really sealed the deal was when Manitoba implemented extended practices for pharmacists. Scope of practice has since expanded to include injection certification and prescribing for minor ailments. For some patients, they may even order lab tests. "It highlights that pharmacy is an evolving profession," explained Vaccaro. "I am looking forward to evolving alongside pharmacy, taking on the profession as it expands into a more clinical role."
With advances in the profession, career options for pharmacists offer a greater range of opportunities and settings than ever before, including research, hospital, primary care clinics, community pharmacy and government consultation. But no matter what path they choose, they will always have one thing in common: putting patients first.
"What unites pharmacists is a strong understanding of medication mechanisms and a dedication to ensuring that patients have the tools they need to reach their health goals," said Marianna Pozdirca. "Being able to use that strong understanding to enhance our patients' health and quality of life makes for an effective pharmacist."
Sabina Ozog points to other characteristics that are vital in this ever-changing profession. "It's imperative that they are a person who is constantly learning, confidently exercising their expertise, able to prioritize and works collaboratively with other health-care professionals in order to give the best care."
While some might find a shifting landscape challenging, class president Christine Vaccaro recommends to fellow pharmacy students that the best way forward is to simply embrace it. "In pharmacy there is always change; change in patient goals, markets and standards of practice," she said. "As a result, being able to adapt to change and collaborate within health care teams is essential to patient care."