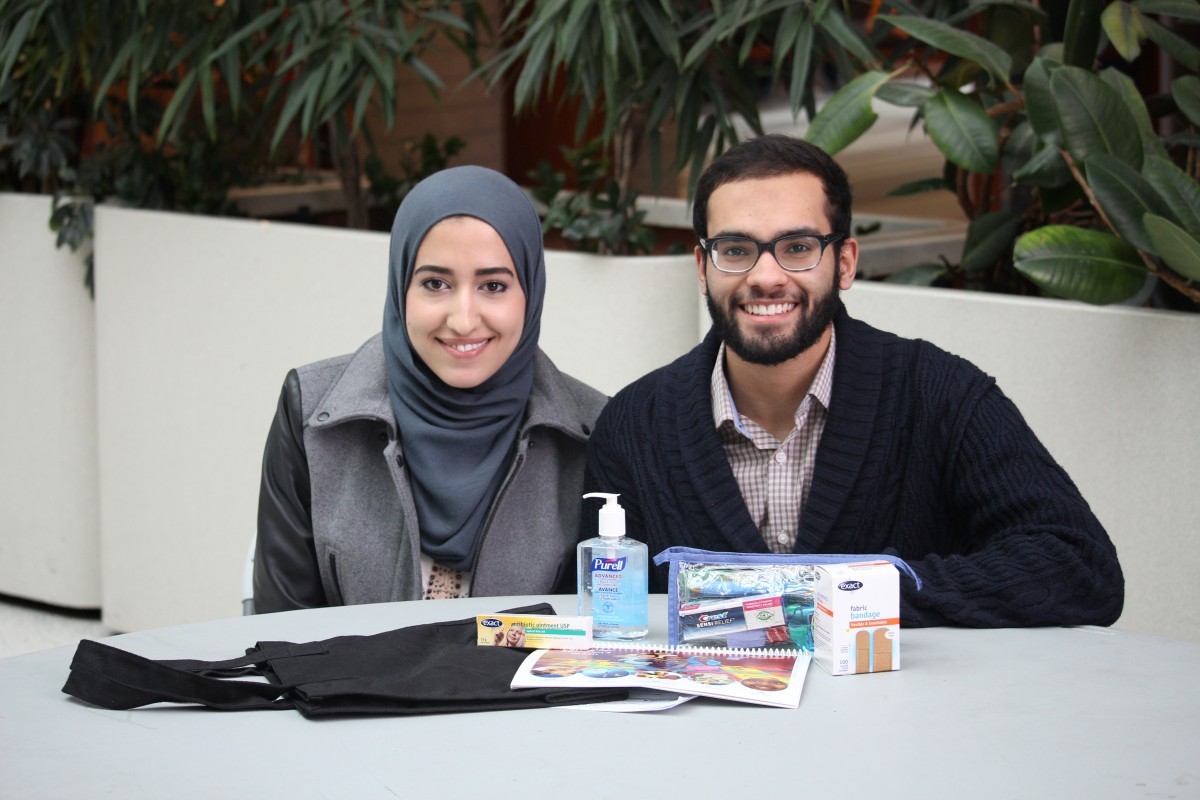 FHS students spearhead health packs for Syrian refugees
April 28, 2016 —
As of right now, 26,921 Syrians have settled in Canada—up to 2,000 of them will begin a new life in Manitoba. The Faculty of Health Sciences is getting ready for the newcomers by packaging up healthcare supplies and information to help them get a healthy start in their new country.
Last December, students raised nearly $3,000 for a refugee camp in Lebanon with a dodgeball fundraiser. They were thrilled with the response, but they knew they couldn't stop there.
Med I student Rami Elzayat reached out to students in the Colleges of Dentistry and Pharmacy, and in the Human Nutritional Sciences Program in the Faculty of Agricultural & Food Sciences. Before long, there was a network of University of Manitoba students at both campuses working together on a project they dubbed the Health Pack.
"It started so small, but it's really grown!" says Elzayat. As future healthcare professionals, he and his classmates feel an obligation to reach out, and the enthusiasm has been infectious. "It's amazing how quickly people got on board," says Elzayat.
Items included in each pack—assembled in reusable shopping bags—include bandages, antibiotic ointment and hand sanitizer, as well as dental care supplies like toothbrushes, toothpaste and dental floss.
"Family size is quite big with the Syrian refugees, so we're taking that into account," points out first-year Dentistry student Israa Elgazzar, describing the generous quantity that goes into each kit.
She points out that brochures, complete with Arabic translation, will also be included. "We want to make sure they know how to take care of different aspects of their health," says Elgazzar. Information is being assembled on how to access local healthcare services and which clinics have interpreter services.
In particular, she points out the increased need for dental care among the Syrian population. "They're more likely to have oral disease, as well as to develop oral health problems in the future," she says. By starting off with good self-care practices now, they will have a better chance of heading off problems in the future. "It's going to help them be healthier and happier members of our community."
To date, Faculty of Health Sciences students have raised $2,124 through their gofundme campaign. "It's not a lot, but it's enough to get a good number of health packs together," says Elzayat. They have produced 70 kits and are hoping to make and distribute a total of 150 packs by the end of May.
The students aren't alone in their efforts; the Faculty of Health Sciences is also taking a key role responding to the refugee crisis and sponsoring a family. In addition to integrating information into the classroom, the faculty is also taking part in helping address the integration of refugees into the healthcare system in partnership with the health regions. Fundraising is also well on its way to sponsor a family, with $20,000 raised toward a goal of $35,000.
"We believe it is our social responsibility as a faculty to respond to the Syrian refugee crisis," says Dr. Alan Katz, director of the Manitoba Centre for Health Policy. "We are extremely privileged to live in Canada and to be part of the FHS and university community. This is just one way of acting on our social responsibility to the broader community. We should never become immune to suffering of others."
For more information, or to get involved, follow the links below:
https://www.gofundme.com/healthpackproject
https://donate.mcccanada.ca/registry/fhs-refugee-response
http://www.cbc.ca/news/canada/manitoba/manitoba-students-syria-refugees-health-packs-1.3431109
Dr. Alan Katz (Alan_Katz [at] cpe [dot] umanitoba [dot] ca)
Dr. Sharon Bruce (Sharon [dot] Bruce [at] umanitoba [dot] ca)
Dr. Mahmoud Torabi (Mahmoud [dot] Torabi [at] umanitoba [dot] ca)