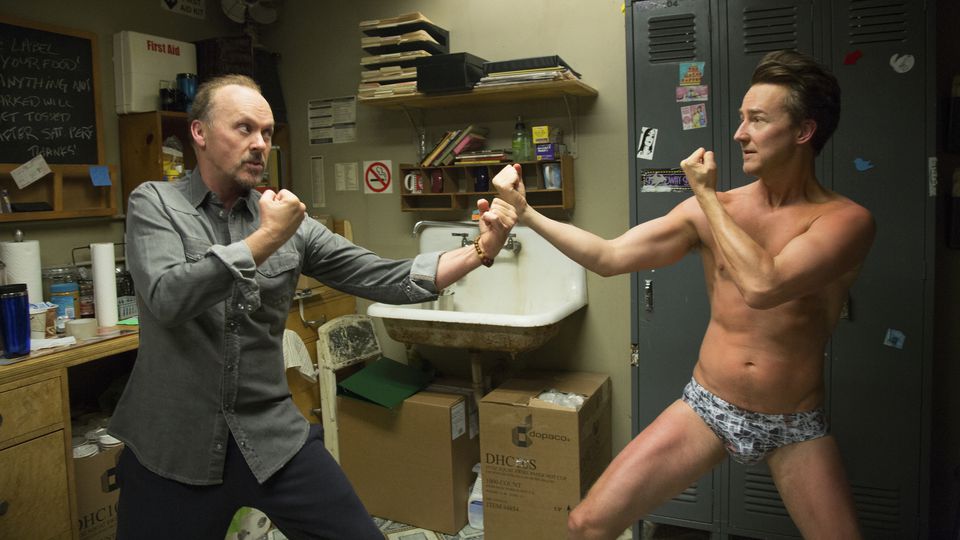 Faye MacIntyre's Top 5 gifts from the movie gods
December 28, 2014 —
An aging actor and a talented but terrified protégé, a good priest condemned to die, the documentary that digs deep into the biggest whistleblower material since the Pentagon Papers and a film twelve years in the making — these were the stars that shone in Faye McIntyre's list of top 5 films of the year. The film instructor in the department of English, film, and theatre, Faculty of Arts, qualifies that these are in no particular order.
Birdman or (The Unexpected Virtue of Ignorance) dir. Alejandro González Iñárritu: Michael Keaton is an aging actor, formerly the star of a superhero franchise, who is now trying to stage a respectable play off Broadway and desperately doing battle with the fears of the modern artist (perhaps of everyone) in an age of burgeoning media culture and of immediate obsolescence — fears of personal irrelevance, invisibility and, conversely, of shameful exposure and public degradation. Apart from the superb performances by Keaton, Edward Norton, Emma Stone, Naomi Watts and Zach Galifianakas (!), what is marvelous about the film is that this "backstage" story, with its multilayered thematics and its almost absurdly narcissistic characters, becomes an exhilarating visceral experience as well in part because of the extensive, sinuous tracking shots of Emmanuel Lubezki (Gravity).
MORE: With its ebullient script and score, its casting coup and spectacular acting, Birdman plays on the pressure of working in the fickle spotlight of superherodom/celebrity, and almost every critic found additional superlatives to laud this film by Alejandro González Iñárritu (Amoros Perros, Babel, Biutiful). Writing for the Boston Globe, Ty Burr called it "a backstage middle-aged male freakout comedy-drama and, as such, possibly a guy's answer to the anxieties of All About Eve. Riggan is an LA superstar best known for the superhero blockbuster Birdman, but that was well over a decade ago and he's starting to look like — well, Michael Keaton several decades on from Batman. The movie winks in that direction and then gets down to business. To prove his ongoing cultural worth and artistic depth, Riggan has written and is starring in a theatrical adaptation of Raymond Carver's 1981 short story "What We Talk About When We Talk About Love" — exactly the sort of cred-heavy overreach that might tempt a fatuous Hollywood has-been." Burr praises everything from the "garrulous, endlessly quotable script," to Keaton's performance as "splenetic, poetic, dangerous, funny, and refreshingly vanity-free, at the same time insisting that vanity is the motor that gets a performer out of bed every morning."
The wonder of Boyhood
Boyhood dir. Richard Linklater: Linklater's three-hour film is a unique cinematic project in that the narrative encompasses a fictionalized twelve-year span in the life of its characters, which is represented by a selection of scenes filmed over the course of twelve years with the same actors, one of whom is Linklater's own daughter Lorelei, and a remarkable presence in the film. A real sense of privileged intimacy and poignancy is created by watching the main child actor, Ellar Coltrane, age from a six-year old boy to an eighteen-year old college student. The film not only restores our understanding of cinema's innate capacity for recovering time, but also leaves us with a sense of wonder about time's power in all of our lives.
MORE: Critics were rhapsodic about this movie by Richard Linklater — director of the beloved Before Sunrise/Sunset/Midnight triology, which over the course of years follows a couple, played by Ethan Hawke and Julia Delpy, through the stages of their life together. Linklater seems to have created a new genre of filmmaking that combines documentary with narrative fiction. Alexandra Molotkow, writing for The Globe and Mail notes, "Life is just as spectacular as it is in the movies, but only very occasionally, and then mostly in hindsight. That's enough to make the rest of it worth living, and it's enough to inspire a body of work, but the long process of waiting for meaning to accumulate rarely makes for exciting drama. The work of American filmmaker Richard Linklater is an exception. The long trail of fleeting moments is a theme in his movies, which somehow collapse the difference between art as it makes life seem and life as it mostly is. Romantic moments come wrapped in the mundane, which his eye redeems."
 Troubled, taut Calvary
Calvary dir. John Michael McDonagh: This film, which was shot in County Sligo in Ireland is directed by the brother of playwright and director Martin McDonagh and stars Brendon Gleeson, Chris O'Dowd and Kelly Reilly. Gleason is a priest who, because he is a good priest and therefore will be a grievous loss to the church as a whole, is nominated for death by one of his parishioners who is bent on revenge after suffering horrific childhood sexual abuse at the hands of another local priest. McDonagh turns an archetypal story of sacrifice into a hard-fought and intricate argument for faith in the cynical modern world created by proliferating Catholic Church scandals.
MORE: The English-born Irish director of Calvary — acclaimed for his previous film, 2011's The Guard, which also starred the intensely charismatic Brendon Gleeson — says that he wanted to "rip off the Hitchcock 'I confess' structure." In an interview with Calvary's director and main protagonist on RogerEbert.com, Gleeson said, "It's interesting. I think people are different from what they imagine themselves to be…. I think when people are faced with death — and John [Michael McDonagh] based this on the five stages of grief — there are various forms of bargaining and depression and anger, but the acceptance is an extraordinary thing."
Documentary depths in Citizenfour
Citizenfour dir. Laura Poitras: Poitras' documentary film is a straight-ahead account of her and Guardian US reporter Glenn Greenwald's emails and secret filmed interviews with Edward Snowden, the National Security Agency Contractor, who made the decision to reveal the extensive nature of the NSA's electronic surveillance and information gathering on private citizens in the US and around the world. Adding moral weight to Snowden's whistleblower efforts is his demeanor on camera, which is sober, articulate and seemingly self-effacing. It is not only the details of the type and extent of the surveillance as he explains them, which surprise and chill. Images of an otherwise picturesque sea shore in Wales seem almost uncanny as we notice the incongruous satellite dishes and the filmmaker's voice-over tells us of the undersea cables carrying data on millions upon millions of personal cell phone and email messages and images that will be monitored and analyzed in secret NSA sites. Not even Orwell, it seems, could have imagined the scope of this culture of surveillance.
MORE: Citizenfour made quite an impression on filmgoers and critics alike. Wired billed it as one of its top five documentaries of 2014, writing that "Director Laura Poitras was one of the handful of people NSA whistleblower Edward Snowden contacted to help him reveal the information he wanted the public to know, so she was there filming as the leaks happened." The Globe and Mail writes: "the documentary of the year may also be its most hair-raising thriller"; Citizenfour follows the award-winning director's "two previous post-9/11 documentaries, My Country, My Country (2006), about life in Iraq under U.S. occupation and The Oath (2010) about prisoners in Guantanamo."
The visceral velocity of Whiplash
Whiplash dir. Damien Chazelle: J. K. Simmons is the jazz band instructor who holds a terrifying power over drum student Andrew, played by the very watchable and talented Miles Teller. Watching loyally from the wings of Andrew's life as he struggles to gain the approval of this hyper-agressive masculine authority is his chummy, passive and well-meaning father (shades of Rebel without a Cause). It is a testimony to our collective fears of anonymity that it is difficult for viewers to tell whether Andrew's striving for the approbation of this sadistic tyrant, beyond all reason and often with devastating consequences, is pitiable or laudable.
MORE: With apparently only minimal irony, the Wall Street Journal called the dark Whiplash "a kind of Black Swan for the jazz-drumming set," whereas Indiewire dubbed it "a pedagogical thriller" and Paste magazine (and others) described the movie as "Full Metal Jacket at Julliard." A.V. Club summarizes Whiplash this way: "An aspiring jazz drummer taking classes at a prestigious, fictitious music conservatory in New York City, Andrew yearns to be legendary — the heir apparent to Buddy Rich, whose work he religiously studies and whose face he plasters across the walls of his dormitory. And so when a revered instructor, Terence Fletcher (J.K. Simmons), handpicks him for the school's big-band jazz ensemble, it seems like a dream come true. Little does Andrew know, however, that he's just fallen under the tutelage of a notorious perfectionist, a man whose reputation scarcely does justice to his extreme motivational tactics." According to the director, "conductors have a special thing about drummers." Yikes.
---
Looking forward to: Bennett Miller's Foxcatcher, Nuri Bilge Ceylan's Winter Sleep, and Paul Thomas Anderson's Inherent Vice.
Faye McIntyre is an instructor of English, film, and theatre, Faculty of Arts at the University of Manitoba. She has a special interest in classical Hollywood films, Italian cinema and women filmmakers.
>> See more Best of 2014 lists here.