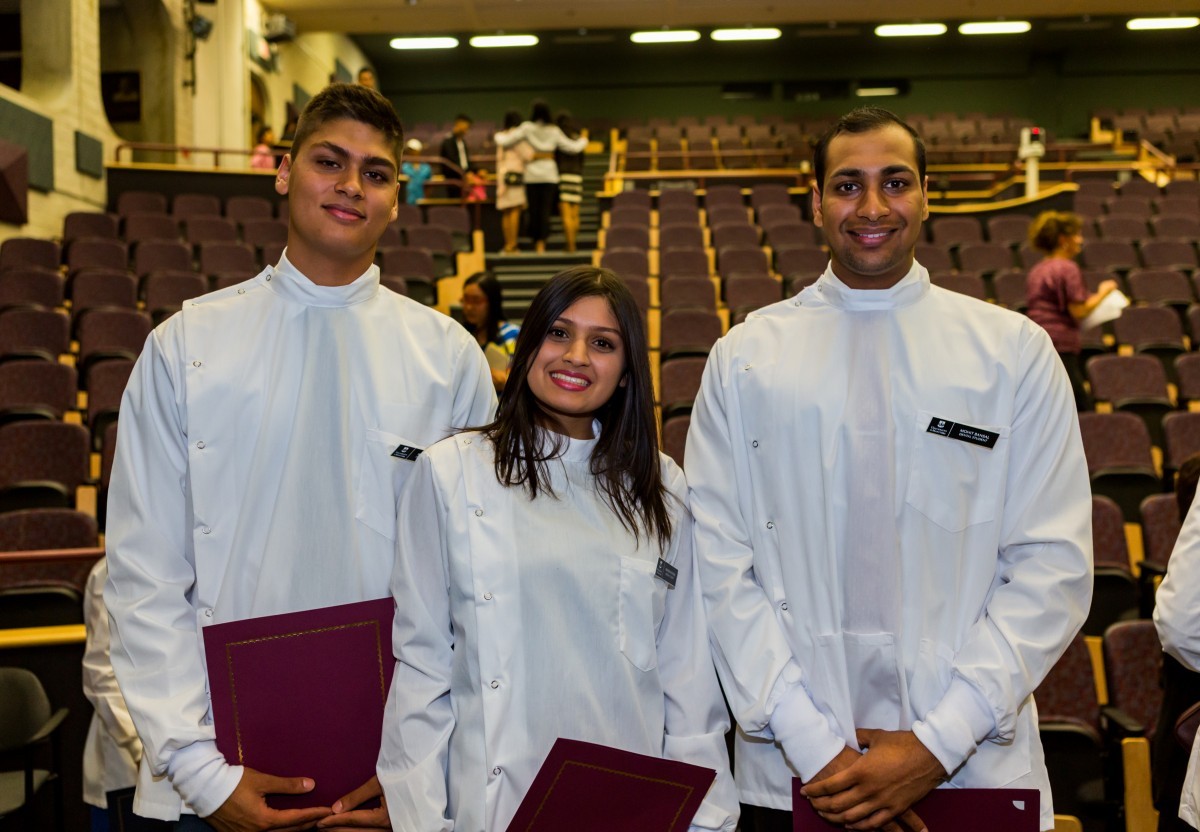 Family trio aiming for dental dynasty
September 9, 2016 —
The smiles of one Winnipeg family couldn't have been brighter as they watched two siblings and a cousin don inaugural white coats at this year's Opening Assembly for the College of Dentistry and School of Dental Hygiene in the Rady Faculty of Health Sciences.
In an extraordinary display of high-achieving togetherness, Manisha Bansal, 21, her brother Ketan Bansal, 20, and their cousin Monty Bansal, 23, have all earned coveted places in the Dentistry Class of 2020. Chosen from a field of more than 200 applicants, they landed as the first three students listed alphabetically in the 29-person class.
"I think it's miraculous," said Monty's beaming mother, Renu Bansal, after the Sept. 8 assembly held on Bannatyne Campus. "They're a team. They want to open their own clinic."
Dr. Anthony Iacopino, dean of the College of Dentistry, said in his 35 years at dentistry schools, he has never before seen three members of the same family in the same class. Because a number of faculty members conduct individual interviews with applicants, he said, it was only after the class list was finalized that the faculty learned the Bansals were kin.
"This is a first. It is something novel for us," said Iacopino. "The three students are very good people and I think we're going to have a lot of fun with them over the next four years."
The Bansal trio, who studied together for the Dental Aptitude Test, thought the odds of admission were stacked against them.
"We were very surprised. I kind of thought maybe one of us would get in, but I didn't think they would accept all three of us," said Monty, who is very close to his cousins and lived under the same roof with them as a young child. Monty now lives in Whyte Ridge and graduated from Vincent Massey Collegiate, while Manisha and Ketan live in Tyndall Park and are Sisler High School grads.
The science-loving trio has taken some friendly ribbing from fellow students since dentistry classes started in mid-August. "They call us 'Dr. Bansal Number 1, 2 and 3,'" said Manisha. "In labs we're always seated right next to each other, because the seating is alphabetical." But having her brother and cousin around is a plus, she said. "They make it more chill and more fun, so it's not as stressful."
Far from being driven by rivalry to outdo each other, the three said they're seeking success as a team. They plan to keep studying together every evening and go into joint practice after graduation. As Winnipeg-born children of immigrants from India, they said, they have been raised to look beyond the individual.
"We pretty much helped each other get here," said Ketan, who is the youngest but has held the dentistry dream the longest, since about age 15. "Our culture is more family-oriented. You think about helping others first."
"We want to work together and have all of us do well," said Monty. "We don't look at it as a competition."
How did it feel to be welcomed into the dentistry fold and don the distinctive high-collared white coat? "It felt like the end of a long road and the beginning of a new one," said Ketan. "We worked so hard to get here. . . . Now we've got to work hard to become good dentists."