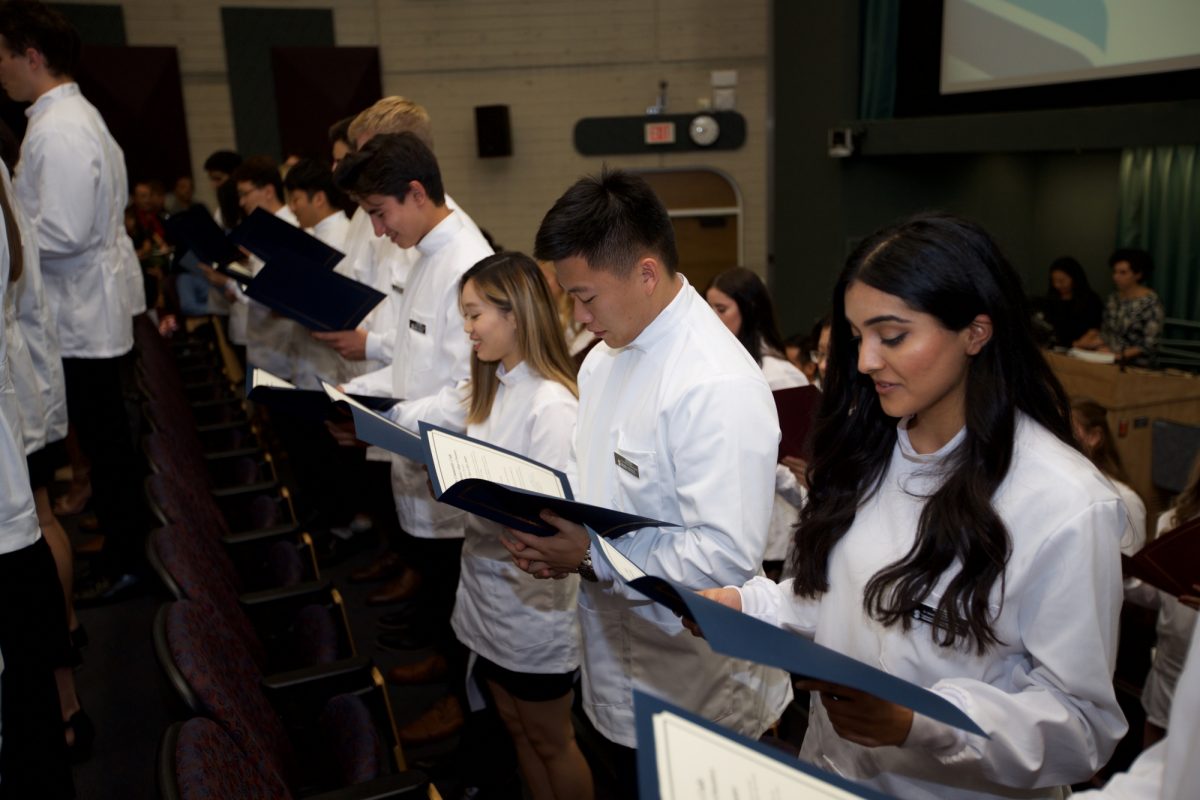 Family members inspire dentistry students to succeed
September 12, 2019 —
Reyce Cochrane was excited when he put on his white coat at the Opening Assembly for the Dr. Gerald Niznick College of Dentistry and the School of Dental Hygiene on Sept. 5.
He thought about how hard he worked to get into dental school and how it all paid off. His inspiration to work tirelessly in school came from his grandfather, Harold Cochrane.
"Even though my grandpa had a terrible experience with residential school, he still realized that education was the key to success and that's really been my motivation," the first-year dental student said.
Reyce, who grew up in Winnipeg, wanted to be a dentist since he was a child. His path was set in Grade 9 when he job shadowed his neighbour. The dentist's ability to change someone's life impressed him. He was also attracted to the profession because dentists work with their hands.
As his grandfather was his inspiration to work hard in school, Reyce hopes to inspire his cousins living on Fisher River Cree Nation and Peguis First Nation.
"I just hope I can be a role model to them and show them that they can go to university and be successful too," he said.
Reyce wants to practice on a First Nation when he's finished dental school and he said more Indigenous dentists are needed.
"I think there's a trust factor between a dentist and a patient, and I think if an Indigenous patient has an Indigenous dentist it will definitely be helpful," he said.
Dr. Anastasia Kelekis-Cholakis, dean, Dr. Gerald Niznick College of Dentistry, gave a welcoming address at the Opening Assembly, which took place on the Bannatyne campus. The event is a chance to formally welcome the students into the oral health profession by supplying the learners with their first white coats.
Kelekis-Cholakis spoke directly to the 29 dentistry students, seven International Dentist Degree Program students and 25 dental hygiene students seated before her. She told them that this was the beginning of their professional lives.
"The white coat you will be given tonight will be a symbol of what your profession and society will expect of you," Kelekis-Cholakis said. "Wear it with pride but also with an understanding of what your responsibilities are."
First-year dentistry student Natalie Pesun knows all about those responsibilities. She will be the 11th dentist in her family, which includes her father, aunt, uncle and cousin.
"I will be the fifth Dr. Pesun in Winnipeg," she said.
Natalie said she has no clue why dentistry runs in her family, but she has a guess.
"I think it's because everybody who ends up doing it loves it," she said. "My dad loves his job. My aunt loves her job. All the dentists in my family absolutely love what they're doing."
Her father, Dr. Igor Pesun, is an associate professor in the Dr. Gerald Niznick College of Dentistry. While there was a lot of talk about dentistry at family gatherings, Natalie said she didn't feel any pressure to be a dentist growing up. However, her father and relatives definitely influenced her.
Natalie was in high school when she realized she was doing well in the courses needed for dentistry. She also liked the idea of working with people daily, so she pursued the profession that runs in her family.
Her father's advice for her heading into dental school is to become involved in everything she can. "He said 'you have 28 new siblings on your first day of school so get along and get involved and just enjoy it while you can because it's going to get crazy,'" she said.
First-year dental hygiene student Lindsay Bodnar is turning her lifelong love of oral hygiene into a career.
When she was growing up, kids teased her for brushing her teeth at sleepovers. They told her she didn't have to brush, but she couldn't skip a night.
"I couldn't stand my teeth feeling gross," she said. "I just like the feeling of my teeth being cleaned."
Bodnar has a theatre degree from the U of M and will take the skills she learned on stage to the clinic setting. "Communication is a big part of becoming an oral health advocate," she said. "So I'm hoping my communication skills can transfer over to dental hygiene."