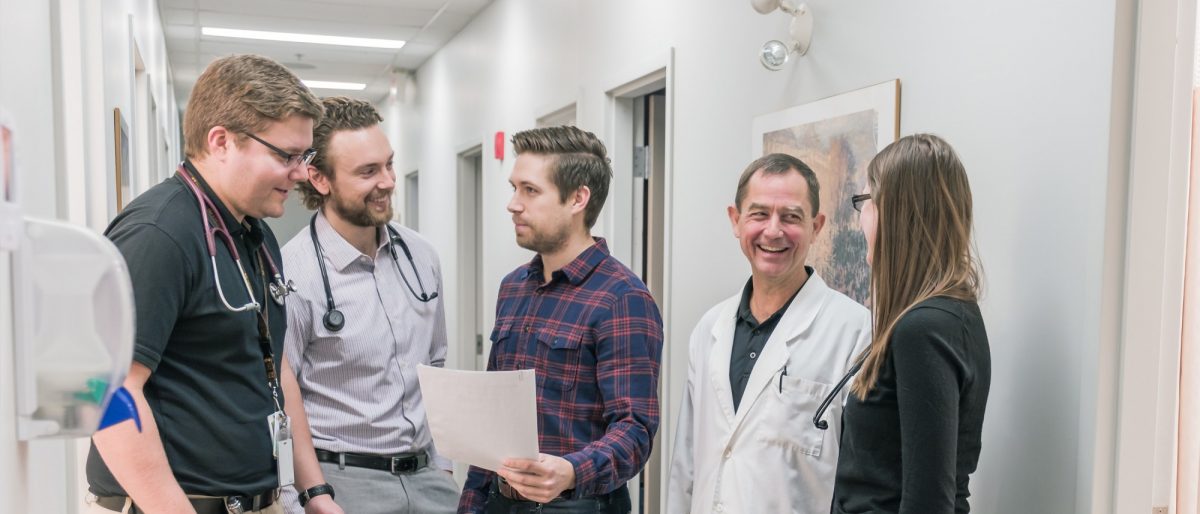 Family Medicine launches peer support program to combat physician burnout
March 30, 2023 —
No one becomes a doctor thinking it's going to be easy, but it shouldn't hurt to heal.
According to the Canadian Medical Association's 2021 National Physician Health Survey (released August 24, 2022), there's been a sharp increase in the reporting of burnout and even suicidal ideation in the past 12 months (1.7 and 1.5 times higher, respectively) compared with in 2017.
"There is more demand than there are physicians," said Dr. Jacqueline Gougeon. "There's that constant pressure to take on more and more, especially since the pandemic."
Gougeon, a lecturer with the department of family medicine, took on the role of peer support team physician coordinator a year ago. With support from the Well Doc Canada program and Doctors Manitoba, she's working on a peer support program that will teach physicians how to respond when their colleagues reach out for help using techniques like empathetic listening. "I think it's really important to move away from treating burnout and managing it to asking how do we prevent it?" said Gougeon.
She knows all too well the toll burnout can take. As a family physician, Gougeon provides low-risk obstetrical and newborn care along with a full family medicine practice. She's also involved in clinical teaching and is the education director of the bilingual family medicine residency program at the University of Manitoba. In addition, she has her own family, with three young children.
Gougeon remembers being home one evening after a full day when she was called to the hospital. She expected a short delivery for the patient – already a mother of eight – but at 3 a.m. with no end in sight all she could think about was her own exhaustion, both physically and mentally. "I honestly considered quitting obstetrics, thinking this is just not working for me," said Gougeon. "I can't do this on top of everything else."
But when the baby was born and she learned the grateful parents had named their new child after her, the dark cloud started to lift. "Professional fulfillment doesn't have to come in the form of someone naming a baby after you," said Gougeon. "But workplace satisfaction is still an important piece of the puzzle." Research shows that losing that feeling of achievement, of making a difference, is one of the key factors leading to burnout. But she wants to make it clear that this is more than just a personal issue or a lack of resilience in doctors themselves, it's the result of systemic problems within the medical profession itself. "Making real change is going to take organizational approach and a culture shift."
Gougeon says leadership's support for the new peer support program is one step in the right direction. She also points out that it isn't meant to replace the resources offered by Doctors Manitoba like Physicians at Risk or MDCare. "Reaching out to those services might be a big step for somebody, whereas peer support can be sort of an informal touch base and then figure out together what might be the next steps."
Gougeon is hopeful the program will offer physicians one more tool in their resilience toolkit and help keep them not just surviving in their roles, but thriving. The new program is expected to launch in June 2023.
For more information or to learn more about ways to get involved, contact Dr. Jacqueline Gougeon at jacqueline [dot] gougeon [at] umanitoba [dot] ca.