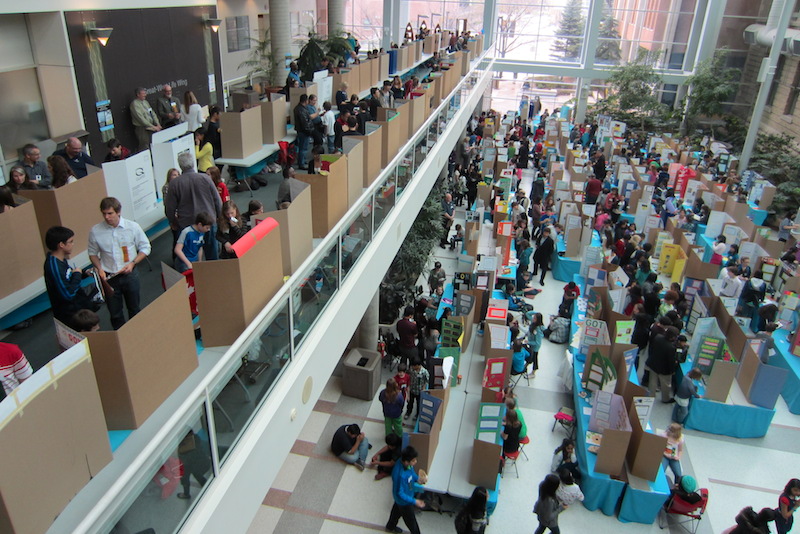 Fair welcomes budding scientists
April 9, 2014 —
More than 400 students will present their scientific skills at the University of Manitoba's Bannatyne campus on April 9 for the 44th Annual Winnipeg Schools' Science Fair. Grade 4-12 students from over 30 different Winnipeg School Division schools will participate in the day-long event.
This is the third consecutive year the Winnipeg School Division organized event has been hosted by the U of M's Faculty of Medicine and according to Brian Postl, Dean of Medicine, it's been a pleasure.
"Some of our faculty members are volunteer judges and they really enjoy the opportunity," said Postl. "It gives us a chance to engage with the students and see how excited they are to showcase their projects – it's a great experience for everyone."
Students are encouraged to identify, plan and solve a problem – or sets of problems – using science inquiry from one of the nine project categories, which include: automotive and engineering, biology, chemistry, computer and information technology, consumer science, earth and environmental science, physics and mathematics, social science, and sustainable development, and innovation.
The Sisler Science Squad – an extracurricular group that offers Sisler High School students opportunities to teach younger generations and get them excited about science – will set the tone for the day. Kicking things off with an interactive science demonstration within a play during the opening ceremonies, the squad will lead hands-on activities for Grade 4 to 6 students, including circuits, exploding milk, shrink wrap person, household acid base indicators, inertia activities, and fingerprinting.
"The Sisler Science Squad students incorporate a sense of fun and excitement into the whole day, and they feel very proud and accomplished afterwards. It's a great bonding activity for them, and the younger kids really get excited about getting involved. Both generations learn a lot from the interaction," said squad leader Kaye Gaudreau, an EAL (English as an Additional Language) science and math teacher at Sisler.
The Sisler Science Squad has been operational for eight years; it started off with 16 students and has grown to 60 members. Squad members also help with set-up and other leadership tasks at the Science Fair.
Research at the University of Manitoba is partially supported by funding from the Government of Canada Research Support Fund.