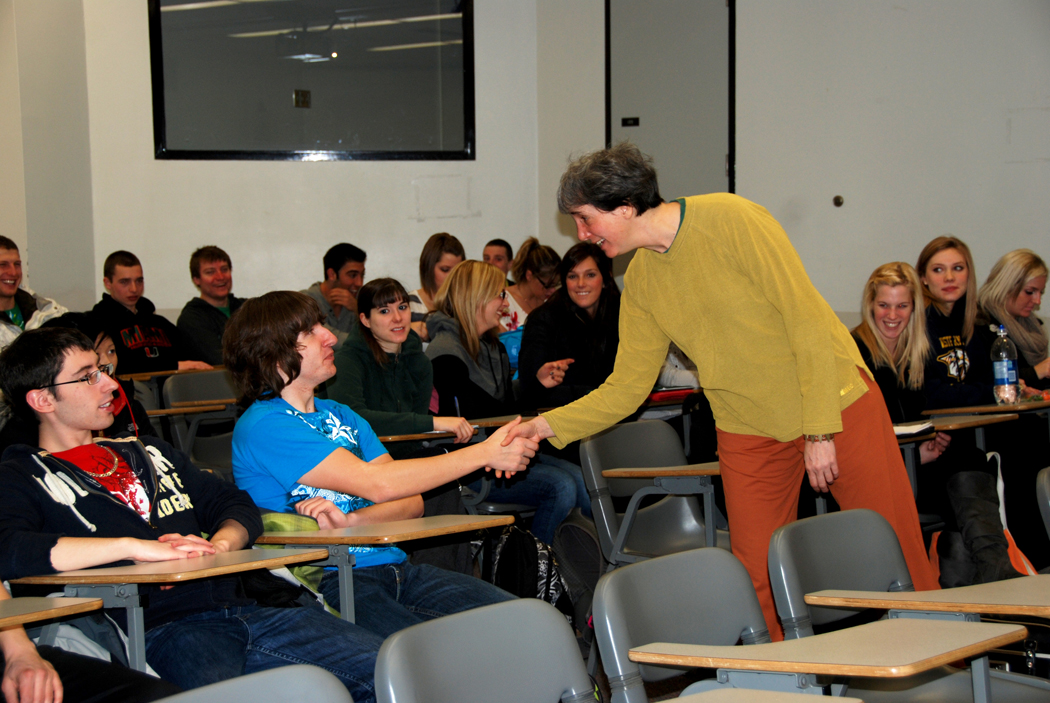 Faculty Profile: Joannie Halas
January 19, 2012 —
YOU MAY NOT REMEMBER MATH FORMULAS or characters from the novels you studied in public school, but chances are, you remember gym class — perhaps all too vividly.
For Joannie Halas, professor in the Faculty of Kinesiology and Recreation Management, the goal is to take that embodied experience, as she calls it, and turn it into opportunity.
In educating future physical education (phys. ed.) teachers at U of M, one of her goals has been to encourage and to model a holistic approach to phys. ed. that takes into account diverse physical abilities and cultural experiences.
"Phys. ed. can be a challenging space for young people to navigate because of its social hierarchies. Our bodies and our abilities are exposed. As physical educators, we need to create learning climates that affirm all bodies, all body types, all backgrounds.
"Our job as educators is to take into consideration that entire continuum, from those who love physical activity and are successful and those who struggle with it," she says.
Many of the students entering university come from relatively privileged positions, notes Halas, and there can be a blind spot when it comes to understanding others' less-advantaged experiences.
In classes they learn about colonization, the residential school system, poverty and other factors that carry present-day effects for Aboriginal and other marginalized youth. Class members also write "autoethnographies," in which they explore their own cultural backgrounds, which can be very different from the backgrounds of the young people they will eventually teach.
Growing up in the North End of Winnipeg, Halas worked at summer drop-in centres; after returning to Winnipeg in 1999, she's been working to increase the diversity of faculty and students in physical education to better reflect the cultural backgrounds of students in schools across Manitoba.
She is particularly sensitive to the role of phys. ed. in engaging Aboriginal youth. In her course "Culturally Relevant Physical Education and Health," she challenges her university students — future teachers — to take a critical look at their own cultural biases and racialized beliefs. She wants to create a "comfortable uncomfortable" space for students to do that, which can be difficult.
Halas moves with ease in her class. A sort of low key acceptance, humour and sincerity emanates from her, and it's clear she enjoys teaching. But it's backed up with hands-on experience and research.
"My own research has focused on the affective domain in phys. ed.: how youth experience physical activity, and the social-emotional connections with their bodies in movement. I'm especially interested in how to create intercultural bridges for Aboriginal youth, and how physical activity can be used to become an invitation into education and learning as a whole."
Halas's determination to enlist underrepresented students in the education process became the basis for Rec' and Read, an afterschool mentorship program/course that was initiated through a community-based research study. Students within the Faculty of Kinesiology and Recreation Management learn to act as mentors with elementary and high school students through educational activities, building relationships in the community and providing healthy food and
physical activity opportunities for young people. The program includes two months of planning and preparing and then three to four months of delivering the program in schools across Manitoba.
For Halas, research and teaching practice are intertwined. By recognizing and nurturing leadership in the community, Rec' and Read builds upon the strengths of inner city youth. "It would be great to have more diversity reflected within our faculty and in future phys. ed. teachers," she says. A new faculty diploma is in the works that will "bring the university to the community."
Halas also concurs with Aboriginal teachings about the interconnectedness of life. For her, phys. ed. and activity are more than sports: it is a physical, emotional, social and spiritual engagement leading to a healthy life. These are the benefits that she hopes future phys. ed. teachers will appreciate and communicate in their teaching.
In light of all this, her teaching motto is not that surprising; she takes it from a mentor of hers: "I cast my line and I reel myself to the fish."
Q & A with Joannie Halas
Perfect weekend: Skiing, skating, sauna, a glass of wine and reading a (really great) thesis.
Recent book: The Book of Hours by Thomas Merton. My mother, who passed away recently, always carried it with her.
Great movie: The Girl With the Dragon Tattoo, for its compelling female protagonist and dark story.
Inspiration: The energy and spirit of the Aboriginal youth I work with.
Faculty Profile is a regularly appearing column that features faculty of the university in the context of their research. This article originally appeared in the January 19, 2012 edition of The Bulletin.